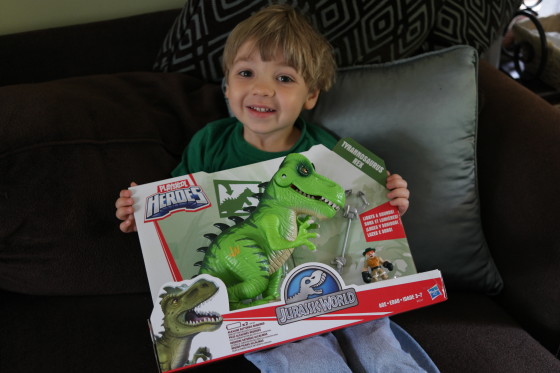 With the release of Jurassic World in theaters today I find it only appropriate to offer up this review of some great Playskool Heroes Jurassic World toys. We received two toys for Andrew to play with and review. Opinions are 100% our own and we love them! I was a huge fan of the original Jurassic Park, both the book and the movie. I loved the book more but when I saw dinosaurs on the screen for the first time I was like a little kid again. It was amazing. My kids aren't quite old enough to experience the book or the movie yet but they can still enjoy play with dinosaurs with these great Playskool toys.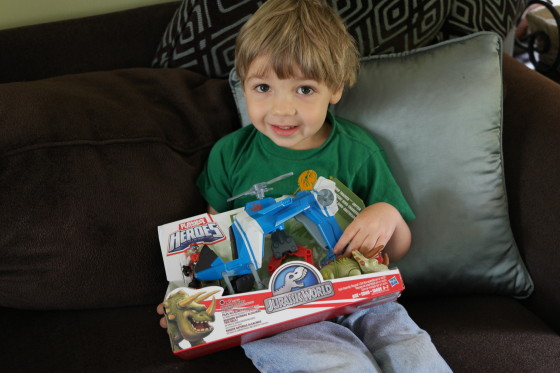 We received two fun toys. A Tyrannosaurus Rex that can bend and chomp up little Playskool Heroes figures and the let them go. You can recreate that bathroom scene from the original Jurassic park over and over. Of course, until Andrew is old enough to actually see the movie only I will get the reference. The other toy was a Deluxe Vehicle and we got the helicopter with a hero figure and a triceratops figure.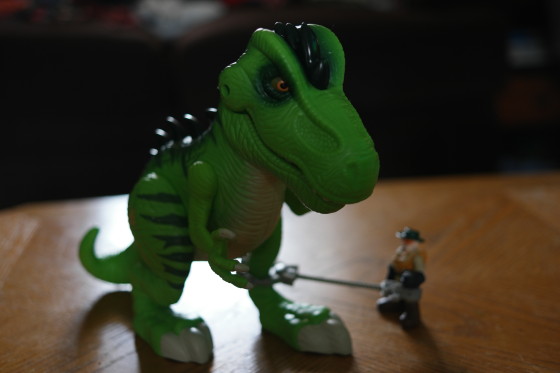 I'm pretty sure that that clamp around the T-Rex's leg isn't going to help out our hero very much if she decides to move in any direction. But it is just long enough to prevent him from being chomped. At least in the toy world.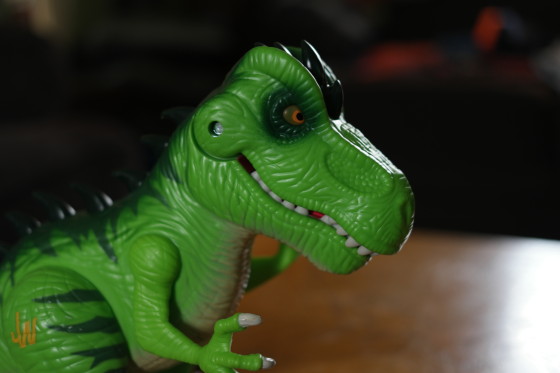 Oh, did I mention that the T-Rex has lights and sounds? Yeah the T-Rex roars and her eyes light up. If you know anything about the JP movies then you know why I am calling her a her. I love the detail and the movements are super smooth that Andrew can make the T-Rex roar and bite and cause all sorts of mayhem.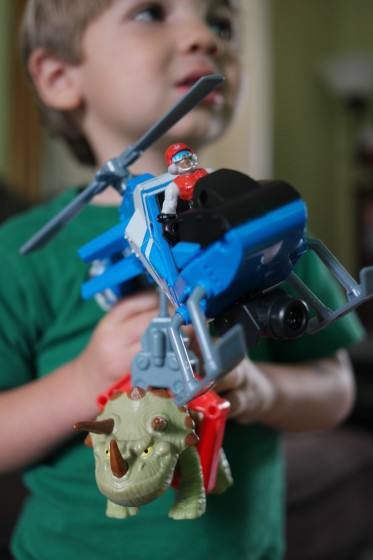 The helicopter is sweet. There is a trigger on the back that makes the rotors move and a clamp underneath so that you can pick up different dinos. A triceratops comes with the set and that is my favorite dinosaur so I'm happy. Also when you make the rotor move a sort of infrared searchlight moves side to side on the front. This shines a set of red dino tracks on the ground.
These are great sets and here are more details about each of them.
JURASSIC WORLD TYRANNOSAURUS REX
(Ages 3 years & up/Approx. Retail Price: $29.99/Available: Spring 2015)
TYRANNOSAURUS REX is the ultimate dinosaur for preschool JURASSIC WORLD fans to track and capture! Features light-up eyes and a roaring action. Includes a human figure and a capture cuff to track the TYRANNOSAURUS REX but watch out – the head-chomping TYRANNOSAURUS REX might gobble the human figure up first! Includes a human figure and capture gear. TYRANNOSAURUS REX figure requires 2AA batteries, demo batteries included. Available at most major toy retailers nationwide and on HasbroToyShop.com.
JURASSIC WORLD DELUXE VEHICLE Assortment
(Ages 3 years & up/Approx. Retail Price: $19.99/Available: Spring 2015)
Preschoolers can imagine they are roaming JURASSIC WORLD and rounding up dinos on the loose with these vehicles. Scour the trails in the DINO TRACKER 4×4 vehicle or search from the skies in the DINO TRACKER helicopter, using each vehicle's tracking light to find dinosaur prints along the way. Spot a dino? Use the DINO TRACKER 4X4 detachable capture cage to set dino traps or the DINO TRACKER COPTER capture claw to close in on dinos from above. Each vehicle set includes a human and dinosaur figure. Each set sold separately. Requires 3 1.5V A76 Alkaline batteries, demo batteries included. Available at most major toy retailers nationwide and on HasbroToyShop.com.
Copyright (c) 2020 BenSpark Family Adventures