Photo-A-Day #2354
The day after Shelby's wedding we spent picking up around the tent, opening gifts, having a delicious brunch and saying goodbyes. It was a day to start to wind down from the weekend.
We started the morning by pickup up the things left over at the tent. We brought back the Bennett Bar, the row boat/beer boat. Dad picked up a ton of plants. mums, to decorate around the outside of the tent. We picked up things that were left and various other items. There was a bunch of non-alcoholic beer left over and we packaged that up and left it with the stuff for the rental guys. One real beer was left but one of the guys took care of that one. Leave no beer behind.
Tim and Shelby came to the house to open up their gifts. They got many wonderful things including the blanket that Allison has been working on for months. Here is a shot of it just after she blocked it, 216 pins in it too.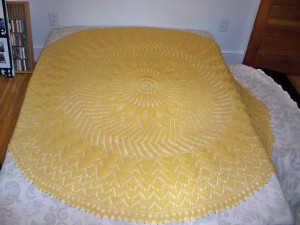 After the gifts we went to the Flying Bridge for a delicious breakfast. There we said goodbye to the happy couple so that they could get home and pack for their honeymoon. Off to Hawaii for a couple of weeks, That sounds like a great vacation. While we were there one of my Mom's friends, Sharon, gave us a beautiful china tea set and doll sized tea set for Eva to play with. They were hers and she wanted a little girl to play with them. Eva will love them.
After lunch we went back to the house and hung out. I made us dinner of Monte Cristo sandwiches or various degrees. Then we watched some of the football game while I looked through the over 700 photos I took at the wedding. I put on the slideshow and we watched all of them for about an hour or two. I took a lot of photos.
Copyright (c) 2020 BenSpark Family Adventures