Photo-A-Day #2618
While I was on New York I was alerted to a very cool shoppertunity on Collective Bias. We moved into our house nearly a year ago. A little under year ago I was working with my dad getting the house ready and one of the reasons we picked the house was this fantastic patio.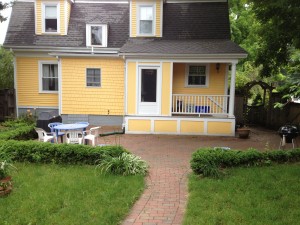 But the thing is when you buy a house there are all sorts of crazy expenses. We planned on buying a nice backyard set but money got tight so we have been using a plastic hand me down round table. My parents gave it to us. Thing is, it used to be at the Cape and one day when there was an insane wind storm and the table blew out into the street and a big old chunk came out of it. So this jagged part of the table is where I end up sitting so no one gets bit by it. But it was still functional and so we used it, we had nothing else. But we really wanted something else.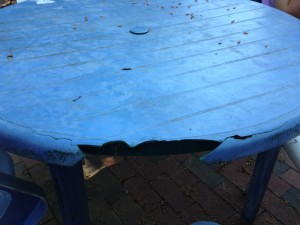 We got the opportunity today because I was accepted for a special shoppertunity for Collective Bias and Kmart. I got money to go and buy a patio set. So this morning when I got up I went online to Shop Your Way and looked at the patio sets from Kmart. We found a set that we really liked and it was normally $699 and was on sale for $449.00. I checked on it being in stock at our local store and it was there. Now, a couple weeks ago I went out to Chicago and learned all about mygofer.com as well as Shop Your Way Rewards. Last week we bought a TV through Sears and Shop Your Way and earned $18 in rewards money. I also received $20 to try the mygofer service an so I decided that this was the table and chair set that we really wanted so we placed the order and were even able to use PayPal to make the purchase. So after tax and the discounts were applied we got the set for less than sale price, Nice!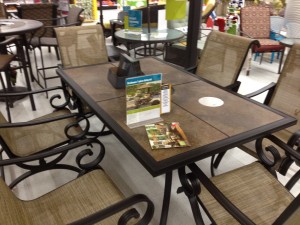 I called my Dad because he has a van and we went to go pick up the new patio set. Allison, Eva, Andrew and I went over and looked around the Outdoor section and checked out the other sets that they had. Eva loved the outdoor tiki bar looking one and a cute little swing. So many good options. We bought table and chairs but not an umbrella so we looked at the options and decided upon a solar LED one that was on sale, however it wasn't in stock. We picked up an umbrella base in anticipation of the umbrella being back in stock.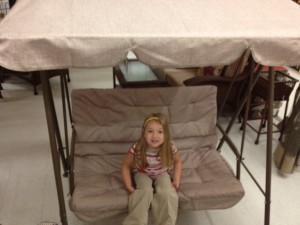 We also picked up some potting soil and some pots as well as stuff for S'Mores. Allison got a nice new dress and Eva got some Brave themed books too. She is all about the movie Brave now and I can't wait for her to see it. I told her that we could only get the books if she promised to try and read them with me rather than me just read them to her. She said yes so we got the books too.
Dad arrived and we took a look around at more things then I went to the service desk to pick up the table and chairs. They were packed well in two boxes. A guy came out with them and helped us put them in the van. It was easy peasey. Dad went back to the house and I went back to Allison and the kids to make sure that she had our Shop Your Way Rewards number for the stuff we bought. We loaded up the car and got home. Dad helped me get the stuff out of the truck and into the garage. That was a good idea on his part because it ended up raining tonight and I was unable to build everything because I had to sleep for work.
I went to sleep and Allison and Eva potted some plants and cleaned the back yard.
when I woke up we headed over to the House of Fortune to have a nice dinner for Dad's birthday as well as Uncle Howard's birthday. We had a big table with Tara, Shelby, Erik, Mom, Dad, Howard and Bonnie plus us. Dinner was wonderful as always and it was great to celebrate together. Andrew and Eva had the family enthralled. It was really nice. Then I had to go to work.
Tomorrow I'm building chairs and a table.
Disclosure: I am a member of the Collective Bias™ Social Fabric® Community. I'll be writing a complete post on Monday about the shop that I did. It was compensated as part of a social shopper insights study for Collective Bias™. I don't have to write these additional posts, just the one on Monday the 11th but I like to give insight into what I do each day and buying the patio set was what I did. Opinions are 100% my own. #CBias #SocialFabric
Copyright (c) 2020 BenSpark Family Adventures