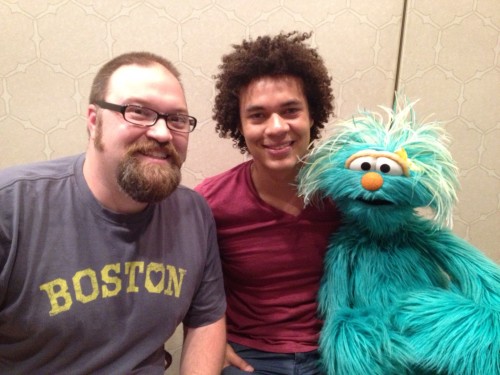 At the PBS Annual Meeting this year it wasn't all rubbing elbows with the cast of Sesame Street. No, I learned a lot about all the great programming that PBS is doing for kids. This summer there is a major initiative to keep kids engaged and learning all summer long with some great resources. I've go a full press release plus links to those resources below.
PBS KIDS OFFERS FREE RESOURCES TO FUEL LEARNING THIS SUMMER
Multiplatform content and partnership activities provide families with tools to prevent the "summer slump" and inspire exploration
Arlington, VA, May 23, 2013 –This summer, PBS KIDS will provide families with a variety of free and educational resources to encourage young learners to continue learning and exploring over summer vacation. Research shows that students experience significant learning loss when they do not participate in educational activities during the summer months, and that loss is even greater among children in low-income communities. To combat this summer slump, PBS KIDS has developed 10 weeks of special on-air programming, a variety of online resources, and partnerships with Pottery Barn Kids, Education.com, Scholastic and Grandparents.com.
"PBS KIDS and our member stations are providing families with a wealth of resources and partnerships to keep children engaged and learning this summer," said Lesli Rotenberg, General Manager, Children's Programming, PBS. "The summer is a great time for families to explore together, and we know that our content can help families bridge the summer learning gap and build critical skills for success."
Summer Learning Theme-Weeks
Starting Monday, June 3 (check local listings), PBS KIDS presents 10 weeks of themed programming to inspire children ages 2-8 to explore and learn. Each week will feature episodes from a different PBS KIDS series.
The line-up includes:
WILD KRATTS – "Bug Week," starting June 3
SUPER WHY! – "Super You Week," starting June 10
SESAME STREET – "Literacy Quest Week," starting June 17
MARTHA SPEAKS – "Puppy Week," starting June 24
CURIOUS GEORGE – "Creative George Week," starting July 1
DINOSAUR TRAIN – "Dinosaurs A-Z" starting July 8
DANIEL TIGER'S NEIGHBORHOOD – "Let's Play Outside Week," July 15
THE CAT IN THE HAT KNOWS A LOT ABOUT THAT! – "Let's Get Wet Week," starting July 22
ARTHUR – "Sports Week," starting July 29
WORDGIRL® – "What's Up With WordGirl Week," starting August 5
Partnership Activities
PBS KIDS is working with the following select group of partners to encourage children and families to explore literacy and learning all summer long.
Pottery Barn Kids: PBS KIDS is working with Pottery Barn Kids this summer to highlight the importance of reading through the Pottery Barn Kids Summer Reading Challenge. From May 24 through August 26, families can find activities and tips from PBS KIDS, including a "PBK Favorites" booklist, certificate of completion and bookmark, in stores and online at www.potterybarnkids.com/read. Children that complete the list and bring it to a Pottery Barn Kids location will receive a free book, or parents can enter their child into an online drawing for a backpack full of books. Additionally, PBS KIDS will be providing tips to help families create a literate home at participating Pottery Barn Kids retail locations and on the Summer Reading Challenge website. For more information on the Summer Reading Challenge and related activities, visit www.potterybarnkids.com/read.
Education.com: Beginning May 20, families can visit Summer Reading Adventures hosted by Education.com to access a number of summer reading resources, including a "Do-It-Yourself" Reading Camp. "DIY" Reading Camp includes everything parents need to host 10 weeks of learning fun right from their own living rooms and backyards. Each camp week includes a dozen projects and activities, including specially selected PBS KIDS content, for parents and kids to do together. PBS KIDS and Education.com will also encourage families to read over the summer months with the "We'll Read 10" pledge – which offers families the chance to win one of five Kindle Prize Packs. To take the pledge or learn more about DIY Summer Reading camp, visit www.education.com/read
Scholastic: As the national "Ambassador of Summer Reading," WordGirl is challenging kids to read every day this summer through Scholastic's Summer Challenge. The Scholastic Summer Challenge™ is a free online reading program where kids can log their reading minutes to earn rewards and help set a new 2013 world record for summer reading to beat last year's record of 95,859,491 minutes.
Grandparents.com: Grandparents can help kids with reading, too. PBS KIDS is proud to be working with Grandparents.com to offer resources to provide grandparents with ideas and literacy-building activities that they can do with their grandchildren over the summer break.
Online and Mobile Resources
Select episodes and clips will also be featured on PBSKIDS.org/video and on the free PBS KIDS Video App. Additionally, each week a special episode will be available as a free download on iTunes.
Online, parents and caregivers will find free, downloadable activity guides and printables to host reading parties and more on PBSPARENTS.org/read. Literacy-focused games and activities will be available for kids at PBSKIDS.org/read. PBS KIDS also offers more than 25 educational mobile apps available on iOS and Android to help kids build key skills for learning.
Through a variety of summer learning initiatives, PBS KIDS continues to offer educational and engaging content across platforms to more and more families. PBS KIDS is increasingly serving children wherever they live, learn and play.
About PBS KIDS
PBS KIDS, the number one educational media brand for kids, offers all children the opportunity to explore new ideas and new worlds through television, online, mobile and community-based programs. Kidscreen- and Webby-award winning pbskids.org provides engaging interactive content, including the PBS KIDS video player, now offering free streaming video accessible on computer- and mobile-device-based browsers. For more information on specific PBS KIDS content supporting literacy, science, math and more, visit pbs.org/pressroom, or follow PBS KIDS on Twitter and Facebook.
Copyright (c) 2020 BenSpark Family Adventures