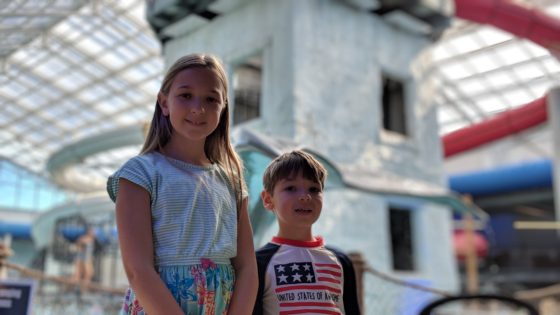 Photo-A-Day #4735
We have been compensated with a two-night stay at the Cape Codder Resort and additional amenities. Opinions are 100% our own.
Today we started out with some cereal and donuts in the room and then we picked out a set of Family Group Coloring Pages. Today is National Crayon Day and our morning was nice and relaxed as we colored those pages. Eva decided that we should do the Whimsical Beach Resort pages. The great thing about that is that we were really inspired by our stay here at the Cape Codder Resort and Spa. Each year I like to do a coloring page and use every crayon in a brand new box of 64. This year I wrote a post for the Toy Insider Parent Panel all about the top five colors of crayons and also National Crayon Day.
After completing our coloring pages we decided to head to the Water Park. We went early enough that it wasn't tremendously busy and floating along the stormy river was a lot of fun. We floated along a few times and then Eva and I decided to head up to the water slides and try them out. We did both and they were a loft of fun. We went a couple of times and then Allison and I switched so that she could try them as well. I floated around with Andrew. He loved getting stopped when he got to the green fish that dumps a bucketful of water onto people. He loved getting splashed.
After the slides and river we went over to the wave pool. There we enjoyed playing in the waves and then trying out the two slides there as well. The kids and I had our Frogglez on and they were perfect for this Water Park.
I am very impressed with ow well the kids have gotten along. They are great together and are so well behaved. I'm just so impressed with them and love taking them everywhere.
We tried out the outdoor salt-water heated pool. It was a bright and sunny day but it was a bit cold outside. The pool was great and very warm. We made sure to be as low in the water as possible. Getting out was a shock to the system but not too bad. It was worth it to enjoy the outdoor pool. It is also lit up at night and there is a waterfall.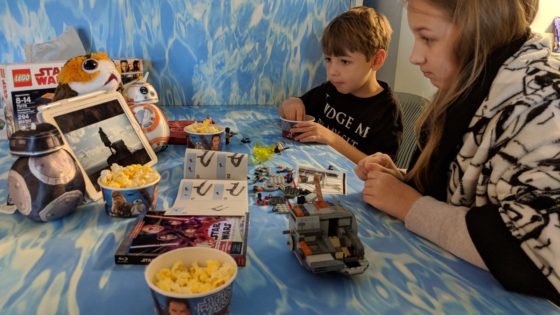 After the pool we went back to the room. In the room we watched STAR WARS: The Last Jedi while we built a LEGO set from the movie. We built the Resistance Transport with Finn and Rose plus BB-8. It was a fun build. We also had a bunch of great Star Wars stuff for a post for another day. Don't forget that I'm giving away 5 copies of STAR WARS: The Last Jedi, too.
During our later afternoon we went to dinner at the Hearth 'N Kettle again and had another nice meal. We also walked around the inside of the water park and checked out the great designs all around.
Each of these fun facades are the back part of a family suite. The design quality is exceptional and makes the inside of the water park look great.
On the way out of the Hearth 'N Kettle there was a guy doing balloon animals. He was Balloon Man Lou and he made Andrew a Balloon Cat. Andrew was quite happy at that. We had some time between the meal and the Bunny Hop Dance. So, we headed back to the room to enjoy dessert that I had picked up earlier in the day. I had gone out to the Hearth 'N Kettle to get one of their Whoopie Pies and an M&M Cookie. We all enjoyed sharing those.
For the Easter activities there was the Bunny Hop which was a cute dance party for the kids. Andrew loved dancing around to all the music. Eva was a bit more standoffish but she did enjoy doing the limbo. When it hit eight o'clock the movie Hop started playing across the hall. We went over there to watch for a bit because it is one of Andrew's favorite movies. We watched for a bit and then it was time to head back to the room and call it a night. We have to get up early to hunt for Easter Eggs in the morning as part of a scavenger hunt around the property. The kids are so excited about that.
Copyright (c) 2020 BenSpark Family Adventures