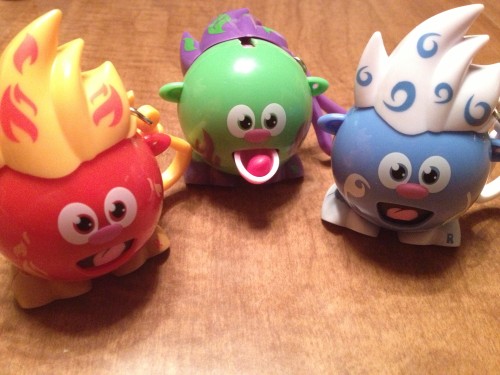 At Toy Fair I learned about a new product in the toy/candy market. It is a collectible candy dispenser called Radz. I was given two Radz candy dispensers while at the conference and also one additional one along with extra candy and a set of mystery glasses for my Radz figure for the purpose of a review. Radz are fun and cute. I was drawn to these characters because of their colorful look and the fun way they dispense the candy. Just pull back the hair and out pops the Radz tongue with a piece of tasty candy. The Gluten-free, peanut free candy comes in four flavors, Orange Burst, Apple Smash, Strawberry Splash and Radzberry Crush. I personally can't taste a huge difference between the four flavors but they are tasty and enjoyable.
The candy dispenser is much more than simply that however. The hair on each Radz is interchangeable with every other Radz figure. There are also Radz Mystery Glasses plus Candy Refills packs. In these packs you can find one of over a hundred different mystery glasses that fit on the Radz figure. With my small collection of 3 figures and 3 pairs of glasses I can make eighteen different combinations and therefore make my Radz collection unique. Each Radz also comes with a Buddy Backpack Clip so you can take it on the go with you as well. I clipped mine on my name tag and had candy with me the whole time I was at Toy Fair.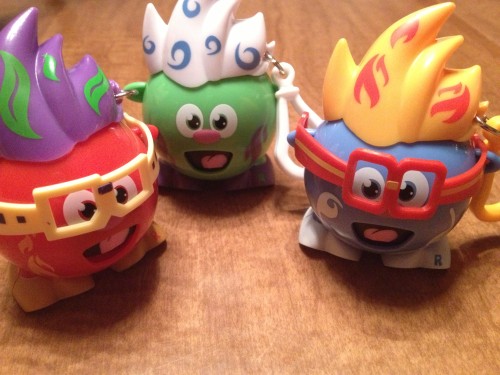 Radz is not just about the toys and the candy, they have a strong online presence and community as well. You can find Radz on Facebook, YouTube, Vimeo and Pinterest. In addition to the candy dispenser there is a code inside each character package that you can use at RadzWorld.com to create a unique Radz Plus account to unlock exclusive content like games and photos and videos. There are even some free iOS apps that are fun to play, my favorite is Zip Flip.
Radz is expanding into other markets as well with their Sports and Collegiate lines that are coming later this year. They also have a Radz Gone Wild line that will be releasing later in the year at zoos all over with cute animal inspired dispensers including a Tiger, Zebra, Monkey and Penguin. Holidays won't be left out either with the Radz Winter Holiday collection of Reindeer and Polar Bears. Designs just keep coming and I've seen some for Easter, Valentine's day and a line of Fashionistas. Each one unique and fun and each one can be mixed and matched with all the other ones. Be on the lookout for Radz everywhere soon. I think this will take off.
Copyright (c) 2020 BenSpark Family Adventures