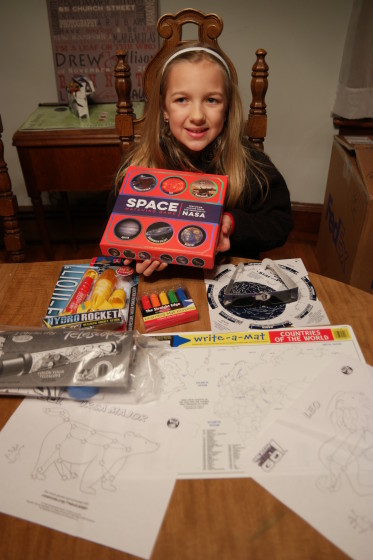 We received a great kit from PBS Kids for the new show Ready JET Go! I am part of the PBS Kids VIP program and because of that I receive things like screener launch kits for many of the shows. Ready JET Go! premieres on PBS Kids on Monday February 15th and this has been a show that I have been waiting for for a while. I wanted my kids to see it because of Dr. Amy Mainzer. I got to meet Dr. Mainzer last year at the PBS Annual meeting and she was amazing. I knew that I wanted Eva to see her because she is a woman in Science and would be another great role model for Eva. My friend Tee's daughter Teagan was lucky enough to interview Dr. Mainzer for a post on That's It Mommy. Eva's definitely going to get to read that.
So, what about the show itself. The show is really fun. It is about a boy named Jet Propulsion from the planet Borton 7. He and his family land on Earth and while Jet learns about Earth from his Earthie friends he teaches them about Space. Want to know about the solar system, take a journey in the family space ship for 30 minutes before Celery dinner. Celery is Jet's dad and Carrot is Jet's mom. They thought that those were earth names and chose them to blend in. The show is cute and have some really catchy music for things like the Scientific Method and also the Solar System. The kids and I have been watching the screener as well as the clips and episodes on the PBS Kids app on our Roku TV. They love it and have been watching every night.
Here is today's daily vlog where I talk about the show.
More about the show below.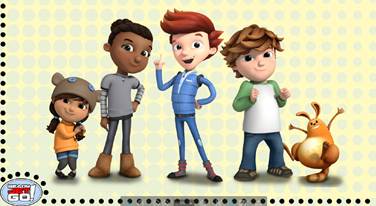 PBS KIDS UNVEILS SNEAK PEEK OF NEW SERIES READY JET GO! ON DIGITAL PLATFORMS AHEAD OF FEBRUARY BROADCAST PREMIERE
Collection of digital content will include most full-length videos PBS KIDS has ever released in advance of a broadcast launch; series debuts Monday, February 15 on PBS stations nationwide
Television Critics Association Press Tour, Pasadena, CA, January 19, 2016 – Today, PBS KIDS debuted full-length streaming video content and digital games from its newest multiplatform media property READY JET GO!, an animated series that will help children learn astronomy and Earth science concepts. On digital platforms, viewers can now preview four full-length 11-minute stories from the series. The episodes will continue to roll out throughout the month, totaling 12 11-minute stories by January 29, the most full-length video content PBS KIDS has ever released in advance of a broadcast premiere. The videos are available for free on pbskids.org, the PBS KIDS Video App and PBS KIDS Video on Roku, Apple TV, Amazon Fire TV, Android TV, Xbox One and Chromecast. In addition, two mobile-friendly web games, hands-on activities for children and families and a live stream of the International Space Station channel are available at pbskids.org/readyjetgo.
"PBS KIDS delivers high-quality educational content to kids anytime and anywhere, and we find that the learning potential is greater when kids interact with our content on multiple platforms," said Sara DeWitt, Vice President, PBS KIDS Digital. "With READY JET GO!, we are sharing more content than ever before, prior to a series' television premiere. We are excited that kids can explore outer space and beyond with Jet and his friends now, building excitement for the series' on-air debut on PBS stations next month, as well as sparking their curiosity about astronomy and Earth science."
READY JET GO! premieres on-air Monday, February 15, on PBS stations nationwide (check local listings). Created by Craig Bartlett (DINOSAUR TRAIN), READY JET GO! is designed for kids ages 3-8, with a focus on astronomy, technology, scientific exploration, innovation and invention. READY JET GO! follows Jet Propulsion, a new kid in town who also happens to be an alien from outer space. With his Earth Friends Sean and Sydney, Jet goes on astronomical adventures exploring the solar system and how it affects our planet, while learning about friendship and teamwork along the way. READY JET GO! features live-action interstitials with Jet Propulsion Laboratory astrophysicist Dr. Amy Mainzer, who is also a science curriculum consultant for the series.
The overarching goal of READY JET GO! is to spark children's inherent excitement about science, technology and astronomy, telling stories that feature characters learning about space in a way that appeals to, and is accessible by, young children. The comedy and music help kids learn a variety of physical science concepts, such as gravity, tides and moon phases. At the heart of every episode is a basic, kid-friendly question about outer space or Earth science. In the show, the characters often use a scientific method to find the answers to their questions.
"When I was a little kid, as soon as I learned just a little bit about the universe, I was hooked for life," said Dr. Mainzer. "Kids are born as little scientists, so reaching them early is key to igniting a lifelong love for science and appreciation for the planet we live on."
Each episode of READY JET GO! will include two 11-minute stories, as well as a live-action interstitial. The series also features both curriculum and character-driven original songs, sung by the entire cast, with topics ranging from a love duet between Mr. and Mrs. Propulsion to a description of our galaxy's stars.
"Public media is a natural home for READY JET GO!, giving all children a free and safe place to explore science content," said Debra Sanchez, Senior Vice President, Education and Children's Content at the Corporation for Public Broadcasting.
Created by Craig Bartlett, READY JET GO! is produced by Wind Dancer Films. PBS SoCaL is a station partner for the series. Major funding for the series is provided by the Corporation for Public Broadcasting (CPB).
Copyright (c) 2020 BenSpark Family Adventures