As you know I have been working on our new dining room for the past couple of weeks. This has involved washing walls, priming walls, vacuuming, sanding, more vacuuming, and more priming, replacing windows, painting, sanding the floor and applying a coat of polyurethane to the floor. And so this week I posed a couple of photos of the room's progress. I would like to say too that the days that I did the most work on the rooms were the days were it was so hot and gross. Today was no exception. Here I am working on the floor, sand out any spots of paint that I might have dripped on the floor, drop cloths are never where they need to be when this happens.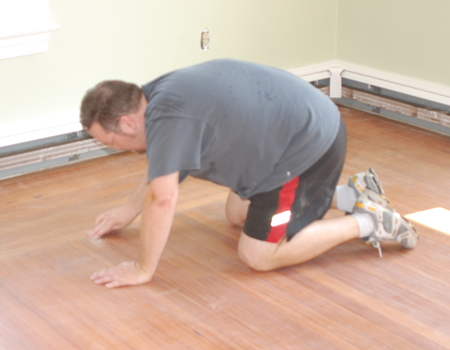 Needless to say that when I was finished with this task, my knees were a bit tired and achy. Luckily I received some packed of Freeze It to try. Here is an image of me before I try the freeze it on my knees, I am tired sweaty and gross, it was that type of day.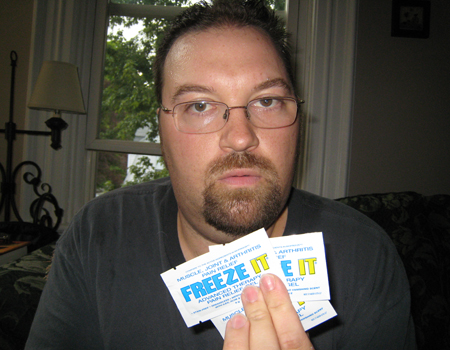 I am not thrilled about anything at this point and just want some relief for my tired joints. I apply the Freeze It gel to my knees.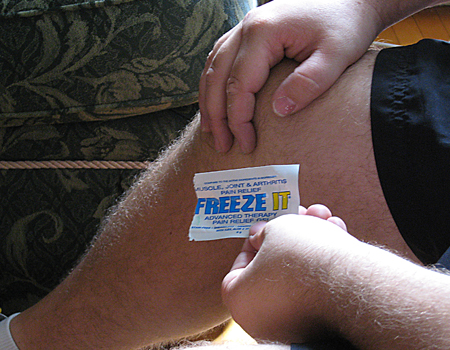 I immediately the Freeze It gel begins to work. This stuff penetrates deep. I sat there after applying the gel to each knee and to the back of my neck. I was enjoying the deep feeling of icy relief and my remodeling fatigue began to fall away. I sat there for about a half an hour just loving how my knees were feeling and amazed at how good the back of my neck felt. The Freeze It gel was working very hard.
I took a shower to get ready for dinner with friends and after my shower I could still feel a significant tingle from the Freeze It gel. It is now over 8 hours later and the back of my neck still has a pretty nice tingle. It is about the only part of me that isn't feeling oppressed by the heat and humidity. Here is how I am feeling after using Freeze It.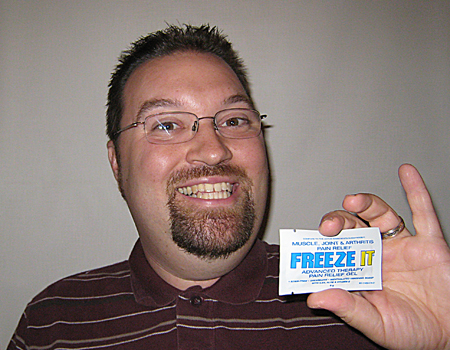 I'm smiling for a couple of reasons. Freeze It contains the same ingredients as other products. Freeze it retails at a much more affordable price. And Freeze It comes in a gel or a roll on. I would love to get some of the Roll-On Freeze It and put it on the back of my neck before I take my next flight. That would certainly loosen up the tension I get while being cramped on the airplanes. Then I would use the Freeze It tube of gel on my sore shoulders and legs from squeezing my frame into a middle seat, a seat I end up stuck with often.
You might be asking yourself what exactly is in Freeze It? Freeze It contains Aloe, Vitamin E, ILEX, an herbal extract from a South American holly shrub. ILEX is used around the world in various health & wellness formulations. Helps to enhance the effects of the pain relief ingredients., 3.5% menthol – Pain Reliever and .2% camphor – Pain Reliever.
You might also be saying to yourself that Freeze It sounds very much like a competitor's product which is pretty darn expensive. In fact, Freeze It contains the same ingredients as the competition but is much more affordable. I've used the competitor's product and I have used Freeze It. I have to say, that 8 hours later I still feel a great tingle in my neck and it is not sore at all. And my knees, my knees feel great. My remodeling fatigue is gone.
So, if you are suffering from Muscle, Joint or Arthritis pain and need a product that won't cause you pain in the wallet but rather relieve the pain in your body then try Freeze It.
I searched for the competitor's products and what I found were high prices. Save your money and get a very effective product for pain relief.
For more information on Freeze It visit www.freezeitgel.com. There you will learn more about the Freeze It products. You can also buy Freeze It for $9.99 for the 3oz Roll On or for the 4oz Tube of gel. If you buy 5 Tubes or Roll-Ons you get one free.
Read my disclosure policy.
Copyright (c) 2020 BenSpark Family Adventures