I have to admit. I am a fan of foam blaster weaponry. When I was back in College I not only had some foam blaster weaponry but also water blaster weaponry. I loved having blaster fights with friends, it was fun to run around the building late at night blasting each other blowing off steam. When I was an R.A. a few of my students had blasters as well and it was all about getting the bigger and better blasters. So I know a thing or two about these foam blasters. I was provided two sets of foam blasters to review. The Air Zone Quickfire Twin Pack and the Air Zone Quickfire Sniper.
The first blaster that I tried out was the Quickfire Sniper. This is not only a sniper blaster but it can break down to a smaller blaster. You can break the blaster down and remove the recoil shoulder stock, the scope and the long barrel. So, if you are set up in a good sniping location then the sniper setup would be great but if you need to be mobile you can break the blaster down pretty small but you retain the decent range on the blaster.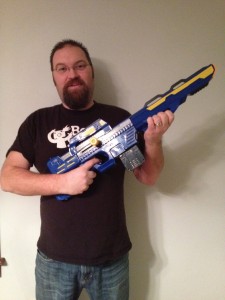 The soft foam darts are loaded into a clip. The clip holds six darts. Attach the clip and then load the dart into the chamber by pulling back the bolt mechanism and then pushing it forward to load the dart. Then taking the shot. The clips are compatible with other Air Zone Quickfire blasters. While this blaster is called a sniper I would say that it isn't so much a sniper for accuracy sake but more so a sniper because of the look of the blaster.
The second Air Zone Quickfire blaster set that I reviewed was a Twin Pack of smaller blasters. This set is nice because it contains two blasters so you can always have armament for you and a friend. You cannot use both at the same time because you need to pull back on the loading mechanism on the blaster to load the dart and then push it forward to engage the dart. I tried doing this with two blasters in my hand and it is not practical and pretty much not possible. These two blasters also shot as far as the sniper when I tested them. The blaster pack came with 24 darts so fire away and you can lose a couple and still have full clips.
All three blasters were very colorful so you aren't going to lose them. They are really crazy looking and fun. I did notice that the darts did not always load correctly and so they occasionally jammed up and did not shoot too far. However, when they did load the darts flew pretty straight and true and far. All around they are decent blasters.
Disclosure: I received these foam blasters to try out. The opinions are 100% mine.
ABOUT PRIME TIME TOYS, LTD.
Since 1990, Prime Time Toys, Ltd. has been producing fun, innovative toys and games that can be enjoyed both in and out of the water. Starting with the world famous Splash Bombs®, it has developed and expanded its line of water activities designed to give families hours of fun together. Just because Mom is sitting by the pool reading a book doesn't mean she doesn't deserve a good soaking! Every kid knows that! Prime Time Toys provides the tools to get the job done.
No water? No problem! Prime Time's line of soft, safe and action toys ensure endless enjoyment, indoors and out. To serve the world's fun needs, it has offices in Hong Kong and the US, and its products are sold by thousands of retailers across the globe.
Prime Time is proud to say it has made a big splash over the past 20 years, in every sense of the word. Click on their website, www.primetimetoys.com, for more information.
Copyright (c) 2020 BenSpark Family Adventures