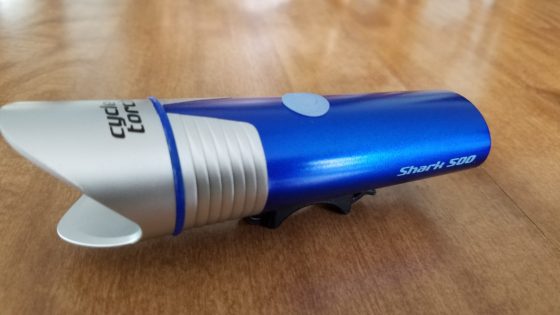 I received a Cycle Torch Shark 500 Bicycle Light to review and one to giveaway. This was in exchange for an honest review and video on YouTube. Opinions are 100% my own.
As you will see in the video the Cycle Torch Shark 500 Bicycle Light does exactly what you'd expect and it is also very easy to install. The connect the Shark 500 to your handlebars you connect with a special rubber connector, this also keeps the headlight firmly in place while you ride. Disconnecting the device is equally easy. You just pull off one of the connections using a handy tab and off it comes. The Cycle Torch is rechargeable and with a four hour charge it can run for an hour and a half. There are various modes of the light including bright and flashing. The tailight is also easy to connect and had a bright red light which can also be set to flashing for added safety.
More features and the chance to enter to win one of the Cycle Torch Shark 500s below.
You can find the Cycle Torch Shark 500 USB Bike Light Set at https://cycletorch.com/products/shark-500-usb-rechargeable-bike-light-set and if you place an order through the site you can use this 15% off Promo Code: " 15%OFFYOUTUBE " toi save 15%.
You can also find the product on Amazon.com at http://www.amazon.com/gp/product/B00OOENWTE/ref=s9_acsd_hps_bw_c_x_2
Amazon UK at https://www.amazon.co.uk/gp/product/B016ZE6QXO/ref=s9_dcacsd_bhz_bw_c_x_1
Amazon Canada at
https://www.amazon.ca/SUPERBRIGHT-Rechargeable-Taillight-Cycle-Torch/dp/B016ZE6QXO/ref=sr_1_2?s=sports&ie=UTF8&qid=1462378592&sr=1-2
Features of the Cycle Torch Shark 500 USB Bike Light Set
EXTREMELY BRIGHT USB rechargeable bike led light, packed with 500 Lumens to Illuminate the Darkest Path in the Night, GUARANTEED!
You can take it even Off-road.
UNIVERSAL FIT & EASY INSTALL – With a New Redesigned Mount it will Fit All Bikes, Oversized Road Bikes, Commuter City bikes, or any Mountain & Kids bikes. No Tools required.
UNIQUE FLAT BEAM TECHNOLOGY – Shark 500 Bike Light has ONE OF A KIND flat beam shape pattern – Specially designed for Cyclists. Drivers of oncoming traffic or other pedestrians around you will thank you for not blinding them!
MONEY SAVER WITH USB RECHARGING – No more investing in expensive and wasteful batteries. With SHARK 500 bicycle light, all you need is a USB plug or a computer.
100% MONEY BACK & SATISFACTION GUARANTEE – If you are not completely satisfied with our bike headlight within the first year, we will replace it with a new one or refund your money, no questions asked, Our Customers Matter!
Copyright (c) 2020 BenSpark Family Adventures