I was sent a couple of puzzle pods to check out and use. I read the instructions and I'm pretty sure that I didn't understand them directly. I started attaching puzzle pieces to the Puzzle Pod instead of attaching the Puzzle Pod a wooden puzzle. What I didn't understand until I watched the video below was that the Puzzle Pod was supposed to be attached to the back of a wood puzzle. When you attach the Puzzle Pod to the back of a wood puzzle you can take the wood puzzle with you into the car or anywhere because the pieces can be kept in the Puzzle Pod that is stuck to the wooden puzzle.
The Puzzle Pod is a clear plastic pocket that fits things like puzzle pieces, markers, crayons and other small easily lost items. Some other uses for the Puzzle Pod would be to attach it to a three ring binder and organize things that you need like markers, pencils, stickers and much more. I think we'll use the second puzzle pod to attach to Allison's Barefoot Books Binder so she can keep all of the material she needs to have on her to run a successful home business.
I enjoyed the opportunity to test out the Puzzle Pod and I am lucky to be able to give away a set of Puzzle Pods to a lucky reader.
Ways to Enter
(Leave 1 SEPARATE Comment for EACH Entry).
ABOUT THE PUZZLE POD
Necessity is the mother of invention and this time it was a mom who invented a clever storage solution for puzzle pieces and life's everyday piles of small bits – crayons, game pieces, building blocks and more. To order or for more information, log on to www.ThePuzzlePod.com. Be sure to view the company's video commercial on the company's site.
Here is the Press Release about the Puzzle Pod.
WHAT'S THE FINAL PIECE OF ANY PUZZLE? MOMS RECOMMEND THE PUZZLE POD™
Prevent Misplaced Puzzle Pieces While Tidying Up Potential Clutter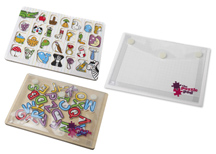 Rye Brook, NY (February 10, 2011) – Ever spend a lively morning with your toddler putting together a puzzle only to find you are missing the last piece? Tired of cleaning up after the kids when they've opened up four different boxes of games? How many times have you stepped on a tiny game piece? One Westchester County mom had a eureka moment experiencing all these mishaps. So she invented the final piece to any puzzle – The Puzzle Pod™ — a simple storage solution for life's little piles.
With two preschoolers of her own, Lauren Feist juggles playdates and indoor time with sons Wyatt and Trevor. She supplies the boys with plenty of stimulating activities like puzzles, coloring books and crayons, and board games. All these toys had a similar component – lots of little pieces that fell on the floor, rolled under the couch, somehow got lost in the shuffle. After endless days and nights of cleaning up her home and those of her neighbors after an episode of play, she toyed with the idea of a big plastic bag to label and store the tiny pieces. The idea fell flat when one of the boys tried to put the plastic bag … on his head. The proverbial light bulb went off and she invented The Puzzle Pod.
Simple, transparent and affordable, The Puzzle Pod adheres to the back of the puzzle, the game board or any toy packaging. Now when kids travel in the car or on a plane, they can whip out the Puzzle Pod and neatly play with dozens of puzzle pieces, word titles, dice or game cards. When play is over, everything goes back in the Pod — which easily closes tight thanks to cleverly placed Velcro tabs. The design is patent pending.
"What surprised me the most about the Puzzle Pod," explained inventor Feist, "was how easily kids put away their own pieces! There was no pleading or cajoling. They were having fun cleaning up!"
The secret to the Puzzle Pod is the aggressive adhesive backing. Unpeel the Puzzle Pod backing and stick to a hard surface – a cardboard box, a thick puzzle board, a coloring book. The Puzzle Pod passed the test in various preschools and play groups over a series of weeks. Kids and grownups alike loved the concept.
The Puzzle Pod • $14.95, set of four • Ages 2+
Sold as a set of four pods, these nifty holders are made of sturdy vinyl that won't tear and come with pleated corners to adjust to thick crayons, bulky puzzle pieces, dice, tiles or whatever the kids can snuggly fit inside. Ideal for grownup projects too.
The Puzzle Pod isn't just for kids. Moms like it for scrapbooking to keep scissors, glue, arts & crafts pieces and other necessities tidy and within reach. The Puzzle Pod is perfect for storing bill-paying supplies, holiday receipts, greeting cards and stamps, whatever activity needs to be neatly contained for a new day.
Look for The Puzzle Pod online at www.ThePuzzlePod.com.
More about the Puzzle Pod in this video.
Disclosure: I received this product for free to review. The opinions expressed are 100% my own.
Contest Rules: I will not respond to any comments so that I can run the Random.org numbers correctly. Any trackbacks are unapproved while I select the random winner and then re-approved after. Only legitimate entries are counted. You have until 8:00pm EST on March 25, 2001 to enter. Once 8:00pm EST rolls around (or as early the next morning as possible) I will close the comments. The winner will be notified via e-mail and will have 48 hours to reply with a U.S. Mailing address so that we can send the winner their prize. Contest is open to U.S. Only. Please do not use multiple names to enter. Make it fair for everyone and don't stack the deck.
Copyright (c) 2020 BenSpark Family Adventures