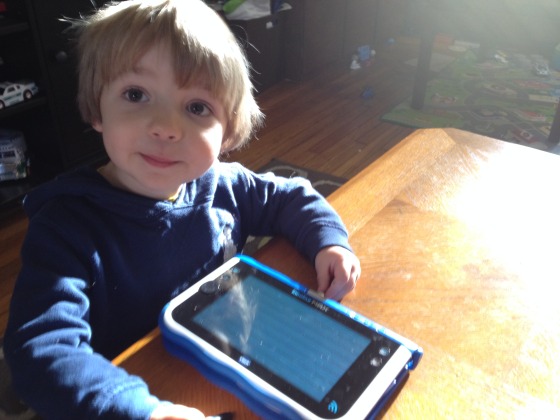 Now that Eva has her own tablet I was thinking about one for Andrew. He uses the family tablet and occasionally tries to use Eva's tablet so he is interested in using one. I just needed to find something more appropriate to him. While I was at the Time to Play Holiday showcase I took a look at the VTech® InnoTab® MAX learning tablet. This looked like the perfect tablet for Andrew and so when I got the opportunity to review one and also host a giveaway for one I jumped at that chance. Opinions expressed in this review are 100% my own.
Andrew is nearing three years old. We are a couple weeks away from that milestone. He's an inquisitive kid and every day he shows us something new that he has learned. To prepare Andrew for Pre-School we read to him daily, he enjoys arts and crafts, playing on the playground and watching shows (I try and make sure they have some component of education to them). But he is growing up in a digital world and I wanted something more for him to have that was his own and would not only entertain him but stimulate his mind for learning. The VTech® InnoTab® MAX learning tablet fits the role perfectly.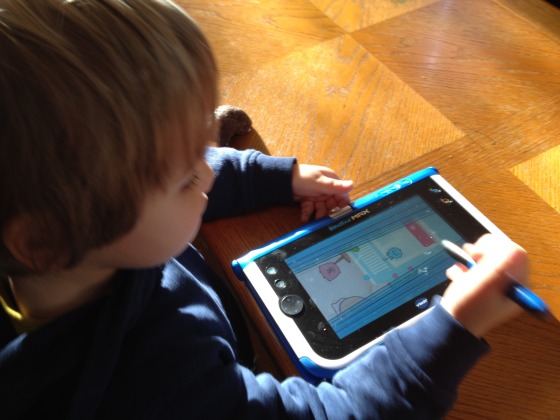 I usually sit with Andrew and watch him as he uses the VTech® InnoTab® MAX. I'm there in case he gets stuck but also there to see how he is doing and what he is learning. He's nearly three so there are two apps on the tablet that we have been using most of the time. One is an alphabet app and the other for his numbers.
I like that the tablet has curated apps for it. I also like that we can use InnoTab Cartridges as well as the apps. While we do have parental controls on the tablet we don't have to worry about Andrew going out onto the web and seeing things that he shouldn't. The tablet does have wi-fi and Andrew can use that to access curated content and also to use the Kid Connect app which allows him to send pictures, drawings, stickers or texts to either me or Allison on our tablets of smartphones.
Some more information about the VTech® InnoTab® MAX learning tablet (Ages 3-9 years, MSRP: $109.99)
VTech's 4th generation kids' learning tablet features its fastest processor yet with up to six times the processing power of previous generation and a 7" high-resolution multi-touch screen display
InnoTab MAX features an enhanced 2nd generation version of Premium VTech Kid Connect™, at no additional charge, allowing children and parents to exchange voice and text messages, photos, drawings and fun stickers in real time between the tablet and a smartphone
InnoTab MAX offers the best of both learning worlds with access to more than 650 educator-endorsed, age and stage appropriate learning titles as well as carefully cultivated educational Android apps that can be purchased and downloaded through VTech's Learning Lodge® app store
The tablet comes with 15 onboard apps including Premium VTech® Kid Connect, My Magic Beanstalk, Movie Maker, Art Studio, Wonder Cam Max, E-Reader with Story Dictionary and more
InnoTab MAX also comes with one free Toca Boca app and two additional free apps that can be downloaded from the Learning Lodge
Other InnoTab MAX features include a built-in rechargeable Lithium battery and kid-safe Wi-Fi so kids can explore appropriate online games, videos and websites that have been pre-selected by VTech
Parental controls allow parents to manage their child's apps, web access and tablet time, as well as view a progress log
Social Media Sites for the VTech® InnoTab® MAX learning tablet:
Would you like to win your very own VTech® InnoTab® MAX learning tablet? Enter through the Rafflecopter App below.
Copyright (c) 2020 BenSpark Family Adventures