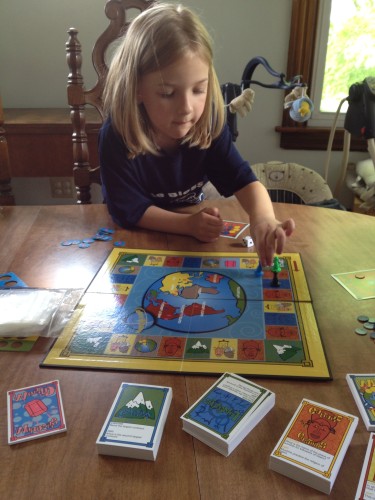 We were sent a copy of The "Around the World" Game to play and review. Opinions of the game are 100% our own.
Despite the game being for ages 8 and up we played the game with Eva, she's 5. She is a very intelligent and well spoken 5 and so we figured that even if she can't get any questions correct she can at least learn something from the process. What I learned was to never underestimate the sponge-like brains of pre-schoolers. She retains everything that she has seen or heard even in passing so there might have been an answer to a question on a TV show she saw or a book she read. It doesn't hurt that when she goes to bed at night she listens to stories from all over the world through the Barefoot Books Podcast.
Game play is pretty simple and fun. Players roll a die and move around the game board. There are four types of question cards: People & Places, Language, Culture & Customs and Geography. There is a nice range of difficulty levels on the cards, too. Allison shuffled through and found easier questions for Eva so that she was able to get ones that she could answer. It is no fun playing with a kid who can't answer a single question.
So, players take turns answering the questions on the game cards as they progress around the board. Each time they answer a question correctly they get a token for their Global Score Card. Players must get 3 tokens of each color in order to win the game. The board also has additional spaces like World Wonders and World Bank. If a player lands on the World Wonders space then they must put a gem on a spot on the map of the world in the center of the game board that corresponds to a world wonder. This helps players identify places on the map and they learn a little factoid about the world wonder. When a player draws a World Bank card they are thanked for contributing to the betterment of the world in some way and are rewarded with moving ahead a space or picking their favorite category for a question. I like that there are no spaces on the board where the player loses a turn. The biggest setback that a player can face is switching places with another player but position on the board does not matter so it isn't a big deal to switch.
Overall I found that game play was simple and easy to do and we were able to jump right in and go. While we played with 3 players you can actually have up to 30 players playing the game which is something that makes Around the World a great learning game for classrooms.
The Around the World Game is not just limited to the game, there is a vibrant community on the Around The World Facebook Page. People who like the page are eligible to win a copy of the Around The World game each month. Players can participate and answer questions there and also by following @ATWGames on Twitter. People are also encouraged to submit their own trips from their travel abroad. Fans can do that through Facebook and Twitter.
This interaction and community building is all part of Around the World's Learning Through the Lens program. To participate, readers just have to send in a photo they cherish from one of their trips and explain what it means to them. Each month two or three of the photos are chosen as winners and the winners get their photo and their story on the Around The World Game blog as well as a free board game.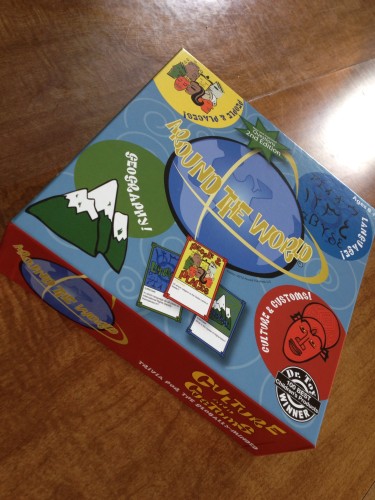 I also have a deal for each of my readers. Around the World Game is offering 10% off Around The World Game through their website. This is a fantastic Global Awareness trivia game that the whole family can enjoy.
Copyright (c) 2020 BenSpark Family Adventures