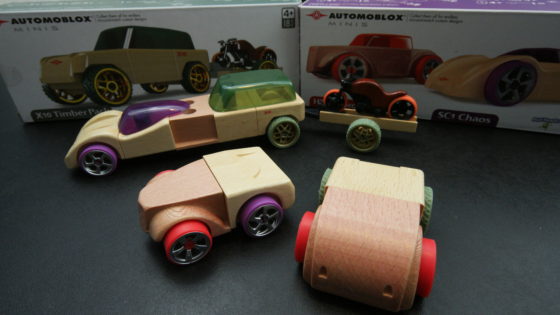 We received the Automoblox® Mini X10 Timber Pack and Chaos and HR5 Scorch 2-Pack for free from PlayMonster to play with and review. Andrew loved these cars and he was so happy to do this review.
Both Andrew and I love cars. I love to ride in them, he loves to drive them. We also love to play with them. We've plyed with all kinds of toy cars but we've never had the chance to check out Automoblox before today. We received two packages of the new Automoblox® minis from PlayMonster. Many of the new designs for these toys were revealed at this past Toy Fair. I was unable to attend but am glad to get our hands on them for use in our home.
This time around I had Andrew play with them to his hearts content prior to any sort of video. When the time came to make the video below he had had so much playtime with them that he could speak to them much better than an on the spot unboxing. He's learning how to do these reviews with me. I'm learning how to give him his own space to talk about things in his way.
The first of the two packages that we received were the Scorch and the Chaos. These two sports cars are sleek and stylish. The Scorch even has a darker stained wood than other Automoblox vehicles. This is a new feature. The cars can be pulled apart in three places on the body and then the wheels can also be removed. Then you can mix and match them together or with other Automoblox minis.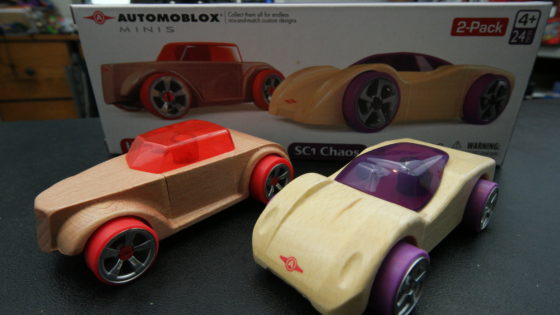 The second package was of the X10 Timber which is an SUV that tows behind a trailer with the first ever Automoblox motorcycle. The motorcycle does not break down or swap with other kinds of Automoblox toys but it is still really cool in and of itself.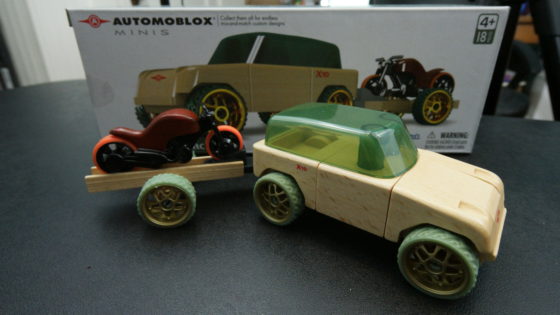 More about these the release of the new Automoblox minis line below.
PLAYMONSTER EXPANDS SLEEK WOOD VEHICLE LINE, AUTOMOBLOX
All New Mini Designs and the Ground-Breaking Hauler to be Added to the Line
BELOIT, Wis. (February 17, 2018) —PlayMonster's Automoblox®, an award-winning line of high-quality collectible toy vehicles that innovate the classic wooden toy car category, is seeing some new looks and fresh ideas! New mini vehicles and the Hauler will be showcased at North American International Toy Fair in New York, February 17 – 20 at booth #435. The new vehicles still feature the mix-and- match capability and fit in well with the existing vehicles, while adding a fresh look!
Several new cars join the mini line, all with new sleek designs and splashes of color. Some, like the HR5 Scorch will even sport the first darker stained wood the line has seen since its conception. Also debuting is the new pick-up truck Grizzly, as well as the X10 Timber Pack featuring an SUV with a trailer and the first-ever
Automoblox motorcycle! New minis are priced at $11.99 – $23.99.
Another exciting addition to the line is the BR100 Hercules 16.5" hauler! It comes with two back ends, two mini vehicles, has room to hold and haul up to five mini vehicles, and features an adjustable ramp. Children can even mix and match the 54 pieces to change it from a car carrier to a dump truck! MSRP $59.99.
Vehicles sport a body made of European beech wood, and includes multiple interchangeable components, including tires and wheels. With its mix-and- match creative design features, it's easy enough for kids as young as 4 to get in on the fun, and the cool, collectible designs appeal to older kids and adults as well. No tools required! For ages 4+.
Each Automoblox vehicle includes a unique VIN that can be used for online registration into the owner's club, where fans can learn about news and cool events, so the fun never ends!
About PlayMonster LLC
Beloit, WI-based PlayMonster is a toy and game company that believes in the power of play to make a positive difference in people's lives. Delivering great play value by designing, manufacturing and marketing innovative, fun products such as "TOTY Game of the Year" Yeti in My Spaghetti®, along with other award-winning toys and games like The Game of THINGS…®, 5 Second Rule®, Mirari®, Farkle, OK to Wake!®, My Fairy Garden®, Wonder Crew®, Automoblox® and Marbleocity® is how PlayMonster helps keep play alive for all ages.
Copyright (c) 2020 BenSpark Family Adventures