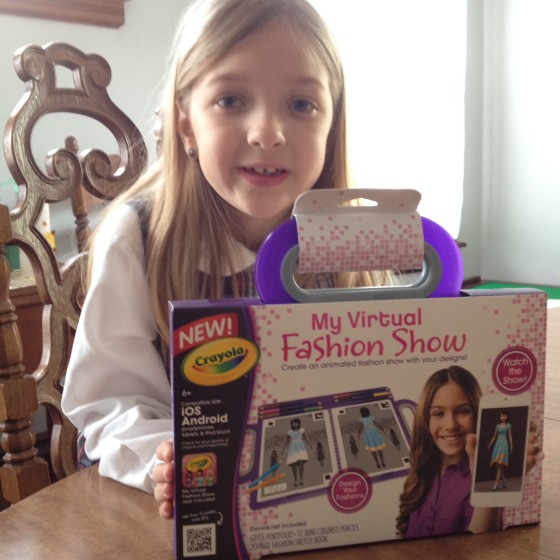 We received a big box of great Crayola products including My Virtual Fashion Show. I saw the Pro version of this at Toy Fair and thought it would be perfect for Eva, I was so right. Opinions are 100% our own.
When I gave the My Virtual Fashion show to Eva she was so excited. She has been creating fashion dolls with the Light-Up Tracing Board and she enjoys that very much. She has made a ton of fashion dolls with that toy and now she's stepping into the virtual fashion designer realm. My Virtual Fashion Show has everything that your little fashion star needs to create stunning dresses and outfits for virtual models. It is part coloring and part app (iOS or Android).
The kit comes with a case to hold everything including 12 colored pencils and the book of fashion templates. To start off your child takes the colored pencils and creates a fashion design on one of the outfit templates. Then you use your iOS or Android device to scan that design into the app. There are special squares on the corners of the paper that the app reads to tell the front and the back of the image and what is on the paper. Once both images are scanned your virtual model appears in a 3D version of the designer's outfit. Then your child is free to change things like hair style, hair color, skin color, shoe style and color and accessories. The model will take a walk on the runway, too. The more models you make the more will be able to walk the runway.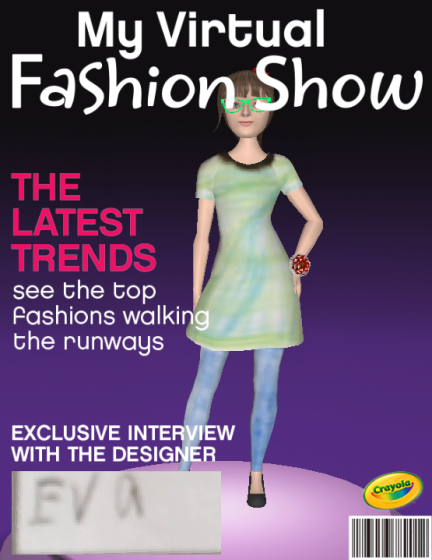 On each of the fashion templates there is a spot for the designers name. That name will appear above the runway or on the virtual magazine cover. When it is time to walk the runway the models can have a backdrop of Paris, New York or Milan. Once a model is scanned into the app they can be a part of any runway show that you choose. Your designer can then take photos of their models and even put them on a magazine cover. Photos can be emailed to friends or printed out.
Eva is so proud of her creations and she has had me showing everyone those creations on my phone. Her eyes light up hen she shows off her new fashions. She'll probably blow through the 20 page book that comes with the kit but luckily you can print out a bunch more right from the app or email .pdf files to print on any printer.
Copyright (c) 2020 BenSpark Family Adventures