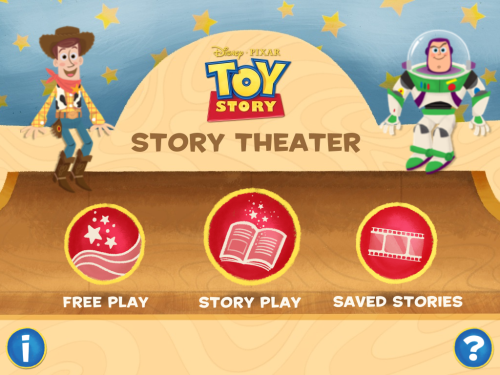 I was given a download code to try out and review the newest Disney Story Theater. This one was Toy Story Story Theater. With the app kids can pretend to be their favorite Toy Story Characters like Woody, Buzz or Jessie. They can use the app to make little puppet shows using their own voices.
I like these apps because it gives kids a digital way to tell stories and it allows them to be the director of their own little mini movies. I think the app could be a bit stronger though and allow the characters to move around a bit more. I think that kids would like to be able to move the arms and legs of the character and allow them to walk and wave and jump as they spoke. I'd also like more of a work area where you can bring characters on screen or stage and then move them off, being able to pause as I set up each character would be a good thing to add as well. I think that a lot more can be down with this app to make it more dynamic.
Don't get me wrong it is a fun app. For younger kids it will have them making fun stories over and over. Eva made a bunch of them one day and saved all of them to my iPad. They are fun little stories to listen to and watch.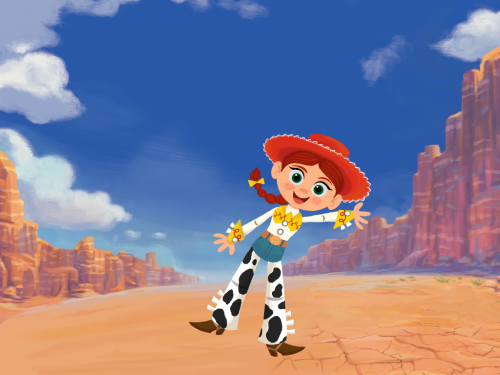 Eva's favorite character from Toy Story is Jessie the cowgirl. She tends to use her in most of her stories. It would be fun if you were able to take a photo of your child's head and have it placed on a character body because kids do tend to enjoy having themselves inserted into stories, at least my daughter does. She wants to be part of every story I tell. And, she wants stories on every ride to and from school, every day. Maybe as she makes her own stories she'll give me a little slack if I can't come up with something new for each car ride. But probably not.
Copyright (c) 2020 BenSpark Family Adventures