Photo-A-Day #2860
I received some of the all new Original DoodleArt to review. This new product is being distributed by PlaSmart the folks who sent me a Plasma Car and also a Plasma Bike (Review of that coming soon). I love to color and so Doodle Art is perfect for me. This super detailed poster is a great family activity. Eva and I started coloring in the Dolls poster together this afternoon.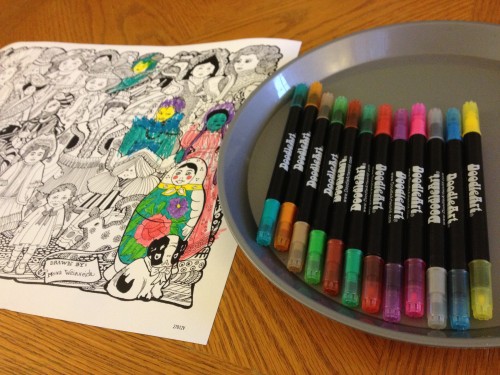 These DoodleArt posters were first created in 1972 and all of the original posters are now available once again. I remember these being around when I was a kid and a few years ago I wanted to find something like this so that I could do some coloring but they weren't around. Now they are are back and not only the original ones but for the first time in 40 years there is an all new poster done by one of the original DoodleArtists Moira Carlson. That one is called Pirate Treasure and I really want to color that one.
Original DoodleArt comes in a tube with 12 precision felt tip markers. They are double tipped with a fat head and a skinny one as well. The markers are non-toxic washable markers, with perforated end caps to reduce the risk of choking. This is the set that we received.
MiniPoster Kit #1
Illustrated by Moira Carlson (formerly known as Moira Weinreich).
All our posters are of superior and archival quality. They are printed on 10% recycled, FSI certified, 100 weight poster paper and include 12 dual-tip, chisel and fine point non-toxic washable markers, with perforated end caps to reduce the risk of choking. The tubes are 90% recycled cardboard fiber. DoodleArt is proud to be a Canadian company. All our posters are printed and assembled in Vancouver B.C. Canada and shipped throughout the world.
Size: 11 x 14 inches
If you have an artist in the family or you want to unplug some evening and spend some quality family time then this is a great product for you.
Check out the Original DoodleArt website and find DoodleArt on Facebook as well.
Disclosure: I received this product to try out and review. Opinions are 100% my own.
Copyright (c) 2020 BenSpark Family Adventures