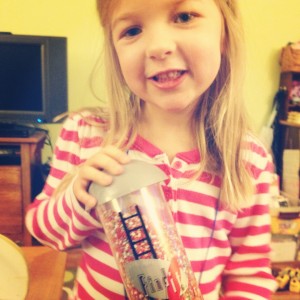 Eva and I were sent a Find It Games game. It was the new game called On the Farm. Find It Games is known for their cylindrical "contained adventures". These games are great for family game night. On the Farm has over 40 different items that can be found while playing the game. Players spin the silo-shaped cylinder around until they can identify items like a tractor, a chicken, a horse plus many other items.
The game was pretty easy for Eva even though the age rating was 8 and up. She had no trouble finding the items but she did need my help identifying a few of them. But despite that she was taken with the game and enjoyed playing. I enjoyed it as well. I did notice a few errors on the scoresheet however. I would have thought that quality control would have caught horse listed twice and carrot being spelled wrong*. That did not lessen our enjoyment of the game though and we'll certainly play again.
I love that there is no cleanup, no pieces to lose, and it is easy to play. Since everything is listed on the bottom of the Silo you can also take with with you on the go. It might be fun for a long car trip.
If you are a Find It Games fan you can interact with the company on the Find It Games Facebook page.
On The Farm • $23 • Ages 8+
Old MacDonald-wannabes and animal lovers alike will delight in the new "On The Farm" hidden object game with 42 different items tucked among the brightly colored pellets, all packaged inside a clever silo-shaped cylinder, complete with a ladder! Like all Find It hidden object games, this barnstormer of a game provides hours of fun for all generations. Use the enclosed score pad to check off items as kids, babysitters, parents and grandparents find a chicken, a tractor, a scarecrow or a milk jug. On the bottom of the game is a checklist of all items which allows players to "find it" in the car, in the backyard or even down at the local barn!
* – These errors were caught after the first run.
Disclosure: I received Find It On The Farm to play with and review. The opinions about the game are 100% my own and as observed of my daughter playing the game.
Copyright (c) 2020 BenSpark Family Adventures