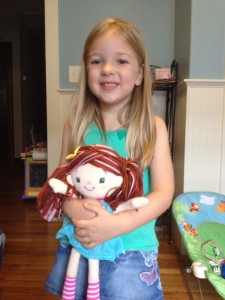 Dolls, Kids love to play with them and now GUND is making some very cute ones. Meet The GUND Girls. These four friends are four friends with unique and distinct personalities. I was asked if I wanted one of the GUND Girls dolls to review with Eva. I looked at each one and tried to figure out which one would be the best choice for her.
Each doll is super cute and so it came down to personality. I wanted to find one that complimented Eva's personality the best. Here are the four girls and their personalities.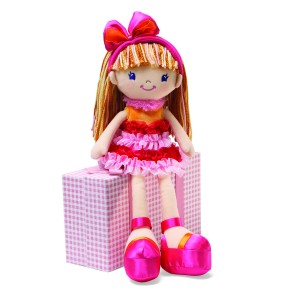 Meet Brooklyn
She's a big city girl!
Her style is super girly!
She loves to shop with her friends!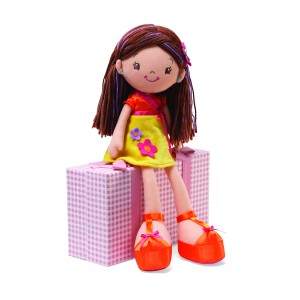 Meet Sloan
She loves hanging out on the beach with her friends!
Her style is hippie California chic.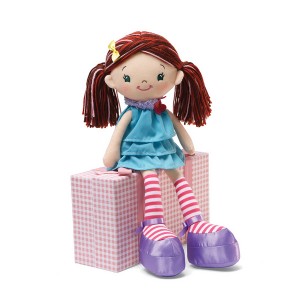 Meet Emma
She loves having dance parties with her friends!
She also loves painting and anything with stripes!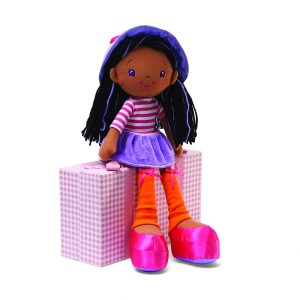 Meet Deedee
She loves traveling and having adventures with her friends!
Her favorite color is violet like her eyes!
If I had just gone on the looks of the doll I would have picked Brooklyn because she's blonde like Eva, but I thought that the personality of Emma was the most like Eva. She loves to dance and is very creative artistically as well.
I think I made a great choice too because Eva loves Emma. I had gotten Emma in the mail and opened up the box and left her on the kitchen table. Eva came upstairs with Emma, eyes wide asking me if this doll was for her. She was so excited and Emma was immediately her best friend. Eva even took Emma to school the next day for show and tell and on the way there I had to make up a bunch of things that Emma likes to do in addition to the things that GUND defined as her personality.
Just a couple of things from GUND on the GUND Girls.
"GUND Girls are perfect for summer road trips, beach days, and camp. Summer memories are always the best when your friends are around!
Gund Girls"
Ages 3 & Up
Suggested Retail Value $30
Come with one removable outfit for dress-up play
For more information or to purchase a GUND Girl for your little one, go to: http://shop.gund.com/products/category/753.0.1.1.1013774.0.0.0.0
And be sure to follow GUND on all your social media outlets for the latest news and information:
https://www.facebook.com/GottaGettaGUND
http://twitter.com/#!/GOTTAGETTAGUND
http://pinterest.com/gottagettagund/
Disclosure: We were sent a GUND Girl doll for Eva. Opinions about the doll are 100% my own and what I observed from Eva.
Copyright (c) 2020 BenSpark Family Adventures