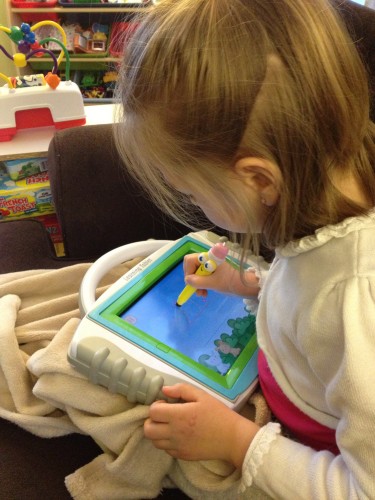 At our house learning is very important. With Eva we started talking to her in full sentences almost right away. We hardly did any baby talk with her and she has since grown to a five year old with the vocabulary and understanding of that vocabulary of a 10 year old (at least). Our iPads have never been off limits to her and have always been used as tools for helping her become more educated, with some fun and games as well. When I was offered the chance to review the iLearn 'N' Play Learning Tablet I didn't jump at it at first. The device was a case that had a kid friendly stylus and an app called Letterbox. The thing that changed my mind was the app. Eva will be attending a school where she will be learning not only to write standard letters but also cursive writing. This app helps kids learn how to write both. I hadn't found a good app for that yet so that is why I decided to take this review.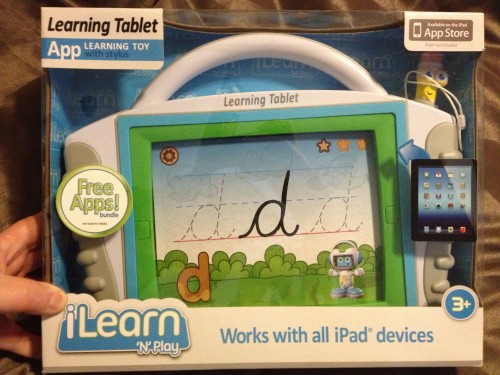 We received our iLearn 'N' Play Learning Tablet right after Toy Fair where I had gotten to see it up close and in person. I placed my iPad into the protective case (There is no screen protector built into the case but you should already have had one on your iPad if you were smart.) The iPad fits in nicely and you only have to unlock the case with a coin. I did notice that once the iPad was in the case there was no way to manually access the sound volume however you can adjust the volume within the Letterbox app itself.
The one thing I was most skeptical about was the stylus. I had been burned by stylus type devices in the past that did not work properly with a simple screen protector on the iPad. As I stated before, if you were smart, you should already have a screen protector on your iPad. That is absolutely not the case with the stylus for the iLearn 'N' Play Learning Tablet. The kid friendly stylus is very responsive, cute and easy for Eva to hold and use. She was able to use the stylus with the Letterbox App as well as with many other apps that we own including drawing apps. The tip of the stylus is also one of the softest I have used. That is great for parents who share their device with their kids.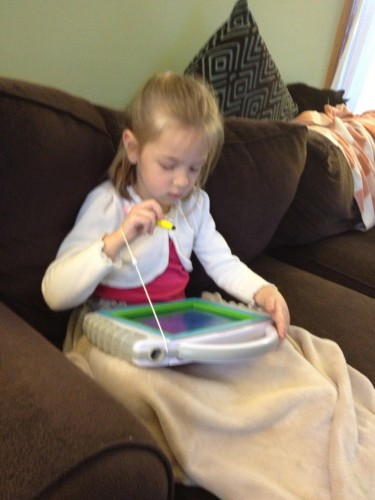 The Letterbox app is a very nice one. With it kids can learn to write their letters in standard and cursive. An outline of the letter appears with numbers to show what is to be done first, second, third … etc. The more closely the child follows the outline the better score they get. Scoring is a simple three star system. Do poorly and get one star, do well and get two stars, write a perfect letter, or very close to it, then earn three stars. The ratings give children a simple understanding of how they can improve next time. After a child writes their letter a little puppy or kitty walks the path that the stylus took and there are sound effects and animation.
The app can be played without the stylus as well. Kids can use their fingers to trace the letters. If you do not have an iLearn 'N' Play Learning Tablet you can still download the app. The app is free for download until May 1, 2013. After that the price goes to $1.99. So download it today and place your order for the iLearn 'N' Play Learning Tablet right after you read this. Even though kids can use their fingers to use the app the kid friendly stylus is a better solution because kids will still be using pencils and pens to write in school. The iLearn 'N' Play Learning Tablet also has a stand so that the case can be at a decent hands free viewing angle and kids can use that to watch movies and play games, too. The case is light and has nice colors. The stylus is attached and you can easily access the main button on the iPad. I was pleasantly surprised at how well everything worked, especially the stylus.
There are additional products from Appsmart Learning, the company behind the iLearn 'N' Play Learning Tablet. You can learn more about the iLearn 'N' Play line on Facebook, follow them on Twitter and subscribe on Youtube. Here is the official press release.
iLEARN 'N' PLAY TURNS AN iPAD INTO AN iSCHOOL
iLearn 'N' Play Gives Children An iStart On Education
Ridgewood, NJ (January 28, 2013) – In life, there are certain combinations that are just magical: peanut butter and jelly, bread and butter, and, of course, spaghetti and meatballs. If only there were some kind of magical pairing that would get kids as excited about learning as they are about eating! Well, thanks to AppStart Learning there is. It's called the iLearn 'N' Play and it's a magical combination of iOS devices and Toys!
Created by a brilliant team of product development experts with a combined 30 years of experience working with cutting edge brands like V Tech Early Learning, Microsoft Actimates, Fisher Price, Uno and Cranium – iLearn 'N' Play has successfully integrated iPads, iPhones and iPods with a fun, App-enhanced learning curriculum to make the most revolutionary development in education since the chalkboard.
AppStart Learning, the company behind the iLearn 'N' Play concept, has launched three extremely well crafted toys at Target stores and at www.target.com. Each of the toys is actually a sophisticated device that will not only safely enclose and protect an iPad, iPhone or iPod, but actually integrates the toy, with the devices and a series of proprietary apps. Once together, the apps can be played through the toys' external buttons, knobs or stylus. Say goodbye to broken and finger-smeared screens.
The proprietary apps are based on the iLearn 'N' Play Global Curriculum™ developed by the very best curriculum dimensions from education departments and practices around the world. Unifying early learning aspects from around the planet, an amazing team (based in London, South Africa and Shenzhen, China) was formed to create the unique learning games upon which all iLearn 'N' Play apps are developed. For moms and dads the net result is a "toy" that will let their children use the coveted and intuitive Apple devices, and for kids, the entire concept will quickly become their next peanut butter and jelly. Only it won't fill their stomachs, it will fill their minds and their imaginations.
Other tech products for children usually have their own screen and a mini-computer created just for one specific use. Therefore, they are somewhat limited. Additionally, those toys are not only far more expensive than the iLearn 'N' Play units, but they lack the power of iOS devices.
LEARNING TABLET • $19.99 • For ages 3 and up
Slip your iPad into this stylish and durable frame; grab the attached, child-friendly stylus and power up for some fun learning. Once safely inserted into the Learning Tablet, your iPad becomes a part of this amazing new, early educational concept. Not only is the Learning Tablet cool but also it keeps your iPad safe!
Each Learning Tablet comes with a "Letterbox" app. This fun learning app helps young children to develop their writing skills! Using the stylus provided with the Learning Tablet, children will learn how to write the letters of the alphabet and be rewarded for improving their skills. Simply place your Apple iPad in the protective case, and enjoy the experience of using the stylus (or fingers) to interact with the App. Children are encouraged to write the letters of the alphabet choosing from cursive and print styles.
ADVENTURE EXPLORER • $39.99 • For ages 3 and up
Connect your iPad, iPad mini, iPhone or iPod to this amazing console, turn on the ignition key and "drive" into a fun learning adventure. Each Adventure Explorer has a working on/off ignition switch, a steering wheel, shifter, accelerator, forward/reverse control that integrates with iLearn 'N' Play apps.
The Adventure Explorer comes with a free "Letter Explorer" app. This fun learning app helps young children learn about letters and phonics! Children are encouraged to collect and recognize letters, sounds and spell simple high frequency words. Use Bluetooth to pair with the Adventure Explorer unit, place your Apple iPad, iPhone or iPod in the toy, and enjoy the experience of using the steering wheel and controls to interact with the App. The company's curriculum-based learning through play encourages letter recognition, blending and reading. Multiple game environments and multiple vehicles
make this a true learning adventure.
ROBBI • $39.99 • For ages 3 and up
Robbi, the adorable iLearn 'N' Play learning companion, will provide children with hours of fun learning. Slip an iPhone or iPod into Robbi's faceplate and he comes alive. The intelligent learning apps use Bluetooth technology to connect the iPod/iPhone to the unit. The apps ask children to use the 10 chunky numbers in Robbi's tummy to focus on teaching beginning numbers, counting, addition/subtraction, colors, shapes and greater than/less than numbers.
Each Robbi unit comes with a free app called Numberbots. This fun learning app helps young children learn about numbers and counting. The Numberbots app encourages children to engage with simple math learning based on Early Years Foundation Stage objectives, such as number recognition and adding sums.
Each product comes with a full version of its app which can be played for free until May 1. After that, "lite" versions of each app will be available in iTunes for free download to all consumers to "try before they buy" with one-third of the app's content available. If they like it and wish to purchase the full version of the app, they will be sold in the iTunes store for $1.99 each. As other apps are rolled out throughout the year, a similar offering will be available. Additional toys will also be rolled throughout 2013.
About AppStart Learning
AppStart Learning joins 3+ Toys and Apps to make learning fun by making learning play! iLearn 'N' Play works with little learners to help them understand all sorts of early learning concepts! All iLearn 'N' Play Apps are built around our unique iLearn 'N' Play Global Curriculum that joins technology, play, and early learning needs to help children learn while having fun.
The company boasts a global sales network with local offices throughout North America and affiliate offices in London, Rome, Sydney and Hong Kong. Its manufacturing and engineering team in Shenzhen has a deep background in Bluetooth, electronic and learning products.
Disclosure: I received this product to try out and review. Opinions of it are 100% my own.
Copyright (c) 2020 BenSpark Family Adventures