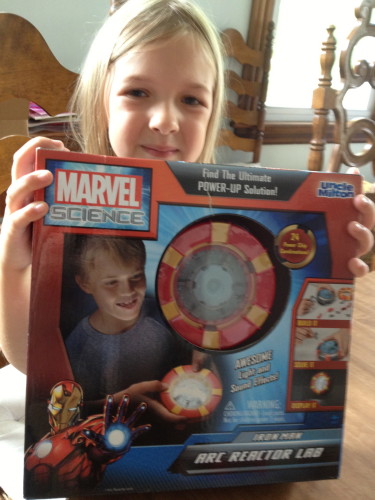 We received a copy of the newest Marvel Science set from Uncle Milton. This one is the Iron Man Arc Reactor set. Opinions of the set are 100% our own.
Eva enjoys science. Her Auntie Tara takes her on science Fridays from time to time and they do experiments. Eva also enjoys the Avengers. She watches the cartoon with me and likes the different characters especially Iron Man.
When I was at Toy Fair I saw this Iron Man Arc Reactor and really wanted to try it out. It looked like a lot of fun and I couldn't wait to play with it. Here's our video review of the toy.
Assembling the Arc Reactor is pretty simple. Eva was able to assemble it easily. The vents and connectors snap right on. Then you have to try and put in 4 different power chips into the Arc reactor to make it light up and make sounds.
The set has a nice combination of assembly and testing. Once the Arc Reactor is assembled it is now time to start a process of elimination to make the Arc Reactor achieve full power. Kids can get their hands on this toy and use it in Lab mode or Night Light Mode. There is a little display stand that hooks to the back of the Arc Reactor so that you can set it up in their rooms as a nite light. I think the little hooks on the display should be a little bigger though. The Arc Reactor falls off when bumped.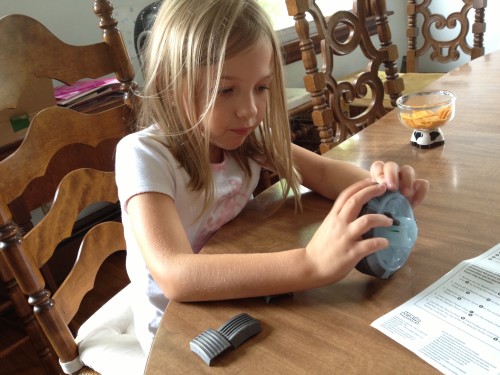 The scientific part of the toy is fun. You get a special paper (make copies of it) that shows the power chips and has spots for chips 0-3. The thing is, I've only ever been able to put the Primary Ignition Key in the top middle spot. It is the only one that works for that key so why make it one of the four keys. It would have been much cooler if that spot for the Primary Ignition Key moved each time the puzzle was reset. That would give the player more puzzles to solve overall. With the Primary Ignition Key always in the same place you pretty much only have six possible combos to try each time.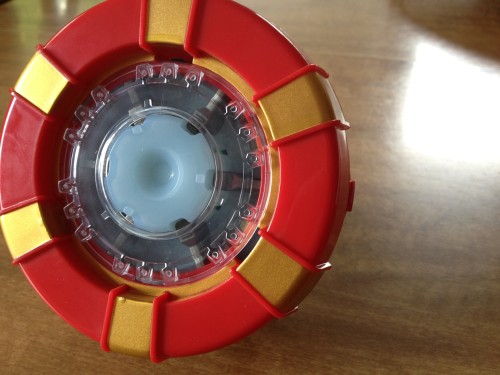 I was a bit confused at what Full Power looked and sounded like. I would have opted for some different colored lights and more of a key to let you know if you achieved full power. I had to switch over to Night Light mode to figure out what Full Power Mode looked and sounded like. The Arc Reactor did look sharp all lit up though. There were some combinations that I could certainly tell were failures in achieving full power. Some combinations made the reactor flicker and one even sounded like it stalled out completely. I just would have liked to see more variety in the colors of the lights.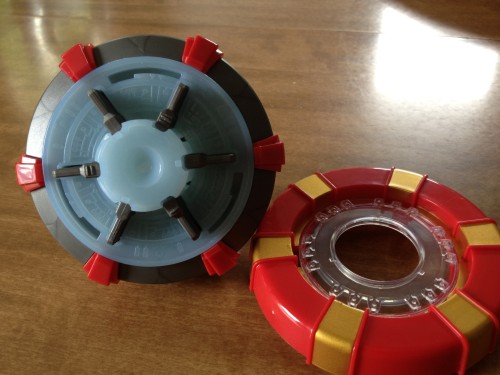 The Marvel Science Arc Reactor Lab is one sharp toy. It looks fantastic on display and there is a solid method for testing out the power chip combination. I liked the addition of the testing sheet. It would be nice if you could download a pdf of that sheet because if you don't make a copy right away you're going to use it or lose it and then you won't have it for future testing. So please make a copy.
Copyright (c) 2020 BenSpark Family Adventures