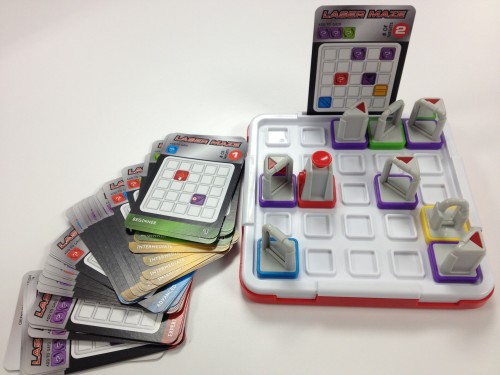 I received a copy of the ThinkFun game Laser Maze to try out and review. I've done a bunch of these ThinkFun reviews and love their products. They are so well made and challenging. Opinions as always are 100% my own.
The latest game from ThinkFun is Laser Maze
(Aff Link). I had the opportunity to check out this game at Toy Fair 2013. I was impressed with it then and am even more impressed with it once I got a chance to really sit down and play with it.
Here is a video from ThinkFun that shows you how the game is played.
The game comes with 60 challenging puzzles. The game pieces are Laser, Targets/Mirrors, Beam Splitters, A Double Mirror, A checkpoint and a Cell Blocker. Each puzzle tells you where to put a few of the pieces and sometimes lets you know the orientation of the piece and sometimes it is left up to the player. The cards are leveled from Beginner to Expert. If you are unsure of what a particular piece does there is a handy card explaining how to interpret each piece on the game board.
The game board, pieces and cards are well constructed. Quality is something that I have come to know and expect from ThinkFun products. Each game has great, well made pieces that work together perfectly. Occasionally there is a carrying bag with a game but in this case the game is too big for that and fits in a plastic tray within the box it came in. The plastic tray fits and organizes all of the game board pieces for easy access.
To Play you set up the game board according to the card, then you either select additional pieces or rotate the existing pieces so that the laser lights up the target or targets. Depending upon the difficulty level of the game you may need to hit up to three separate targets with the one laser beam.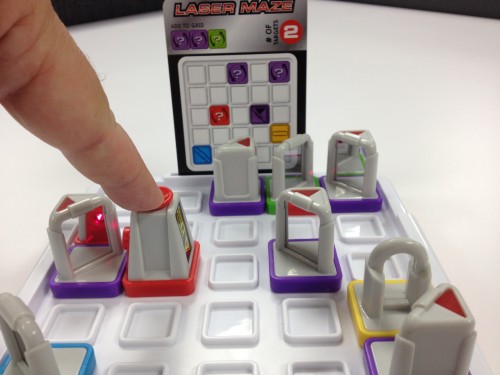 In all I found this to be a fun and challenging game. I've played through half of the cards and just started doing some of the advanced puzzles. I find that it is easiest to pick up the game and how to find your way around the game board by doing the puzzles in order. That way, by the time I get to the Expert puzzles I have a complete understanding on how each individual piece works on the board.
If you enjoy puzzles and logic games this is a great one for your collection.
Copyright (c) 2020 BenSpark Family Adventures