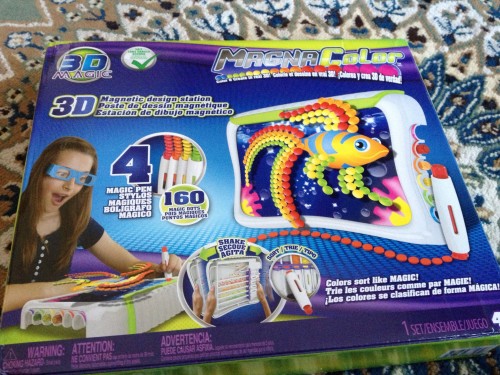 Eva and I received a 3D Magna Color toy to try out and review. The Magna Color is interesting. I was excited for us to try it out because it looks really fun in the commercials. Eva's seen the commercials all the time and she was very excited for me to open the toy and set it up for her.
Set up was pretty easy. The Magna Color came with four different colors but there are spaces for two additional colors. Why skimp on the colors? Why not just include all six colors with this set? You can order the other two colors by calling the number on the instructions. There are also additional packs that can be bought with more stencils and some of the packs have the additional colors. The set we got came with two double sided stencils as well and a pair of 3D glasses.
I poured the four sets of colored magnetic dots into the back of the set which can be used to sort them into the different sizes to be put into the different pens. I was impressed by the sorting mechanism. That was pretty cool, it was fun to do and I had no problem doing it but Eva had difficulty or rather she got bored trying to sort out the dots so she gave the set back to me each time. Once the dots are sorted you can then tilt the design board on the side and pour the dots into the pens. then I removed the four pens and gave them to Eva to color the stencils.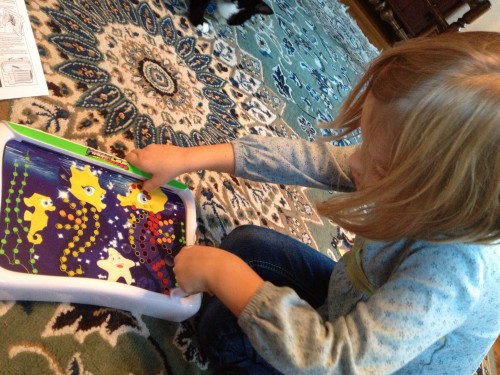 Eva played for a while and then we used the screen sweeper to clear off the screen. That worked well. I resorted the dots and there were a few that fell out because I didn't have the pens in properly. I fixed that and again the sorting worked well.
Overall the toy is pretty decent, sometimes the dots come out two at a time but for the most part they come out as expected. Eva enjoyed it and likes to play with it, I think she's like some of the additional sets like Hello Kitty and Dora the Explorer.
Disclosure: Eva and I got this toy from Tech4Kids to try out and review. Opinions about it are 100% our own.
Copyright (c) 2020 BenSpark Family Adventures