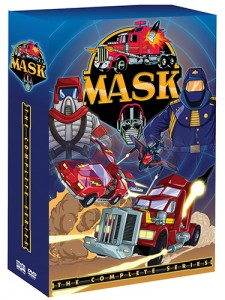 Back in the 80's I consumed so many cartoons. Clearly my favorite one was Transformers. I also liked G.I. Joe because it was a Transformers lead in. I also liked He-Man, Thundercats and more. One of my other favorite cartoons was certainly M.A.S.K. and what's more they were some of my favorite toys. The M.A.S.K. toys were some of the more fun toys to play with too. They were pretty rugged, they had figures and they changed forms. I had Matt Trakker's Thunderhawk Camaro, I had Gator, Rhino, Boulder Hill Gas Station, Condor and Miles Mayhem's Switchblade. For some reason I only had one bad guy and many of the good guys.
I sold my toys while I was in college and man I regret that a lot. I had so many hours of fun playing with those great toys. I also had many hours of watching the M.A.S.K. cartoon and reading the M.A.S.K. comic book series. I remember the show as one that I really loved. For some reason I know a rich history of the show but I think that I know this from a combination of the show and the comic book together.
I got the opportunity to review the Complete original series and I watched a couple of the first episodes hoping to recapture that fun. What I noticed was that the show just starts with an episode, there is no intro to the characters, no backstory, nothing. The first episode felt like it could have been any episode in the series. I guess that by having the toys, comics and knowing all about the mythos I built this series up to be a cohesive story.
What I did like was seeing the team being assembled. I used to love that very much and hoped that many of my favorite characters would be chosen for the missions. I'd watch and wait for them to select Hondo and Dusty. I loved seeing what Bruce Sato would create with his hologram mask and loved seeing Rhino in action. The show was fun and I so wish it would get a reboot. But the classic show is still a fun ride. The DVD even shows the bumpers and the public service announcements / life lessons at the end of each show.
I look forward to teaching Eva about this series and maybe picking up some sets on ebay. The more I look at the toys on ebay the more I'd like to grab a couple of lots to play with.
Here is the official Press Release on the release of the complete series on DVD.
On August 9th, Shout! Factory will release M.A.S.K.: THE COMPLETE ORIGINAL SERIES on DVD!!
Illusion is the Ultimate Weapon!
M.A.S.K.: THE COMPLETE ORIGINAL SERIES
ALL 65 ORIGINAL SERIES EPISODES IN A 12-DVD BOX SET FINALLY HITS NORTH AMERICAN HOME ENTERTAINMENT SHELVES FOR THE FIRST TIME!
IN STORES EVERYWHERE AUGUST 9, 2011 FROM SHOUT! FACTORY
This Summer, loyal fans and collectors can finally bring home one of the most enduring animated adventures from the 80's when the long-awaited M.A.S.K.: The Complete Original Series DVD box set debuts nationwide on August 9, 2011 from Shout! Factory, in collaboration with FremantleMedia Enterprises. Poised to attract an audience of kids, young adults and parents who grew up with this animated series, this 12-DVD box set contains all 65 action-packed episodes – known to fans as the original series aired in 1985, as well as insightful bonus features. A must-have for collectors to complete their pop culture video library, M.A.S.K.: The Complete Original Series is available for pre-order now from Amazon.com and major retailers.
Led by multimillionaire Matt Trakker, the Mobile Armored Strike Kommand — better known simply as M.A.S.K. — defends the world against Miles Mayhem and his nefarious international criminal organization V.E.N.O.M., the very same group responsible for the death of Trakker's teenage brother. With his own son, Scott, and a secret strike force including his friends — engineer Bruce Sato, courageous historian Hondo MacLean, mechanic Buddy Hawks, rocker Brad Turner, computer expert Alex Sector, stunt driver Dusty Hayes and beautiful martial artist Gloria Baker — it's up to Trakker, equipped with special power-granting masks and a garage of special militarized vehicles, to keep the world safe from Mayhem and the villainy of V.E.N.O.M (Vicious Evil Network of Mayhem).
Throughout the years, M.A.S.K. boasts a large fan following and spawned a series of toyline, comic books and video games. The complete original series of M.A.S.K. has been sub-licensed to home video distribution to Shout! Factory by FremantleMedia Enterprises.
M.A.S.K.: The Complete Original Series DVD Bonus Content
Unmasking M.A.S.K.: retrospective interview with show writers on this hit animated series
Saturday Morning Krusaders: entertaining look back with loyal fans
Technical Information:
Street Date: August 9, 2011
Not Rated: For all audiences
12 DVDs
Aspect Ratio: 4:3
English, Stereo
Total Running Time: +/- 1430 min.
ABOUT FREMANTLEMEDIA ENTERPRISES & FREMANTLEMEDIA
FremantleMedia is one of the leading creators and producers of entertainment brands in the world. FremantleMedia is part of the RTL Group, Europe's largest television and radio broadcast company, which is in turn 90 percent owned by Bertelsmann AG, one of the world's major media and entertainment companies. FremantleMedia's worldwide production arm is responsible for many of the world's highest rated prime time entertainment, drama, serial drama and factual entertainment programmes. FremantleMedia Enterprises is the brand extension arm of FremantleMedia, offering a one-stop-shop for all Licensing, Distribution and Home Entertainment around the world. The FremantleMedia Group (which includes FremantleMedia North America, UFA, talkbackTHAMES, FremantleMedia Australia and Original Productions amongst others) has operations in 22 countries, one of the most comprehensive global networks, creating nearly 10,000 hours of programming a year, rolling out more than 60 formats and managing over 300 individual titles. FremantleMedia has some of the world's most sought after and long running formats in its catalogue, and globally, produces such programmes as: Idols (co-produced with 19 Productions in the US), Hole In The Wall, Got Talent (co-produced with Syco in the UK and the US), The X Factor (co-produced with Syco in the UK), Take Me Out, Family Feud, The Price is Right, Farmer Wants A Wife, Gute Zeiten Schlechte Zeiten, and Neighbours.
ABOUT SHOUT! FACTORY
Shout! Factory is a diversified entertainment company devoted to producing, uncovering and revitalizing the very best of pop culture. Founders Richard Foos, Bob Emmer and Garson Foos have spent their careers sharing their music, television and film faves with discerning consumers the world over. Shout! Factory's DVD offerings serve up classic, contemporary and cult TV series, riveting sports programs, live music, animation and documentaries in lavish packages crammed with extras. The company's audio catalogue boasts GRAMMY®-nominated box sets, new releases from storied artists, lovingly assembled album reissues and indispensable "best of" compilations. These riches are the result of a creative acquisitions mandate that has established the company as a hotbed of cultural preservation and commercial reinvention. Shout! Factory is based in Santa Monica, California. For more on Shout! Factory, visit shoutfactory.com.
Copyright (c) 2020 BenSpark Family Adventures