We received a My Friendship Bracelet Maker® to try out and review. I thought that this would be a great device for Eva to make friendship bracelets. My sisters made them like crazy when I was growing up and I figured that Eva would enjoy it as well. Well, she did like it but she liked me making the bracelets and I liked Allison making the bracelets because even though I got a rhythm down my knots came out terrible. Eva wasn't able to pick up on how to make the double knots and she gave up quickly. Mind you the My Friendship Bracelet Maker is for ages 6 and up and Eva just turned 5. Her fine motor skills aren't up to tying knots at this time. So we'll hang on to it for when she is older and can truly enjoy it, and we don't have to make them for her.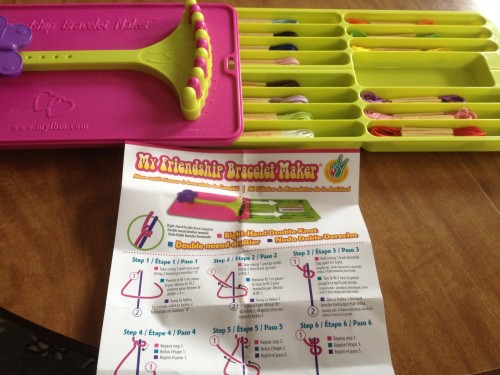 The My Friendship Bracelet Maker® is a nice item though. It comes with 60 precut strings in 14 different colors. The strings are held into place by a butterfly clip. The case also holds all of the strings for future use. IT is great for organization and makes it easy to organize all of your strings as you make the friendship bracelets.
The bracelet maker did end up working very well, once it got into Allison's hands. She made a nice bracelet very quickly. I see this as something that Eva will be excited to use when she is older. She loves making things for her friends and even received a bunch of string to make friendship bracelets for her birthday. We'll hold this off for a while and work with her fine motor skills to help her get to a level where she can use this.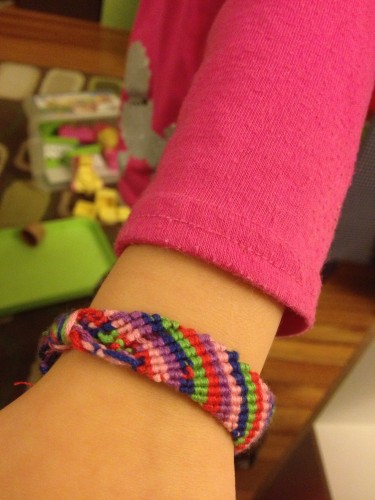 The suggested retail price of the My Friendship Bracelet Maker® is $24.99 and is recommended for ages 6+.
My Friendship Bracelet Maker® was also the winner of:
Dr. Toy Best Products Winner 2010
Creative Child Magazine Top Toy of the Year Award 2010
Brilliant Sky Toys and Books Brilliance Award 2010
Parents Choice Approved
National Parenting Publications Award
Sterling Fun Tillywig Toy Awards
Dr. Toy Best Vacation Product
Official Product Description
The classic and first product by Choose Friendship, My Friendship Bracelet Maker brings youngsters the coolest and easiest way to make their favorite friendship bracelets — because fun, friends and fashion are forever! My Friendship Bracelet Maker kit utilizes a butterfly clip to secure the strings when knotting and the unique string holder keeps the strings firmly in place. Below is a storage compartment that contains 60 precut strings in 14 different colors. Refill kit sold separately. Sold at specialty toy and craft stores including Michaels Stores.
ABOUT CHOOSE FRIENDSHIP COMPANY
Originally known as Crorey Creations, the Choose Friendship Company manufactures the innovative craft kit called My Friendship Bracelet Maker®, (MyFBM), and several other products in the Maker collection. Invented for his granddaughters by David Crorey, a retired auto industry executive with an engineering background, My Friendship Bracelet Maker offers an easy, organized and portable way to create friendship bracelets, a favorite craft tradition of girls and teens, and in-be-"tweens."
Because friendship bracelets have long been an international symbol of friendship, the company has established quarterly Choose Friendship campaigns encouraging support networks between kids across the country. After great success with the "Red, White and Blue, Kids Serve Too!" campaign where kids sent in red, white and blue friendship bracelets to children of military families, the popular "Pink and White, Kids Join the Fight!" campaign was a way to support kids in families dealing with breast cancer. "Embracing You With a Circle of Blue" reaches out to young people living with Type 1 diabetes. In 2012, an anti-bullying song & video titled "Inside Out," sung by teen Marisa Nahas, will be released promoting the blessings of friends and the importance of choosing friendship over bullying. Watch their website for details of the first ever celebratory Friendship Ball. Proceeds
from the song and video benefit anti-bullying organizations.
For more information on products, causes and community, visit their consumer website at http://www.MYFBM.com.
Disclosure: We received the My Friendship Bracelet Maker® to review and try out. Opinions about the product are 100% my own.
Copyright (c) 2020 BenSpark Family Adventures