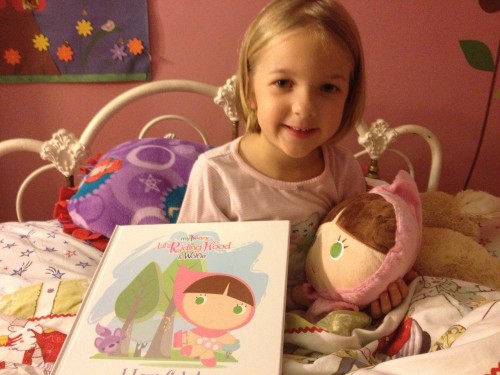 I have a sweet little daughter. She is very sensitive and takes so much to heart. We love fairy tales and movies featuring fairy tale characters but some of those stories have some truly terrifying parts to them especially for young children. Just yesterday I had my sweet little girl hugging my arm and turning away from the screen because of a giant shark (who turned out to be nice but was very scary none the less). So, if we want a pleasant night's sleep without Eva invading our bedroom because of a nightmare or bad dream we need to pick pleasant stories to read to her. That is why I really liked reading Eva the My1story book Lil Riding Hood & Wolfie in I Love Cake!.
We were sent a plush Lil' Riding Hood doll and a copy of Lil' Riding Hood & Wolfie to read and review. The plush is adorable, a giant headed plush made for big hugs. Eva quickly added this to her Pantheon of loveys that she has on her bed.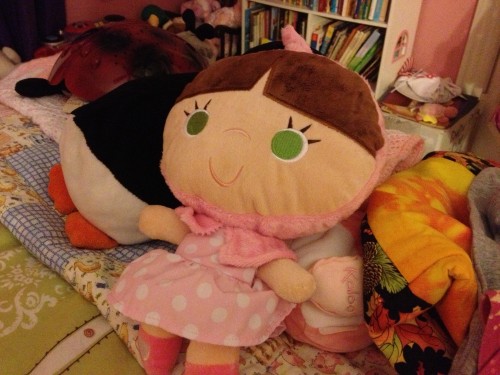 The book itself is cute. The story is very sugary sweet for little kids and is certainly not going to give them nightmares. Instead of a Big Bad Wolf there is Wolfie a wolf pup who is up to mischief instead of wanting to devour Lil Riding Hood and her Grandma. No, he'd rather devour tasty cakes.
The characters are simply designed but drawn so well and are almost iconic. That is no accident because the illustrator is Jaime Rodriguez, a former Walt Disney Company character artist. Wolfie is particularly adorable.
We enjoyed the book very much and I am happy that there are books like these out there for kids to have pleasant stories as they drift off to bed. There is another My1story book and plush out there. This one is a Jack and the Beanstalk story called Jack and the Magic Beans. I Love Cake
and Jack and the Magic Beans
(Which features Beanie a young giant) are the first two books of the My1story series. There are also two plush toys, Lil Riding Hood and Beanie the Giant. The hardcover books are 10" x 10", a nice storybook size. There are more books to come as well. On the back page of I Love Cake there were covers for a Humpty Dumpty story, a Goldilocks story and a Three Little Pigs story. Each looking very cute with great character designs
You can find out more about this series on the Official Facebook Page, Twitter and the My1story website. And here is the Official Press Release as well.
MY1STORY WELCOMES FIRST TWO FAIRYTALE PLUSH TO POP OFF THE PAGE & INTO LITTLE ARMS
Cuddle Up With 'Lil' Riding Hood' and 'Beanie' While Listening To Favorite Fairytales That Are Always Sweet (& Never Scary)
Ft. Lauderdale, FL (September 10, 2012) – When they hear the familiar 'read me a story,' parents who turn to a classic fairytale realize, perhaps too late, that the plot lines are downright scary. The last thing parents want to tell their kids, all snuggled in bed, are stories about big bad wolves or poisoned apples! Enter My1story line of
fairytales that guarantee a positive spin until the happy ending. Winner of Dr. Toy's 100 Best Children's Products, the first two My1story books now welcome two plush characters — Lil' Riding Hood and Beanie — straight from the beautifully illustrated pages.
Available exclusively on amazon.com, each storybook and plush introduces classic characters — now in the public domain — but in a brand new way. The loveable, never
scary, illustrations are by Jaime Rodriguez, a former Walt Disney Company character artist. Formerly sinister big bad wolf has been rewritten as a mischievous but approachable wolf cub. The giant in Jack & the Beanstalk transforms into Beanie, still a giant but a young, small one. I Love Cake and Jack and the Magic Beans are the first two books of the My1story series.
Bloggers who have read the Disney-esque makeover of these classic tales are typing their glowing reviews as fast as they can!
"I will NEVER forget the time I took my daughter to see Disney Three Princesses Live," typed blogger mom East 9th Street. "I guess my memories of Snow White, Cinderella and Beauty & the Beast were always about the happy ending. I failed to remember that if you're two-years-old, there are some really scary parts in there! We spent most of the show in the bathroom because my daughter was so scared. I want to share the classic stories with her but I don't want her to be frightened of them. That's why I've fallen in love with My1Story."
Blogger Planet Weidknecht summarized what many caregivers have expressed when she shared, "as an early childhood educator, I'm very selective about the children's books I will put into my book center. I try very hard to stay away from books that can be scary to young children. The original Little Red Riding Hood has a scary wolf that eats Grandma…what kind of visual is that for a small child?? My1story books have set out to recreate fairy tales in a way that teaches children positive lessons!"
Perhaps the best recommendation was simply, "these are now his go-to books when he is in the mood to just sit on the couch and snuggle with mommy," described blogger Emily Reviews.
And snuggling is what My1story fans will do while holding on to plush characters Lil' Riding Hood and Beanie, the first of many characters that seem to pop off the page. Cuddling with a parent and then, with the lights turned off, holding on to these plush characters, should guarantee sweet dreams! All My1story plush and books can be purchased at amazon.com by searching for "myfirstory" in the toys & games section.
Lil' Riding Hood Plush • $14.99
'What big eyes you have' might be the first reaction as tykes snuggle up to this adorable heroine of the classic fairytale with a My1story twist. Green-eyed Lil' Riding Hood stands 11.5 inches tall and wears the same pink outfit as in the illustrations of her book, I Love Cake!
Lil Riding Hood & Wolfie in I Love Cake! • $12.99
Dr. Toy's 100 Best Children's Products 2012 Inside her basket, for her Grandma, is a home-baked cake that smells so good even sleeping Wolfie can sniff it. Wolfie can't resist cake and he runs to Grandma's house before Lil' Riding Hood gets there. The classic tale continues on course but with a happy ending of friendship, the importance of sharing and big slices of cake.
Beanie Plush • $14.99
This future giant is just the right size — 11.5 inches — for snuggling as youngsters hear the story of Jack and that beanstalk that yields plenty of surprises. Beanie is dressed just like the illustrations in his first episode, Jack And The Magic Beans.
Jack's Beanstalks in Jack and the Magic Beans • $ 12.99
Dr. Toy's 100 Best Children's Products 2012 A young giant named Beanie merrily chants Fe Fi Fo Fum with his stuffed toy Goosy and new friend Jack. They spend the day hopping from cloud to cloud. On his way back down the beanstalk Jack learns an important lesson about taking something without permission. All ends well and another beanstalk adventure awaits.
Additionally, a visit to their website, www.myfirstory.com, instantly enchants all ages with charming music, sound effects, page turning books and a bit of pixie dust when moving the mouse! Website buttons for videos, games, a gallery, fun stuff and more await preschoolers and their storytellers.
ABOUT MY1STORY
My1story is a fun, entertaining collection of the world's most renowned children's characters and stories. With all new character animation, story lines, games and activities, My1story hopes to win back the hearts of children around the world who have forgotten or may never have heard of these timeless characters. And with its nostalgic
appeal, My1story reaches out to adults who recall fond childhood memories of storytelling and time spent with Mom and Dad. The company successfully brings together the world's most renowned characters under one cohesive and comprehensive brand.
My1story president and co-founder Ricardo Venegas is also CEO of Snap Global Solutions with offices in the U.S., Hong Kong, and Vietnam. He's a former Disney Consumer Products executive responsible for business development throughout Latin America. Partner Jamie Rodriguez is the creator and co-founder of My1story. As a former executive at Disney Consumer Products Latin America in Miami, he was responsible for character art and
product development. Following Disney he joined Snap Global Solutions to develop toys and entertainment. In addition, he has worked for various companies including The Disney Stores, Disney Theme Parks, Nickelodeon, Fox, Warner Bros., and Discovery Channel.
Disclosure: I received a copy of the My1story book Lil Riding Rood & Wolfie plus the Lil Riding Hood Plush to review. Opinions are 100% my own.
Copyright (c) 2020 BenSpark Family Adventures