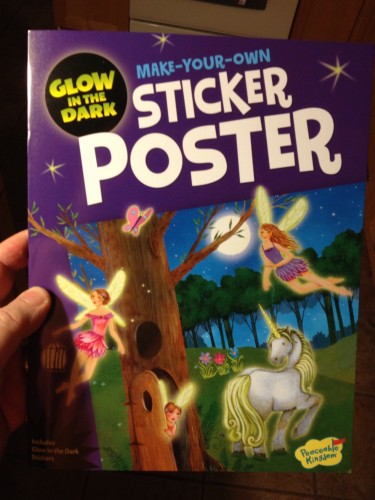 Glow-In-The-Dark Glowing Fairies – It's dusk: the magical time when fairies dance and play in the forest! Use the glow-in-the-dark stickers in the forest poster scene, then turn off the lights and watch the fairies fly. Each book comes with a 16 3/8" x 32" poster and 70 glow stickers.
We received a Peaceable Kingdom Glow-In-The-Dark Glowing Fairies Poster to check out and review. The set contains 70 different stickers and each one glows in the dark. I removed the poster from the inside of the book cover and also removed the two sticker sheets to give to Eva. She was very excited to do this project with me because Fairies are still big in her world.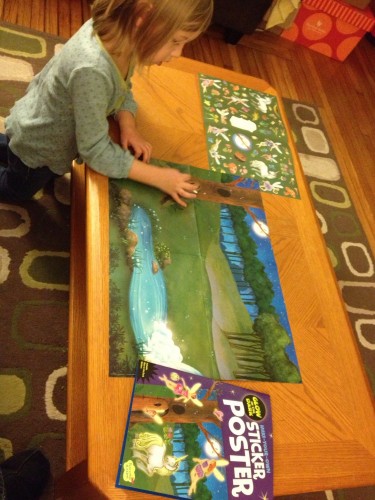 We cleared off the living room table so that there was plenty of room to work. I unfolded the large poster, 16 3/7″ X 32″ and it covered much of the table. Eva had her set of stickers with her and she began placing them. There were fairies and unicorns, flowers and butterflies, tea sets, magic wands and more. Eva began to name each of the fairies on the poster and start to tell a story about them.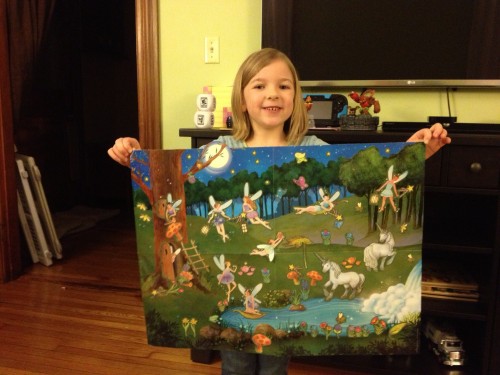 She was quite proud of her finished poster and she couldn't wait to show Allison the finished product. So, I got the tape and we carries the poster upstairs.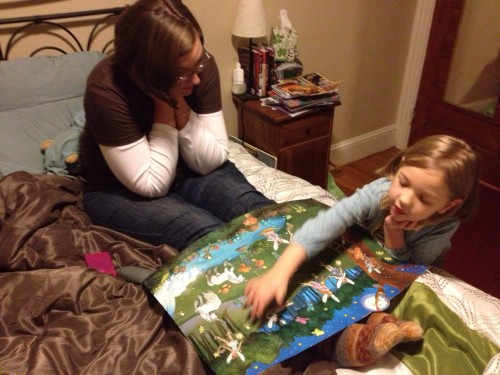 Allison had just put Andrew to bed and Eva used this special time with her to explain once again each of the names of the Fairies. She also told her more about each one of them and the unicorns. Eva couldn't wait to put the poster up in her room and also go to sleep with her new glowing poster.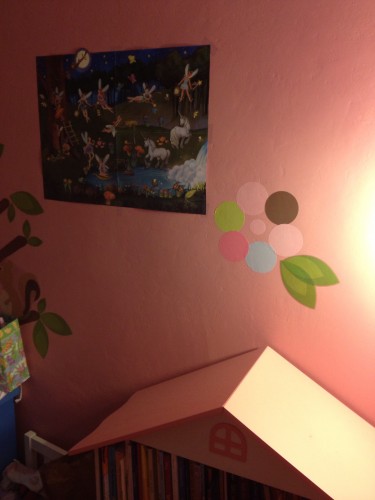 To make sure that her poster would stay lit for a while I snapped a few photos of it straight on with the flash to sort of supercharge the glow. It worked pretty well because the stickers glowed for a good long time and Eva could see them from her bed and appreciate them. She's been very excited to tell everyone who has visited all about her new poster and how she made it herself. On Valentine's Day my sister came over and Eva made her sit in the dark and watch the poster for a while.
This was a nice project to work with Eva on creating. The stickers are well illustrated and good quality. The glow in the dark portions look great and you can see the complete scene in a whole new way. Care was taken so that the glowing portions looked right instead of just big glowing blobs. You can tell exactly what everything is. I am happy for the good quality of the product and it is something that I've come to know, expect and appreciate from Peaceable Kingdom.
About Peaceable Kingdom
Peaceable Kingdom was founded in 1983 with a single product – a children's poster based on the artwork from the classic children's book Goodnight Moon. Twenty-eight years and more than 5,000 SKUs later, the company has grown to be a leader in juvenile stickers, greeting cards, and cooperative games.
Peaceable Kingdom's mission is to make good, do good, and be good. Which means: to create fresh, fun, award-winning products that educate, inspire, and tickle funny bones, to donate to charitable organizations that support the well-being of children, to remain committed to socially-conscious manufacturing practices and sustainable and eco-friendly materials, to maintain integrity in all business relationships and to support the people who support us! The Peaceable Kingdom philosophy – come into the kingdom and join the fun! Visit Peaceable Kingdom's website at www.peaceablekingdom.com for these and other great toys and games.
Disclosure: I was provided a Peaceable Kingdom Glow-In-The-Dark Glowing Fairies Poster to test out and review. Opinions about this product are 100% my own.
Copyright (c) 2020 BenSpark Family Adventures