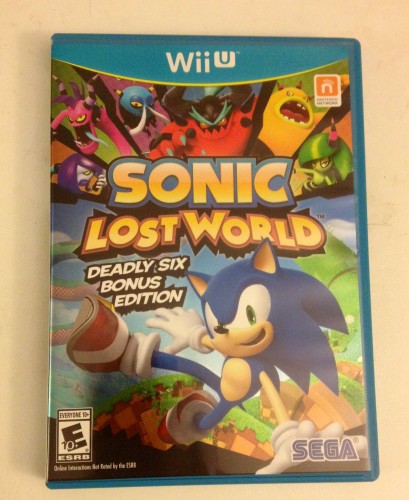 I received a copy of the all new Sonic Lost World for the Wii U to play and review. Opinions of the game are 100% my own.
The only Sonic the Hedgehog game I've ever played was, well, Sonic the Hedgehog. It was was a pretty amazing game and things moved so incredibly fast. I enjoyed it but never really got so into it, maybe because I got frustrated about losing all those rings every time I hit something. I did download the game on the Wii when it became available and tried it once again. It was fun but I wanted to have a game that took the fun of the original Sonic the Hedgehog and updated it with the graphics technology advances of today. I believe that Sonic Lost World is that game.
The game is exclusive to the Wii U and Nintendo 3ds. The version I received is the Deadly Six Bonus Edition which comes with a downloadable bonus level. In this game Sonic faces six menacing monsters called the Deadly Six. Each one more terrible than the next but Sonic has a whole bunch of new moves and color power to help in his mission like a flying kick, wall run and crimson eagle. Sonic has never been more powerful.
Users can play directly on the Wii U gamepad or via the TV. They can also play in Co-Op support mode.
I played through many of the levels and there is a cool mix of side scrolling and immersive 3D environments. Sonic can do some amazing moves and he just gets faster. There are levels where he runs completely around and you can't tell which way is up and which way is down. Then he hits bounce pads and goes rocketing through the air like a blue pinball. The game is very cool to play and is a must for any Sonic fan.
SEGA SHIPS SONIC LOST WORLD™ TO RETAILERS ACROSS NORTH AND SOUTH AMERICA
ALL-NEW SONIC THE HEDGEHOG ADVENTURE NOW AVAILABLE EXCLUSIVELY ON Wii U AND NINTENDO 3DS
SAN FRANCISCO – October 29, 2013 – One of the most iconic figures in video game history is speeding his way back in a new adventure as SEGA® of America Inc. launches the much-anticipated return of Sonic the Hedgehog™ in Sonic Lost World™ – now available nationwide exclusively for the Wii U system and Nintendo 3DS™ hand-held system. Hailed by Games Radar as "the most authentically Sonic-feeling 3D outing yet," Sonic Lost World™ ups the ante as the blue blur travels to a mysterious land in the clouds to face his most powerful challenge to date.
Sonic Lost World™ once again finds Sonic's arch-nemesis, Dr. Eggman, plotting an evil plan to rule the world. This time, Dr. Eggman has harnessed the power of six menacing creatures collectively known as the Deadly Six. However, when the Deadly Six rise up against their new master, Sonic and Tails have to unite with his rival in order to take the new enemies head-on. The action takes players to an immersive 3D world in the sky where they will help Sonic battle the rogue gallery of baddies across an array of bright and colorfully themed zones. Each exhilarating area presents its own unique set of varied gameplay missions where players will collect rings, rescue helpless critters and defeat menacing bosses to move to the next level.
The range of Sonic Lost World terrains – from Windy Hill to Lava Mountain – will have players running inside, outside and upside down as they explore massive mind-bending courses, vast underground tunnels and colossal structures in the sky.
To conquer this wide range of environments and defeat the Deadly Six, gamers are equipped with Sonic's blistering speed and an array of dynamic new skills including:
Original Moves: Sonic moves like never before. Vault over obstacles, free run up and along walls and sky dive between islands at lightning speed. Plus the Spin Dash is back!
Improved Color Powers: Sonic can now fly through the air, tear up levels and explode into enemies.
True Sonic fans will relish the references to previous Sonic titles while experiencing this new twist on their beloved speedy hedgehog. As Gametrailers cites, "The game exuberantly takes you through one type of gameplay to another, and you'll rarely be doing the same thing for too long."
While offering parallel experiences, the Wii U and Nintendo 3DS versions will contain distinctive features that take advantage of the respective consoles' unique capabilities. These include:
Wii U
Wii U™ GamePad Controller functionality – Wii U exclusive Color Powers can be controlled with the GamePad by tilting, touching, and aiming the controller. The full game can also be played using only the GamePad screen and will feature a two-player support mode.
Helpful hand from friends and others – Players will be able to have a friend lend a hand via the game's co-op feature; meanwhile, players can also get help from other players through a feature that enables a range of players to send items from their inventory out into Miiverse™ where they can be picked up and used by any other player.
Nintendo 3DS
Exclusive Levels and Stages – Sonic Lost World for Nintendo 3DS is the first handheld Sonic game ever to feature fully realized 3D levels which include exclusive Special Stages – including ones featuring the elusive Chaos Emeralds – and Color Powers unique to Nintendo 3DS. A competitive VS mode enables players to challenge friends locally or online, and a time attack mode tests players speed run skills.
"Tails Lab" Crafting System – Through the "Tails' Lab" crafting system, players can create customized radio controlled vehicles – which can also be exported for use in the Wii U version – as well as other items and materials.
Robust StreetPass™ Options – Allows players to send out special Street Pass missions with their Mii™.
Additionally, exclusive downloadable content is available for Sonic Lost World™ Deadly Six Bonus Edition. The Deadly Six have managed to recruit some new allies in the form of Nightmaren monsters inspired from the game NiGHTS into Dreams…™. Sonic has been sucked into a world of nightmares created by Wizeman and he must defeat the Deadly Six who are riding high atop gigantic Nightmaren monsters in an exclusive level accessed via a redeemable code when pre-ordering the game or while supplies last. On completion of the NiGHTMARE DLC level, , a special Color Power, which is usually only obtainable from Miiverse, is rewarded to the player.
Sonic Lost World™ for Wii U and Nintendo 3DS is rated E 10+ and is now available for the suggested retail price of $49.95 on Wii U, and $39.95 on Nintendo 3DS. To watch the launch trailer and for more information on the game, please visit www.sonicthehedgehog.com
Sonic Lost World™ will be distributed by SEGA® of America Inc. throughout the USA, Canada and South America, with Nintendo of Europe GmbH looking after distribution throughout Europe and Australia.
About SEGA® of America, Inc.
SEGA® of America, Inc. is the American arm of Tokyo, Japan-based SEGA® Corporation, a worldwide leader in interactive entertainment both inside and outside the home. The company develops, publishes and distributes interactive entertainment software products for a variety of hardware platforms including PC, wireless devices, and those manufactured by Nintendo, Microsoft and Sony Computer Entertainment Inc. SEGA® of America's Web site is located at www.sega.com
Copyright (c) 2020 BenSpark Family Adventures