On August 30th a brand new Strawberry Shortcake movie was released. I posted a press release back in July about the movie coming out. Well, in the time since I received a copy of the movie to review with Eva. We watched it a few times and we also enjoyed the special features. One of the special items from the DVD is a coloring page. Eva and I watched the movie together and we colored in the special coloring page together.
What did we think of the movie?
From and adult perspective I enjoyed the movie's message which was to never give up on your dreams. From Eva's perspective she liked the colorful characters and found parts of the movie funny.
What's the movie about?
The characters go on a picnic and they each talk about what they would like to do/be when they grow up. Each kid has a pretty sunny disposition except for Peppermint Fizz, she's sort of a downer, loudmouth and very bossy. She even says that is what she wants to be, she wants to be the boss. Peppermint Fizz comes to learn that there is more to being the boss than just bossing people around.
A big chunk of the movie goes to the dream of Ginger Snap. She dreams to one day be an astronaut. She dreams that she's going to see the stars some day so she creates a rocket. She creates a small rocket and when she sees that the small rocket works she builds a larger model. All the kids go with her into space and they land on the moon. The moon is inhabited by strange cute little creatures and their giant mother. Luckily the kids are kind to the creatures and the mother sees that and helps the kids get back home.
Once home Ginger Snap talks about going back into space some day and that is when she wakes up. All the kids are heading home after their fun time at the picnic, but it has gotten late. Strawberry tells her that she had a dream but encourages Ginger Snap to pursue that dream. Ginger Snap agrees and plans to build a small rocket right away.
The second half of the movie involves the kids at a career fair in which they learn about a bunch of other jobs. Peppermint Fizz dreams of becoming mayor. Strawberry a teacher, Orange Blossom a doctor, Angle Cake a restaurant owner and this time Ginger Snap would like to be a fire fighter. This part of the story centers around Peppermint Fizz being the mayor and instead of addressing the problem of a beetle infestation. She declares that all the kids need to work on a special area and platform for her. She is bossy and quickly things get out of control. Luckily Strawberry is there to help get things back on track.
Eva enjoyed the movie. We've watched it a few times so far. I liked the message of not giving up on your dreams but also the message that kindness is a much better way to achieve goals than just being bossy. Sure, it is so sugary sweet at points but what would you expect when all the kids are named for desserts.
Final Thoughts
It was an entertaining movie and worthwhile for the message.
Here is that official release again.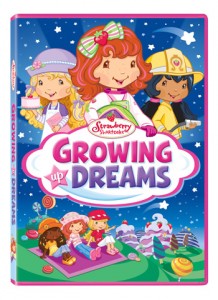 Strawberry Shortcake™ and all of her friends take summer fun to new heights in the fabulous new adventure Strawberry Shortcake: Growing Up Dreams, arriving on DVD August 30 from Twentieth Century Fox Home Entertainment and American Greetings Properties.
Strawberry Shortcake and her friends can't wait to grow up, and they wonder what they'll become some day. It's all berry exciting as imaginations soar and Strawberry and her friends see what it's like to be busy career girls! But when Peppermint Fizz becomes Mayor and gets berry, berry bossy, trouble strikes in Strawberryland. Growing Up Dreams is all about getting along, working together, and believing in your dreams. Plus, no matter how big you get…you should never outgrow being nice!
DVD Special Features
About Twentieth Century Fox Home Entertainment
Twentieth Century Fox Home Entertainment, LLC (TCFHE) is a recognized global industry leader and a subsidiary of Twentieth Century Fox Film Corporation, a News Corporation company. Representing 75 years of innovative and award-winning filmmaking from Twentieth Century Fox, TCFHE is the worldwide marketing, sales and distribution company for all Fox film and television programming, acquisitions and original productions on DVD, Blu-ray Disc Digital Copy, Video On Demand and Digital Download. The company also releases all products globally for MGM Home Entertainment. Each year TCFHE introduces hundreds of new and newly enhanced products, which it services to retail outlets from mass merchants and warehouse clubs to specialty stores and e-commerce throughout the world. Follow Twentieth Century Fox Home Entertainment on Twitter @FoxHomeEnt
Disclosure: I was provided with a copy of Strawberry Shortcake: Growing Up Dreams to review and keep. The opinions about the movie are 100% mine.
Copyright (c) 2020 BenSpark Family Adventures