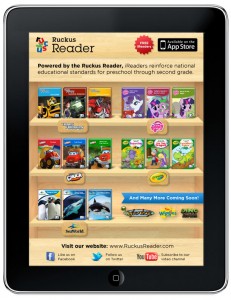 The Ruckus Reader is a breakthrough learning program,a unique series of digital
storybooks designed to help your child practice important reading skills AND keep you up to date on your child's progress. All of the stories and interactive activities are developed by educational experts to adhere to national educational standards.
Eva and I were given a full subscription to the Ruckus Reader that included the full library of books. Overall we love it. Eva asks if she can play with my iPad and chooses the Ruckus Reader much of the time. I like this because she is starting to really become more interested in reading and if a reader program like this is her first choice than all the better. The Ruckus Reader gathers some fantastic brands together to help your child learn to read. They have My Little Pony, Sea World, Crayola, Transformers Prime and also classic stories like John Henry, Pecos Bill and more. There are multiple levels of stories from children beginning to read to older readers who need reinforcement and help.
What I like about this is that Eva signs in as a kid and works on the program and then I as her parent get an e-mail detailing how long she spent in the program and what her progress has been. There are even tips for parents and for teachers in the progress report. I can even see an improvement in Eva after a few weeks using the program.
The Ruckus Reader library offers more than 20 titles and activities and 20 new titles will be added monthly that children and parents will have unlimited access to. Here is a quick video on Ruckus Reader:
The Ruckus Reader bookshelf apps are available today for free from the iTunes App Store when you download a classic bookshelf and then it is:
$3.99 per app
$5.99 per digital bookshelf
$24.99 for a 6 month subscription (unlimited access)
Download A Ruckus Reader Bookshelf to get started.
SEAWORLD: RUCKUS READER
http://itunes.apple.com/us/app/seaworld-ruckus-reader/id515220048?mt=8
CHUCK AND FRIENDS: RUCKUS READER
http://itunes.apple.com/us/app/chuck-friends-ruckus-reader/id498469267?mt=8
MY LITTLE PONY: RUCKUS READER
http://itunes.apple.com/us/app/my-little-pony-ruckus-reader/id498464830?mt=8
TRANSFORMERS: RUCKUS READER
http://itunes.apple.com/us/app/transformers-ruckus-reader/id498472838?mt=8
CRAYOLA: RUCKUS READER
http://itunes.apple.com/us/app/crayola-ruckus-reader/id515252253?mt=8
RUCKUS CLASSIC BOOKSHELF
http://itunes.apple.com/us/app/ruckus-classic-bookshelf/id515688345?mt=8
RUCKUS PREMIUM E-READER BOOKSHELF
http://itunes.apple.com/us/app/ruckus-premium-bookshelf/id517491876?mt=8
Ruckus Reader App Empowers Parents With Digital Report Card
Delights children with interactive content from the biggest names in entertainment, provides parents with an innovative reading assessment tool
NEW YORK, NY, and WILTON, CT – April 16, 2012: Ruckus Media Group, the global children's digital media company, today announced the release of the Ruckus Reader, a breakthrough learning program for the iPad featuring digital storybooks that provides parents with personalized feedback on their child's reading experience. The Ruckus Reader is designed to help young children practice important reading skills and develop a love of reading with characters they love. Moreover, it addresses the needs of parents and caregivers with weekly Reader Meter e-mail reports and an online dashboard that provides details of their child's progress.
"Mobile devices have created an enticing world of entertainment and convenience, but at the same time, they have created new challenges for parents," said Rick Richter, CEO, Ruckus Media Group. "We are trying to make sense of all the options available to children in a digital age and strive to understand when screen time is delivering real educational value. With children gravitating to interactive technologies and content at an early age, it is critical to embed reading fundamentals in these new formats. The Ruckus Reader offers a smart, simple solution."
The Ruckus Reader is the first library of mobile apps to deliver a safe and interactive learning environment filled with iReaders (digital storybook titles), e-Readers (e-books), e-books; vidReaders (narrated video books) and activities for children to enjoy without leaving the library. Ruckus iReaders feature well-loved characters such as The Wiggles, Hasbro's My Little Pony and Transformers as well as activities designed to appeal to the creative learner, the science lover and the math and the music enthusiast from brands such as Crayola, SeaWorld, Dino Dan and Cyberchase.
Developed by educational experts, the Ruckus Reader is designed to match age-appropriate standards determined by the Common Core State Standards. Featuring a revolving library of interactive digital storybooks, the Ruckus Reader:
Engages the parent and/or caregiver with a weekly Reader Meter report that assesses their child's in-app reading skills, such as phonics and word recognition, print awareness, fluency, alphabetic knowledge, sequencing and story comprehension in real time
Offers a collection of more than 24 iReaders from award-winning, best-selling children's books with 20 new titles and activities added to the Ruckus Reader library every month
Includes the top 25 children's books in e-book format for endless story time, including Curious George and others from respected children's publisher Houghton Mifflin.
Celebrates a child's successes with parent engagement and provides recommendations and practical tips for parents
Provides the right book at the right time as each series features three different
reading levels, appropriate for emergent, beginning and independent readers
Features integrated, age-appropriate learning activities and games within the context of each story to further the plot
Children and families can download free Ruckus iReader bookshelves from the iTunes App Store. To learn more about Ruckus Reader, please visit www.RuckusReader.com.
About Ruckus Media Group
Ruckus Media Group introduces traditional storytelling for today's ways of telling stories by creating applications for mobile devices that entertain toddlers to teens from their fingers to their minds, at home or on the road—and invite their imaginations to grow. Launched in September 2010, Ruckus is now home to 17 children's interactive storybooks, including the #1 iTunes best-selling and Mom's Choice Gold Award winner "My Little Pony: Twilight Sparkle, Teacher for a Day," based on the ever-popular Hasbro toy characters; Parents' Choice and Mom's Choice Award winners "Spot the Dot" by pop-up legend David A. Carter, and "Chuck & Friends: Friends for the Long Haul;" About.com Readers' Choice Award winner and Best App Award finalist "A Present for Milo," written and illustrated by Mike Austin; "The Velveteen Rabbit: Told by Meryl Streep" and other read-play-and-record-along classic animated storybook apps; and forthcoming projects with Hasbro, Crayola, SeaWorld, The Wiggles, Cyberchase, Dino Dan and other beloved brands. For a full listing of titles and additional information, see our website and the Ruckus Media Group iTunes page and follow Ruckus on Facebook and Twitter.
Disclosure: We were granted full access to the Ruckus Reader. Opinions about it are 100% my own.
Copyright (c) 2020 BenSpark Family Adventures