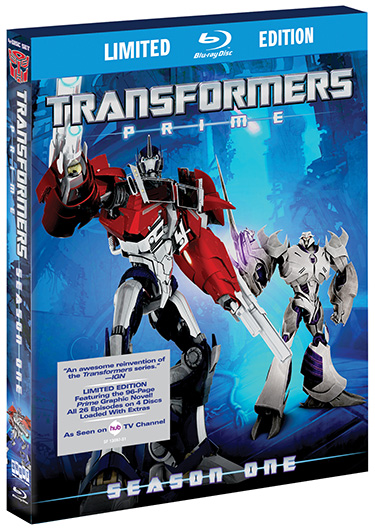 When Transformers Animated was cancelled I was pretty upset. I thought that was one of the best Transformers cartoons ever and wished that it had continued. There were great callbacks to Transformers Generation One which I grew up on as well as new characters and a fun storyline. Then I saw information about a new Transformers cartoon that would be on the TV network, The Hub. The show would be called Transformers Prime. I saw some of the character designs and they looked like they were from the Transformers live action movies. At least BumbleBee looked very much like his Transformers movie counterpart. I have to admit that I wasn't that impressed at first there didn't seem to be much personality there in the design.
So, I was pleasantly surprised, even though I was a bit skeptical going in, when Transformers Prime debuted with a five part miniseries in November of 2010. After that first episode I was completely sold on the series and things just got better from there. I was so wrong about character design and the characters having no personality. This series brought some very emotion filled episodes into the lore of Transformers. The characters look amazing and even the humans are good in the show.
I watched every episode of the series, all 26 of them and then bought them on iTunes and watched them again. I got a copy of the first five episodes on DVD as part of a review and shared that with my daughter, Eva. Despite the show being geared for an older child she fell in love with the characters of BumbleBee, Bulkhead, Arcee and Miko. She was delighted when Santa brought her an Arcee first edition action figure for Christmas this year. So, when I saw that Transformers Prime Season One was coming out on Blu-ray I lobbied for the chance to review this set. I am very impressed with the set and re-watched every episode and then re-watched the episodes with the commentary on. I took notes on things that I heard and things that I saw. I also went to wikipedia and learned even more about this series to share, confirming what I knew from my nearly 30 years of Transformers knowledge. So, strap in for a pretty long and detailed review of Transformers Prime Season One Blu-ray.
The Story
The story revolves around a small group of Autobots stranded on Earth fighting to stay alive as well as protect the human population from the Decepticons. The Autobots are grossly outnumbered and their numbers are dwindling starting right off in episode one. The core group of Autobots are made up of Optimus Prime, Ratchet, BumbleBee, Arcee, Bulkhead and the ill fated Cliffjumper. The Decepticons have Megatron, Starscream, Soundwave, Airachnid, Knock Off, Makeshift and Breakdown plus a seemingly endless army of droves both vehicle ones and air ones. The Decepticons also have an army of non warrior class robots that are mining Energon.
The story is set in present day in the town of Jasper, Nevada. Much of the action takes place in the desert far from the prying eyes of the human population. However the series has plenty of human interaction between Cybertronians and humans. Unlike previous stories including G1, Energon, Cybertron, Animated, the comic books and even the movies, the human interaction works. For once the humans help to strengthen and move along the story.
The story is also darker than other Transformers cartoons from the past. The most notable thing is that characters die and they stay dead. In the very first episode Cliffjumper takes on a whole squad of Decepticon vehicle drones and is captured by them. He is brought to the Decepticon warship the Nemesis (name of the G1 Decepticon ship) and there he is killed by Starscream. This was in the very first episode! I knew that something very different was happening with this series and couldn't wait to see more.
Throughout the season the story just got richer and richer. Here we had a group of beings trapped on a new world where they decide to defend it and the life upon it. They do not know all the customs of the world and live in secret, keeping their very existence hidden. While some in the government know of their existence and help them but also keep them in check they have little contact with everyday people, that is until three kids become part of their world. Each of the Autobots begins to grow and change through their relationships with the kids. Because of this we get a much more "human" group of Autobots and it is amazing.
The Technology
This is a CGI show and one of the most complex ones ever made. The roster is small on both sides because of the need to build each character three times. Robot mode, Transformation Mode and Vehicle Mode. So for a cast of five Autobots you have to essentially build 15 characters. Then there are the sets. There is the Autobot base, the Decepticon ship, the town of Jasper, The Arctic and so many more. I can't even count how many places the characters have been this season and I took that for granted. When I watched the shows again and listened to the commentary I learn more about the epic scale of this project and the work that went into it. I was blown away.
The Actors
The show would not be as amazing as it is if it didn't have the voice talent that it has. For the first time since Generation One we have the original voices of Optimus Prime and Megatron back together again. Peter Cullen is a paragon in the voice acting community. He embodies class and he brings that to Optimus Prime. Frank Welker has probably the longest IMDB credits list ever because he voices everything. He is amazing and his latest take on Megatron is even better than the original.
The other voice actors are also well suited for their roles. Voice actors like Steve Blum, Kevin Michael Richardson and Sumalee Montano are joined by actors like Adam Baldwin, Gina Torres, Markie Post, Clancy Brown and even Ernie Hudson. Dwayne "The Rock" Johnson even voiced the ill-fated Cliffjumper for a couple episodes. All of the voice talent has been excellent, the actors bring emotion and depth to their characters and that makes this show so enjoyable to watch and listen to.
The Enemy
Not only do the Autobots need to contend with an army of Decepticons but there is a threat from a secret human organization called M.E.C.H. That organization is led by a man named Silas who has a pretty nasty scar across his nose. I wonder if some backstory will be about how he got that scar. Silas and his team even capture some of the Transformers to learn more about them and dismantle them. M.E.C.H. is a real threat and something that has not been dealt with in the cartoons before.
Unicron is also a threat and he is handled in a completely new and interesting way that we have not seen before either. Having Unicron show up in the first season is pretty good because we can deal with that elephant in the room and move on to better stories.
Whatever threats are facing the Autobots are very real. Characters die in this show and when they do they stay dead. This happens to both Autobots and Decepticons. When the robots fight they get battle damage including permanent damage. Seeing this on the Blu-ray is amazing.
The Soundtrack
The music done by Brian Tyler sets the tone for each episode. It conveys a sense of emotion and acts almost like another character on the show. You really feel a sense of danger in some episodes, loss in others and triumph in more. And the music is good, it is something that you can enjoy listening to as the show goes on.
Continuity
Not only does the show have tight continuity to each episode but also so many nods to all of the Transformers lore from the past nearly thirty years. And this is connection to the Movies, Cartoons, Comic Books and even Novels. There was an episode called Scraplets. The Scraplets were a threat from outer space that came to earth in the original run of comics from the 80's. They transformed into nuts and bolts and things like that. They could swarm and devour metal and they attacked the Transformers. In Transformers Prime the Scraplets were found in a frozen ship from space that crashed in the Arctic. The Autobots retrieve the ship and bring it back to base. The ship thaws out and the Scraplets run amuck in the base. The Autobots are terrified of them and the human characters have to help to save them.
Have I mentioned how much I enjoy the humans in this show? They move things along and are not annoying like kids from previous incarnations of the show, movie, or comic book. While I loved Spike from G1 he cannot compare to Jack from Transformers Prime. Bumblebee cannot speak and communicates with beeps and boops but Raf, one of the kids, is able to understand him. Raf has a natural affinity to machines. Then there is Miko, a foreign exchange student who is a force of nature. Miko is paired up with Bulkhead and the two are fast friends. All of the children spend time with Ratchet, who is perpetually grumpy. He even has a bit of a funny catchphrase of "I needed that!" which he screams in an exasperated tone at both kids and bots who ruin his tools. There is an episode where Ratchet takes over each kid's science project and they all get F's to hilarious results.
Last Thoughts on the Show
I obviously love this series. I could watch it over and over and still find more to love. I love how we learn a little more backstory on each character and there are many more stories to tell. I love how things I have never seen before or stories I've never heard told are happening in this show. I love that my favorite character ever appeared on the show. When Wheeljack shows up I was so thrilled. When his faceplate slides across his face I cheered inside. I can't wait to get his toy. There are also zombie robots, a Decepticon doctor and Dark Energon around epic battles, a tough silent Soundwave, the Key to Vector Sigma and even the classic Transforming sound. The final episode of the series is jaw-droppingly amazing and I can't wait for the second season to start.
The Limited Edition Blu-ray Extras
I listened to every commentary on the Blu-ray plus the featurettes. My main complaint here is that the shows are so short that there wasn't enough time for the people on the commentary to really dive into everything. I loved hearing about the show from the perspective of Peter Cullen on commentary. I also enjoyed the commentary from Sumalee Montano and Josh Keaton on the episode, Predatory. But overall I loved the Blu-ray set and was so excited to watch everything again and again.
TRANSFORMERS PRIME: THE COMPLETE FIRST SEASON
Featuring Over 10 Hours of Non-Stop Action, Special Bonus Content and More!
THE COLLECTIBLE 4-DVD SET & LIMITED EDITION 4-DISC BLU-RAY™ COLLECTION – PACKED WITH A 96-PAGE GRAPHIC NOVEL
OWN IT ON MARCH 6, 2012 FROM SHOUT! FACTORY
Prepare to experience the world of TRANSFORMERS PRIME like never before with perfect picture visuals and the purest digital sound available when the entire first season of the award-winning CGI animated series TRANSFORMERS PRIME arrives in stores everywhere in North America on March 6, 2012 in a deluxe 4-DVD set and a Limited Edition 4-Disc Blu-ray™ collection from Shout! Factory, in collaboration with Hasbro Studios.
Both the DVD and Blu-ray collections of TRANSFORMERS PRIME: THE COMPLETE FIRST SEASON boast all 26 action-packed episodes (including the 5-part miniseries Darkness Rising) and special bonus content. For a limited time only, TRANSFORMERS PRIME: THE COMPLETE FIRST SEASON Limited Edition 4-Disc Blu-ray contains a 96-page IDW graphic novel based on this hit series.
Delivering a new level of heavy metal action and family entertainment for all ages, the limited edition Blu-ray collection is priced to own at $64.99 SRP. The deluxe 4-DVD set is sold separately and has a suggested retail price of $ 29.93 SRP.
The TRANSFORMERS saga starts a new chapter as old foes return, legendary heroes rise, and new ones are found in unlikely places. The new EMMY Award winning series TRANSFORMERS PRIME, A Hasbro Studios production, currently airs on The HUB television network in the U.S. and Teletoons in Canada, deepens the epic mythology of both the AUTOBOTS and DECEPTICONS, while starting a new chapter for a new generation of fans.
In early 2011, loyal TRANSFORMERS fans, as well as families and kids, were introduced to this visually stunning five-part miniseries on The HUB. OPTIMUS PRIME, BUMBLEBEE, ARCEE, AUTOBOT RATCHET, BULKHEAD, and many others are back to "roll out" against MEGATRON's latest attempt to conquer Earth. And MEGATRON proves to be more powerful than ever, having acquired a rare element that allows him mastery over life itself. OPTIMUS PRIME and the AUTBOTS may be few against the DECEPTICON hordes, but they find increased strength through bonds forged with three human teenagers.
Season One of TRANSFORMERS PRIME boasts an all-star voice cast, including Peter Cullen, Frank Welker, Steve Blum, Jeffrey Combs, Adam Baldwin, Markie Post, Ernie Hudson, among other notables. TRANSFORMERS PRIME is produced by Hasbro Studios, with Alex Kurtzman, Roberto Orci and Jeff Kline serving as executive producers. Kurtzman and Orci served as writers for the feature films TRANSFORMERS and TRANSFORMERS: Revenge of the Fallen.
TRANSFORMERS PRIME recently garnered two Emmy® Awards for Outstanding Individual Achievement in Animation and six Emmy nominations.
TRANSFORMERS PRIME: THE COMPLETE FIRST SEASON
Bonus Content
Original Making of Special
15 Audio Commentaries with the Creative Team and Voice Cast
Toy Featurette
Season Two Teaser Debuted at New York Comic-Con 2011
Technical Information
TRANSFORMERS PRIME: THE COMPLETE FIRST SEASON Blu-ray Collection Limited Edition 4-Disc Blu-ray is packed with transformers prime graphic novel and bonus content
Street Date: March 6, 2012
Running Time: +/- 10 hours
Aspect Ratio: Anamorphic widescreen
Audio: English, Audio 5.1 Surround
TRANSFORMERS PRIME: THE COMPLETE FIRST SEASON DVD Set
4-DVD Set and bonus content
Street Date: March 6, 2012
Running Time: +/- 10 hours
Aspect Ratio: Anamorphic widescreen
Audio: English, Audio 5.1 Surround
About Hasbro
Hasbro, Inc. (NASDAQ: HAS) is a branded play company providing children and families around the world with a wide range of immersive entertainment offerings based on the Company's world-class brand portfolio. From toys and games, to television programming, motion pictures, video games and a comprehensive licensing program, Hasbro strives to delight its customers through the strategic leveraging of well-known and beloved brands such as THE TRANSFORMERS, LITTLEST PET SHOP, NERF, PLAYSKOOL, MY LITTLE PONY, G.I. JOE, MAGIC: THE GATHERING and MONOPOLY. The Hub, Hasbro's multiplatform joint venture with Discovery Communications (NASDAQ: DISCA, DISCB, DISCK) launched on October 10, 2010. The online home of The Hub is www.hubworld.com. The Hub logo and name are trademarks of Hub Television Networks, LLC. All rights reserved.
Come see how we inspire play through our brands at http://www.hasbro.com. © 2010 Hasbro, Inc. All Rights Reserved.
ABOUT SHOUT! FACTORY
Shout! Factory is a diversified entertainment company devoted to producing, uncovering and revitalizing the very best of pop culture. Founders Richard Foos, Bob Emmer and Garson Foos have spent their careers sharing their music, television and film faves with discerning consumers the world over. Shout! Factory's DVD offerings serve up classic, contemporary and cult TV series, riveting sports programs, live music, animation and documentaries in lavish packages crammed with extras. The company's audio catalogue boasts GRAMMY®-nominated box sets, new releases from storied artists, lovingly assembled album reissues and indispensable "best of" compilations. These riches are the result of a creative acquisitions mandate that has established the company as a hotbed of cultural preservation and commercial reinvention. Shout! Factory is based in Santa Monica, California. For more on Shout! Factory, visit shoutfactory.com.
Disclosure: I have consumed Transformers since 1984. I have over 400 toys, all the comics and have seen almost everything put out that has to do with the Transformers Property. I purchased the whole season on iTunes, watched it all on TV too and even rewatched it on Blu-ray. Needless to say the opinions about Transformers Prime are 100% my own.
Copyright (c) 2020 BenSpark Family Adventures