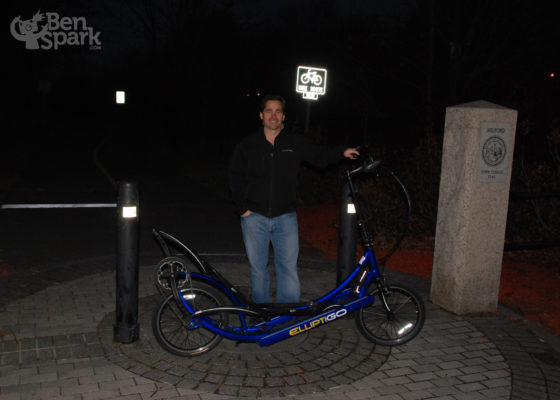 Photo-A-Day #2061
Today I got the opportunity to test ride an ElliptoGO. This is an Elliptical Bike. You stand up on it to ride and basically propel yourself like you were running.
Bryce Whiting from ElliptoGO came and met me in Milford, MA so that I could test out the bike on the bike path there. I appreciate Bryce taking the time out of his schedule to show me how the bike worked and also to let me ride it around.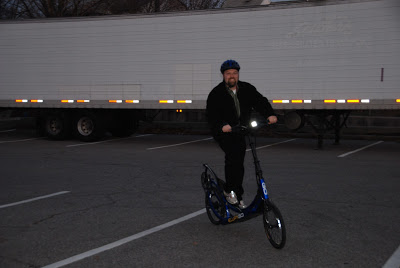 I was nervous at first because I thought I might fall off or wouldn't be steady but I was wrong, this was simple. I hopped right on and got going. I rode it around the parking lot for a bit, as seen in the video. Then I took it for a ride up the bike path.
Riding the ElliptiGO is fun and easy. I'm a fan of the Elliptical machine in the gym and I get sore sitting on a bike seat all the time. This was the perfect solution.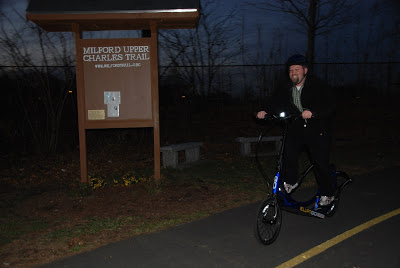 I got a good workout and in warmer weather I'd have gone much further (cold wind in my ears gives me a painful headache). I had so much fun riding this.
I am not sponsored by ElliptiGO but I certainly would love to be especially to help me in my next venture that I'll be announcing tomorrow. An ElliptoGO and an indoor trainer would be perfect solutions for me as I embark on this new venture. I think it would also be a great advertising opportunity for ElliptoGO too. Many more posts and videos like this one as I start to trim down.
What is Drew Shooting with?

Model: NIKON D80
ISO: 800
Exposure: 1/60 sec
Aperture: 5.0
Focal Length: 22mm
Flash Used: Yes

This is my own personal DSLR camera that I bought half of. My mother-In-Law bought the other half as an investment of great photos of her grandchildren. With over 26,000 photos of Eva and counting, I'd say she got great ROI on the investment. The opinions about them are 100% mine.
How Does Drew Protect His Photos?

Model: GoFlex™ Ultra-portable Drive
Interface USB 2.0 or 3.0
Capacity: 320GB – 1.5TB
Automatic Backup Software:PC & Mac:
Weight (typical): 150g (.33 lb)
Software: Pre–loaded backup software with encryption

Disclosure: I received a number of Seagate devices including the Seagate FreeAgent GoFlex 1 TB USB 2.0 Ultra-Portable External Hard Drive, GoFlex Home, GoFlex TV and GoFlex Net. I'll be talking about these devices in the coming months. The opinions about the devices are 100% mine. Links are to Amazon.com and affiliate links.
Copyright (c) 2020 BenSpark Family Adventures