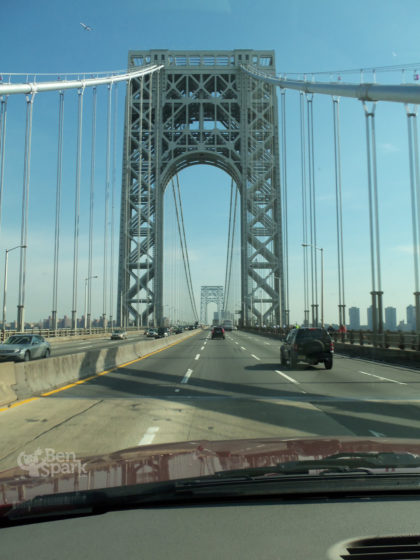 Photo-A-Day #2025
After a long drive on Friday night, a long day yesterday we deserved a little sleep time. Lucky for us our hotel had great curtains that kept all the light out and we could enjoy a nice long peaceful sleep because today we were heading home.
Instead of taking the major highways home we opted to use the GPS on the Chevy Tahoe Hybrid (Chevy loaned us the car) and we chose to take the shortest route. This brought us up through the back roads of PA. The great thing about taking a road trip is the opportunity to explore new places. For me that means new places to eat. We looked around for restaurants but were unlucky in finding any for about an hour, then we arrived in Chalfont.
In Chalfont we crossed a bridge and quickly pulled into the parking lot of the Chalfont Family Restaurant. It was a local place and the lot was all but full, plus there were a few cruiser bikes out front and you know that a couple of motorcycles means that the food is worth stopping for. That is not scientific fact but in my experience across the country more times than not it is the truth. I got a bacon, mushroom and cheese omelet and Allison got a pumpkin Waffle stuffed with cream cheese. Both were delicious.
With our appetites under control we pointed North and just kept on driving. Up through PA, and Jersey and into New York. Things went pretty smoothly till we got to the George Washington Bridge. There we were in stop and go traffic for about 20 minutes, I cannot imagine this during an actual busy time. I propped the camera up on my steering wheel and shot today' photo when we got onto the bridge.
New York and much of CT was a white knuckle experience. However, we both got through it and enjoyed our trip back home and back to Eva. She had a wonderful weekend with my Mom and sisters. We got home and she was napping (coming down with a cold) and woke up a little grouchy. Eventually she got back up to snuff and we enjoyed a nice dinner and reading stories until it was time for Eva to go to bed and for me to record and episode of Geek Dads Weekly with Daniel M. Clark. Eva wanted to listen and so Allison had her iPad loaded with the show and the two of them listened to it for about 40 minutes. Eva enjoyed it.
What is Drew Shooting with?

Model: KODAK EASYSHARE M580 DIGITAL CAMERA
ISO: 400
Exposure: 1/3 sec
Aperture: 3.4
Focal Length: 5.2mm
Flash Used: No

Disclosure: I received this camera and the Kodak PlayTouch and 2 Kodak PlaySport HD Waterproof Video Cameras for free from Kodak in return I use them and blog about them. The opinions about them are 100% mine and the links are affiliate links.
How Does Drew Protect His Photos?

Model: GoFlex™ Ultra-portable Drive CAMERA
Interface USB 2.0 or 3.0
Capacity: 320GB – 1.5TB
Automatic Backup Software:PC & Mac:
Weight (typical): 150g (.33 lb)
Software: Pre–loaded backup software with encryption

Disclosure: I received a number of Seagate devices including the Seagate FreeAgent GoFlex 1 TB USB 2.0 Ultra-Portable External Hard Drive, GoFlex Home, GoFlex TV and GoFlex Net. I'll be talking about these devices in the coming months. The opinions about the devices are 100% mine and the links are affiliate links.
Copyright (c) 2020 BenSpark Family Adventures