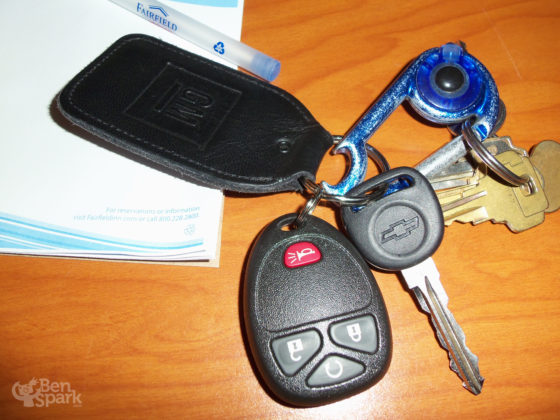 Photo-A-Day #2023
Back before Allison and I were first dating she had just graduated from college and was driving from NH to PA every other weekend or so to go back and visit the girls. When we started dating I would go down to PA with her for wedding after wedding. It seemed as if in a year's time we attended six or so weddings in PA. We were road tripping a lot back then. It was fun and it was easy to bounce back after 5-6 hours in a car white knuckling it on I-81 with the deer strikes and the big rigs.
Today we drove from MA to PA in a Chevy Tahoe Hybrid. We were loaned the vehicle (by Chevy) to test out for a week and see what we liked and disliked about the vehicle. The ride down was so much more comfortable then we've been accustomed to in my Honda Civic, and Allison's Volkswagen Passat. Sure, those cars will get you down and back on nearly one tank of gas. The Tahoe Hybrid wasn't nearly as fuel efficient but it still did pretty well. About 500 miles on a single tank.
One thing I really love about Road Trips is the food. We try and stay pretty much away from the chains and find something unique on each trip. For dinner we stopped in Mystic CT at Jake's Wayback Burgers. They were delicious!.
I drove pretty much until we got into CT and then Allison took over and drove three straight hours with no signs of giving me back the driver's seat. I'm pretty sure that she could get used to this vehicle. We made it to our hotel by 11:30pm and were asleep within a moments of getting into the room.
I was so tired that I barely remembered to grab a photo and figured I'd do another teaser one, this time of the keys.
What is Drew Shooting with?

Model: KODAK EASYSHARE M580 DIGITAL CAMERA
ISO: 400
Exposure: 1/3 sec
Aperture: 3.4
Focal Length: 5.2mm
Flash Used: No

Disclosure: I received this camera and the Kodak PlayTouch and 2 Kodak PlaySport HD Waterproof Video Cameras for free from Kodak in return I use them and blog about them. The opinions about them are 100% mine and the links are affiliate links.
How Does Drew Protect His Photos?

Model: GoFlex™ Ultra-portable Drive CAMERA
Interface USB 2.0 or 3.0
Capacity: 320GB – 1.5TB
Automatic Backup Software:PC & Mac:
Weight (typical): 150g (.33 lb)
Software: Pre–loaded backup software with encryption

Disclosure: I received a number of Seagate devices including the Seagate FreeAgent GoFlex 1 TB USB 2.0 Ultra-Portable External Hard Drive, GoFlex Home, GoFlex TV and GoFlex Net. I'll be talking about these devices in the coming months. The opinions about the devices are 100% mine and the links are affiliate links.
Copyright (c) 2020 BenSpark Family Adventures