Photo-A-Day #3404
We received a large box of Guardians of the Galaxy toys from Hasbro to play with and Review. Opinions are 100% my own.
The Star-Lord Quad Blaster and Rocket Raccoon mask were two of the best items in our giant box of cool Guardians of the Galaxy toys. More about each toy below.
The Star-Lord Quad Blaster is such a fun toy. It is a specially designed Nerf blaster that has some very cool features. There are two triggers on the blaster. One fires the darts and the other pops the covers on the top and bottom back to reveal two more darts. Darts can be fired two at a time or one at a time. The look of the blaster is so cool. The grip is perfect and revealing the second set of darts is so much fun. I grabbed a couple of these blasters when I was on my trip to pose with in various locations during the Guardians of the Galaxy Press Junket.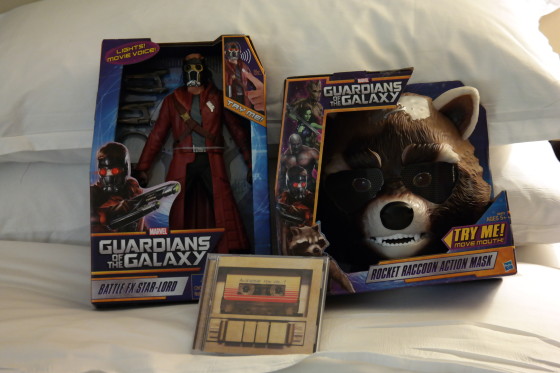 I could not pose with the Rocket Raccoon mask because my head is just too large. It is great for the kids though which makes sense because it is for them. Both kids love it and I did end up with two but how often will both want to wear the mask and so I decided that one of them will be donated to the annual drive for Christmas is for Kids. The kids will have to share.
This mask is hilarious. When your child moves their mouth the mouth of the mask moves and so do the ears and the eyebrows. It is so funny watching the kids play with this mask. I think that after the movie is out for a while these will be big sellers. I'll probably see a ton of Rocket Raccoon Characters around. Now if they'd just make a Rocket themed blaster to go with it.
Copyright (c) 2020 BenSpark Family Adventures