Photo-A-Day #4712
We were given the download code for the new Scribblenauts Showdown game for the Nintendo Switch for free so that we could play and review the game. Opinions are 100% my own. That being said it was an instant hit with the whole family.
I love finding games that the whole family can play easily. Scribblenauts showdown is that game for our family. It allows 4 player gaming (glad I got the additional joycons) or single player, 3 player or even 2 player. There are a lot of options for this game and we tried them all. First I played with Andrew and he spent most of the time giggling like a silly goose. It is also great that he is now reading more and able to do some rudimentary spelling.
Then I played with both kids and it was laughter all around. They loved playing the sandbox mode. This is where you can interact with different stages by creating objects from the 35,000 words in the Scribblenauts expansive dictionary. This also includes adding funny adjectives to the objects that you interact with. We were playing in the Sandbox in a cave stage and I created a Tankbuster jet to fly around and that is ridiculous to have in a cave. I also added an adjective to a fire to make it a raging fire and suddenly it was moving around and setting everyone on fire.
After Sandbox we played the Showdown mode and the three of us competed against each other with two joycons. It is a great way to play so many games. The kids loved the "Speedy" mini-games, which pit players to race against the clock to finish. Check out the kids playing Medieval Mayhem, one of the mini games where you brawl with each other using conjured items. One time we were flinging crepes at each other.
These two nuts playing #ScribblenautsShowdown. Thanks @ScribbleMaxwell for the game. #ad pic.twitter.com/vpLMYyAaLl

— Drew Bennett (@BenSpark) March 8, 2018
I did end up winning the Showdown but that was because I've been playing video games 3 times as long as Eva has been alive. I loved playing all those games and coming up with the silliest things when picking words. I did it to make the kids laugh as much as possible. If you'd like to learn more about the game check out the trailer below.
This is the trailer.
WARNER BROS. INTERACTIVE ENTERTAINMENT ANNOUNCES THE LAUNCH OF SCRIBBLENAUTS™ SHOWDOWN
Ready! Set! Party! Players Go Head-to-Head in Creative Multiplayer Challenges for Nintendo Switch™, PlayStation®4 and Xbox One®
BURBANK, Calif. – March 6, 2018 – Warner Bros. Interactive Entertainment today announced the launch of Scribblenauts™ Showdown, a new video game in the inventive puzzle-action series that introduces fast-paced, multiplayer party experiences for one to four players. Scribblenauts Showdown is now available for Nintendo Switch™, PlayStation®4 computer entertainment system and Xbox One®.
"It is exciting to bring the fan favorite, creative Scribblenauts franchise to this generation of consoles in a whole new, party game with Scribblenauts Showdown," said Steven Chiang, Executive Vice President, Worldwide Production and Studios, Warner Bros. Interactive Entertainment. "Family and friends can compete using their imaginations to solve puzzle and game challenges while going head-to-head."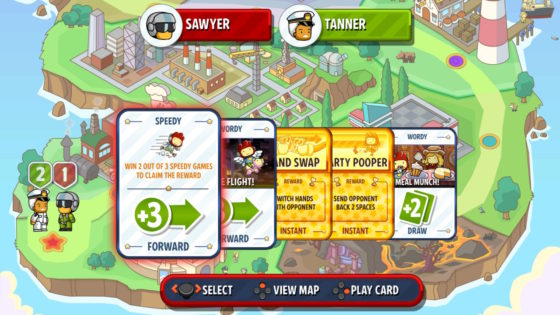 Up to four players can face off and imagine their way to victory in Showdown Mode, utilizing Scribblenauts Showdown's vast dictionary to outsmart their opponents. With over thirty-five thousand words, almost any object can be conjured as players travel across a board game style map taking part in over twenty-five mini-games. 'Wordy' games require imagination to utilize the best object or character in a variety of scenarios, while 'Speedy' games pit players against each other in a race to complete an assortment of humorous challenges. With card-based skills and strategies unleashed throughout Showdown Mode, each game is unpredictable, keeping the fun flowing until the end.
One or two players can also experience each of Scribblenauts Showdown's unique mini-games in Versus mode, going head-to-head in special challenges such as: a madcap medieval duel fought with conjured weapons, or a ferocious tower battle where players must hurl anything they can imagine at their opponent's fortress. Players will also experience wood-cutting shenanigans, tug-of-war brawls, and a fast-paced eating contest, with a Scribblenauts twist.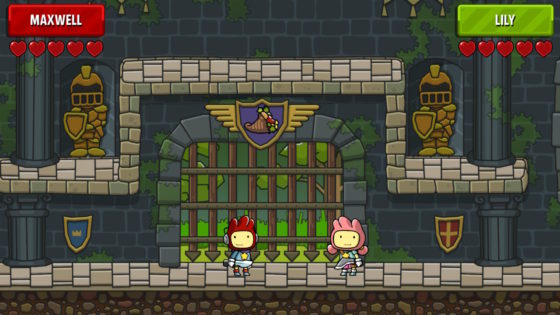 The Scribblenauts series' beloved Sandbox mode also returns. Players can create almost anything they can imagine while earning achievements and Starites across eight unique levels. This mode can be experienced solo or with a friend, leading to hilarious hijinks as objects and creatures collide in surprising ways.
Players can choose or create their own original Scribblenaut with dozens of customization options. By competing in the various game modes and earning Starites, new wacky accessories, hair styles and clothing can be unlocked, offering an endless range of creative possibilities.
Follow Scribblenauts Showdown at:
http://www.facebook.com/ScribblenautsVideoGame
http://twitter.com/ScribbleMaxwell
https://www.instagram.com/Scribblenauts
https://www.pinterest.com/Scribblenauts
About Warner Bros. Interactive Entertainment
Warner Bros. Interactive Entertainment, a division of Warner Bros. Home Entertainment, Inc., is a premier worldwide publisher, developer, licensor and distributor of entertainment content for the interactive space across all platforms, including console, handheld, mobile and PC-based gaming for both internal and third party game titles.
SCRIBBLENAUTS SHOWDOWN software © 2018 Warner Bros. Entertainment Inc. Developed by Shiver. SCRIBBLENAUTS and all related characters and elements are trademarks of and © Warner Bros. Entertainment Inc.
WB GAMES LOGO, WBIE LOGO, WB SHIELD: ™ & © Warner Bros. Entertainment Inc.WB_SHIELD
Copyright (c) 2020 BenSpark Family Adventures