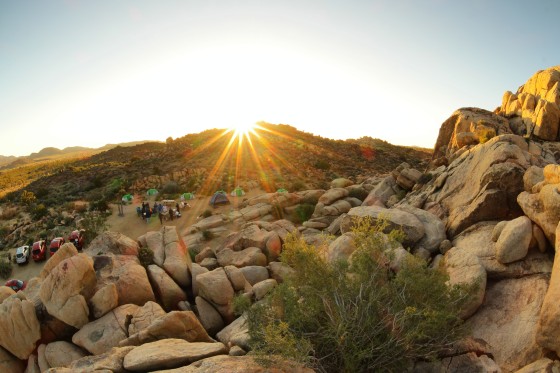 Photo-A-Day #3993
This was my third day on an adventure in Joshua Tree National Park. I have been on a Men Who Blog trip sponsored in part by Mazda. Images and evidence of this adventure can be seen with the hashtag of #DrivingMatters on Twitter, Instagram and Facebook. We were also sponsored by Napoleon Grills and Hormel Foods with Support from DriveShop. You can see my other adventurers over at the Mazda #DrivingMatters Exploring The Desert page.
Morning came quickly today but I slept quite well despite it being cold at night in the desert. I was very warm in my sleeping bag with my hat and socks on. I had a special pillow and also my neck pillow (for air travel) with me. I think the first night I was just a big mess because of how little I slept up to that point and then the time change. I was so out of it when I got up yesterday.
today, however I got up with purpose, to capture the sunrise. I was very pleased with all the night shots that I had taken the previous two nights that I wanted to capture a good sunrise shot. That would be the one from today's Photo-A-Day. My vlog today is of all the places that I visited today.
I took a bunch of photos up on the rock including this one below.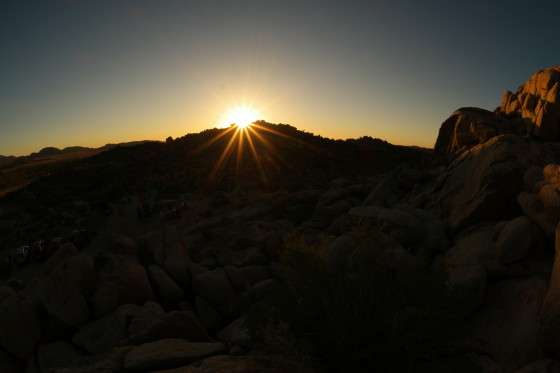 On the second day of driving I was with Mike from The Gentleman Racer again and we were off to the Salton Sea route. One of the first places to go was the General Patton Museum. This was a small museum with tons of memorabilia around General Patton.
I enjoyed the little video that was playing on a loop and learning about the General. Made me want to watch the movie, Patton soon, too. Out back of the museum there were a bunch of tanks and other vehicles to explore. I also liked the sign that said watch for rattlesnakes.
After the Patton Museum we headed off to the Banana Museum but didn't make it there which was okay since it wasn't open anyway. Plus.. Bananas. We saw a Big Hank statue and then stopped to take a photo with the Mazda 3, which was the car we were driving today. It had better room than the Mazda CX-3 and was very sporty.
We stopped at the Salton Sea which is a crazy place. Crazy because it was a dry inland sea that was flooded and became a resort area for people in the Rat Pack era. Then the Salton Sea began to increase in salinity and became toxic. Now it is toxic and there are thousands of dead fish all around. The sea looks beautiful but is not something I'd want to play in or upon. So then it was off to Salvation Mountain.
Salvation mountain is an interesting place. It is a tribute to God in an outdoor art installation which is the work of one man, Leonard Knight. He works daily to make this mountain and the surrounding area better and better. Such dedication. I could have stayed there for a longer time just looking at all the details. The mountain is made of mud, hay and other materials. There was so much to see.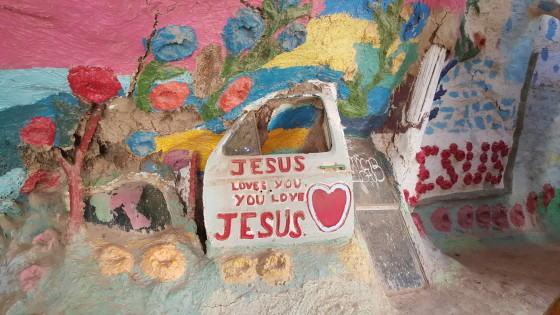 After exploring Salvation Mountain we continued on to Slab City and into East Jesus. We went to the Art Garden. Now this place was very interesting. It felt a little like Mad Max world. There are some amazing pieces in this installation.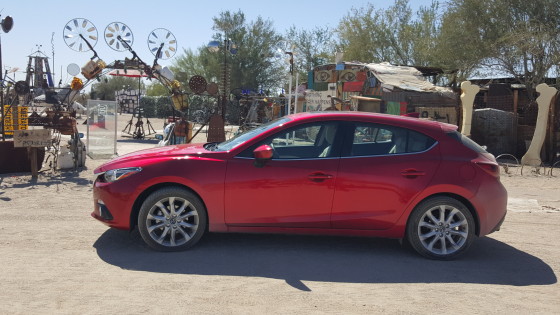 We got a few shots of the car in front of the museum and then toured around the inside. Here are a couple of my favorite pieces.
I don't know the nmae of the one above but it looks like two robots fighting. There are some interesting things that are part of the figures including a Star Wars Snow Speeder.
then there is the TV wall with all the messages about television not being the greatest thing in the world. One interesting message on one of the TVS was "I Was YouTube".
Copyright (c) 2020 BenSpark Family Adventures