I am very excited to be taking the family to go and see Newsies: The Broadway Musical in theaters this Wednesday, February 22. We really don't have anything planned for our February vacation and this even is the only thing so far. We were provided a family four pack of tickets to promote the show. You can purchase tickets at https://www.fathomevents.com/events/disneys-newsies-the-broadway-musical. Just go to the link and enter your zip code. There you'll find out which theaters are playing this very limited run engagement. I'm lucky because it is playing at a couple of places near me. We're actually going to make an evening out of it and explore Patriot place before the show. Here is more information about the show.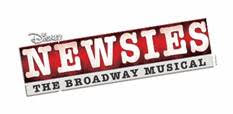 NEWSIES: THE BROADWAY MUSICAL
Straight from the Broadway stage, Fathom Events and Disney Theatrical Productions are thrilled to bring the Tony Award®-winning musical NEWSIES to cinemas nationwide in an exclusive three-day event on February 16, 18 and 22.
Filmed live on stage at the Pantages Theatre in Hollywood, CA, this not-to-be-missed high energy show stars Original Broadway cast members Jeremy Jordan as "Jack Kelly," Kara Lindsay as "Katherine," Ben Fankhauser as "Davey" and Andrew Keenan-Bolger as "Crutchie". They're joined by North American Tour stars Steve Blanchard as "Joseph Pulitzer," and Aisha de Haas as "Medda Larkin," and Ethan Steiner as "Les" along with members of both the Broadway and North American Tour ensembles, filling the stage with more "newsies" and more dancing than ever before.
Set in New York City at the turn of the century and based on a true story, Newsies is the rousing tale of Jack Kelly, a charismatic newsboy and leader of a ragged band of teenaged 'newsies,' who dreams only of a better life far from the hardship of the streets. But when publishing titans Joseph Pulitzer and William Randolph Hearst raise distribution prices at the newsboys' expense, Jack finds a cause to fight for and rallies newsies from across the city to strike and take a stand for what's right.
Dates and Times:
Thursday, February 16 at 7:00pm
Saturday, February 18 at 12:55pm
Wednesday, February, 22 at 7:00pm
Copyright (c) 2020 BenSpark Family Adventures