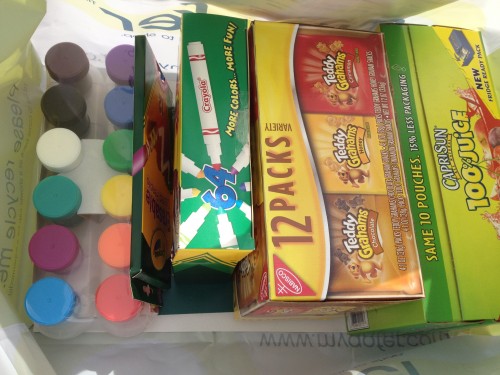 Back to School time is quickly approaching. I can't believe that Eva will be back in school and going 5 days a week in less than a month. While she is still in pre-k she doesn't have an extensive list of things that she needs for Back to School. I received a $25 credit to my mygofer account to do some Back to School shopping using their service. I placed my order on Wednesday but not on my computer but rather I made the purchase using the mygofer app on my iPhone. I had planned on using my computer to make the purchase but time got away from me and I still had to get this order together and get to KMart for this review. So really, this was a perfect review for a guy who was busy and on the go and trying to take care of multiple things at one time.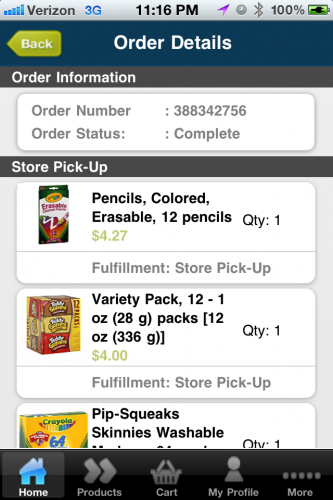 With Eva returning to school we have to start getting ready to do snack time and also put together some fun stuff for her to do when she returns home after school. So, thinking about that I went with arts and crafts items for Eva as well as a 1st snack day snack to bring to the classroom. I was able to search snacks on the mygofer app and find some inexpensive snacks to feed a class of 12. I picked some Teddy Grahams and some juice pouches. For arts and crafts I saw a good set of poster paints, some colored pencils and some Crayola pipsqueak markers. I also picked up a spiral notebook for the heck of it.
Wednesday was a crazy one. I spent the morning teaching a Social Media class to the women of Ms. Wheelchair America 2013 and we planned on going to pick out some new living room furniture in the plaza that had our local KMart. When I finished my sessions I pulled up my mygofer app and placed my order around noon. I had lunch and got to the plaza a little before 2pm. As I was pulling into the plaza I got an e-mail from mygofer that my order was ready for pickup. I popped into KMart before Allison and the kids showed up to pick up the order. While I was waiting for the order to come up from the back I took a walk around the front of the store. There was a Back to School area and there I found some mygofer signage.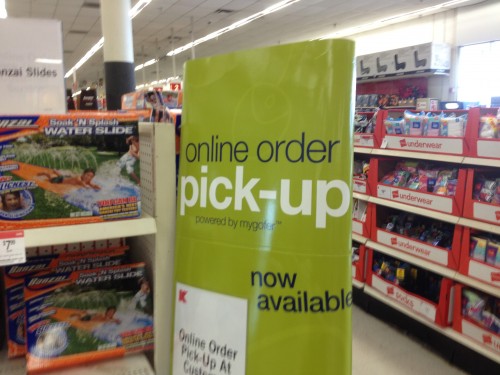 Ordering was easy, pickup was also very easy and what I ordered was in the bag. However I had a couple of issues:
For some reason the mygofer app did not apply the $25 credit that I had in my account so I actually paid for everything in this mygofer shopping trip this time. I'm not sure why that was, I was signed into my account. I'm sure I'll figure out what I should have done there.
The Crayola Pipsqueaks was a 64 count pack, however when I picked it up it felt a little light. There was a piece of tape across the front, the mygofer branded tape (You can see it in the photo above). When I opened it up there were only 54 markers in the box. I was disappointed in that because I would have thought the person selecting the box would have realized that this wasn't a suitable box to be selected (more on this in a moment).
When I returned the Crayola Pipsqueaks to KMart the return was easy enough. I wanted to exchange the box for a full box of markers. The woman behind the counter hung onto the defective box and suggested that I go and see if there was another box that I could pick for an exchange. I found the markers and there were four of the 64 count boxes on the shelf and sadly the one that I got was the best one of the bunch. People had opened the boxes and markers were missing from each of the boxes. It looked like the 64 count Pipsqueaks were the only Crayola product that was manhandled like this.
So the mygofer shopper did get me the best of the bunch but I was not happy that an almost full box of markers was passed off as a full box. The box had been opened because it was taped up so the person selecting it could have done a quick visual inspection and known that the box was not full. I would have been happier to find out that the box was removed from my order and I had been credited for that missing product instead of getting my package, going home discovering the error and then having to go back to KMart to rectify the situation. This taught me that even though the service has generally been excellent the multiple times that I have used it that I should check my whole order before I bring it home.
That being said it was pretty easy to use the mygofer service on my iPhone and searching for Back to School Products was very simple to do. The rest of my order was perfect.
If you go to mygofer.com you will see some special back to school sections and you can get 10% off your total order for orders of $39 and over. The Back To School sections have everything you need all in one place, very simple to find what you need and also a great way to place orders to send to your college student.
Disclosure: I was provided a $25 credit to use the mygofer system. Opinions about it are 100% my own.
Copyright (c) 2020 BenSpark Family Adventures