One week from right now Skylanders Giants will be released in North America. I can not wait for this title to be released and I am always on the lookout for new Skylanders information. The other day I was in Target and saw that there was some signage for the upcoming game and I noticed something that I did not know. Target has an exclusive CRUSHER character, it is a Granite Crusher. I have not seen the figure anywhere online but this was the first I had heard about this exclusive figure.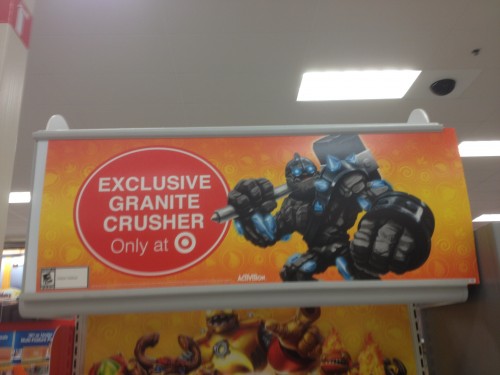 Then I started looking for other exclusive figures. I learned that the starter pack at Walmart contains an exclusive glow in the dark Cynder.
Then I started looking for what characters would be released in Wave 1 of this new game. Obviously not every new character will be released at the same time as the game is released. There will be the artificial scarcity of figures for months and then the market will be completely saturated.
The Wave 1 list of characters is below plus a few more goodies.
Giants
Tree Rex – In the Starter Pack
Bouncer – There is a Legendary Version at Toys R Us
Crusher – Granite Crusher is a Target Exclusive Variant to this figure.
Swarm
Series 2 Skylanders:
Trigger Happy
Slam Bam
Cynder – In the Starter Pack – Glow in the Dark version in Walmart Starter Packs
LightCore Skylanders:
Drobot
Prism Break
Eruptor
New Skylanders:
Fright Rider
Chill – In a three pack
Pop Fizz – Red one in the 3Ds starter pack
Jet Vac – In the Starter Pack
Triple Packs:
Triple Pack – Pop Fizz, Trigger Happy (S2) and Whirlwind
Triple Pack – Chill, Ignitor and Zook
Battle Pack: Chop Chop, Shroomboom, Dragonfire Cannon Golden Dragonfire Cannon – Game Stop Exclusive
I wanted to find out more about Wave 1 and saw that Wired's Geek Dad Adam Robertson visited Toys for Bob and got to play through the different figures, he has figure unboxing videos of each of the wave 1 characters. The walkthrough is very cool and I learned a bunch of things about the upcoming game like difficulty level. You can change the difficulty level while you play, so if a section is too hard or too easy you can challenge yourself or give yourself a break. There is even a mode called Nightmare mode and that is unlocked when you complete the game on any level you unlock Nightmare mode. And once you are in Nightmare mode you cannot drop the difficulty down, you are in for a rough ride, so level up your characters before attempting that mode.
I also learned that Kevin Sorbo (Hercules) is the voice of Crusher. I have a feeling that Crusher is going to be my favorite character.
If you like Skylanders then I recommend that you do watch the FGTV video (it is a half hour) because it gives you some cool insight into the game. Now if you don't want to know anything about the game or want to experience it all on your own then don't watch because there is some great info in the walkthrough video.
Copyright (c) 2020 BenSpark Family Adventures