This shop is part of a social shopper marketing insight campaign with Weave Made Media® and Smithfield®, but all my opinions are my own. #weavemade #PutPorkontheMenu http://my-disclosur.es/RgFrEH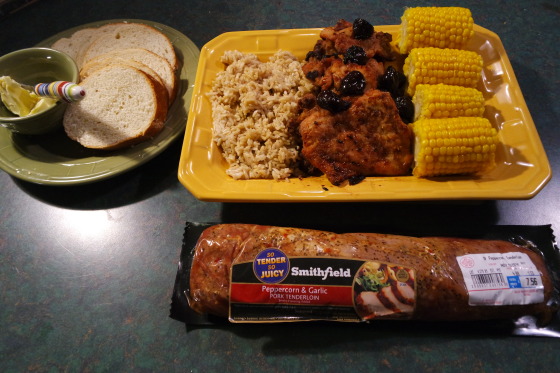 Dinner has once again become my domain. Well, part of the time. With Allison back at work after seven years I am home with Andrew all day long and I want to help out with making dinner. For the longest time my role in dinner was to do the shopping and the dishes. In our house whoever cooks doesn't have to clean. Allison was not a fan of dishes so she took the role of making meals. Despite not doing it much I do enjoy cooking. I also love to go shopping. I know the layout of most every store around. It makes it easy when I take Andrew to the store because I know just where to go and what locations to avoid in order to get in and out quickly. This came in handy when we went to Walmart to get the ingredients for a special dinner with the family.
Preparing dinner with an active three-year-old in the house can be tricky. Andrew could help me out but that increases the prep time. I do have him help me out as often as possible but for this meal I was going to be working with a mallet and frying oil. Yeah, it was time to turn on a show for 20 minutes so I could get everything done in peace, quiet and safety.
During my trip to Walmart I picked up the ingredients for a tasty meal. I picked up a Smithfield® Peppercorn & Garlic Pork Tenderloin and a Smithfield® Golden Rotisserie Flavor Pork Tenderloin. I saved the Peppercorn and Garlic Pork Tenderloin for another meal. Dinner was made with the Golden Rotisserie Flavor Pork Tenderloin. I got the idea for dinner from the Smithfield® website. There I discovered the Fried Pork Tenderloin Medallions with Cherry Sauce recipe. I didn't follow the recipe exactly but used it as an inspirational stepping off point.
My recipe for Fried Pork Tenderloin Medallions with Cherry Sauce and Balsamic Brussels Sprouts with Bacon.
To Fry the Smithfield® Pork Tenderloin Medallions
Smithfield® Golden Rotisserie Flavor Pork Tenderloin
Flour
Canola Oil
A Mallet
Plastic Wrap
We generally try to get two night's worth out of any meal. With all the running around we do having a meal completely prepared on a busy night is key. The one tenderloin was plenty big enough for the whole family to enjoy two meals. You'll notice the photo at the top has rice and corn whereas the photos down here have Brussels sprouts and bacon as the sides. Two great meals from the one tenderloin, just switch up the sides.
I cut the tenderloin into about 1/2 inch thick medallions. I laid the medallions between two pieces of plastic wrap. I took the mallet and pounded the medallions out thin and then covered them with flour. I used a wok and filled a good portion of it with Canola oil. I probably should have gone lighter on the amount I used. I fried up the medallions a couple at a time until they were golden brown on both sides. I then placed them into the oven with the bacon to keep everything nice and hot. Putting the medallions served another purpose as well which was to drain off the extra oil.
To Make the Brussels Sprouts and Bacon
1 Package of Smithfield® Thick Cut Bacon
1 Package of Frozen Brussels sprouts
Balsamic Vinegar
I boiled up the Brussels sprouts while I cooked the bacon in the oven. I cook bacon in the oven by laying the strips of bacon on a wire cookie rack inside a cookie sheet. This way the bacon grease ends up in the cookie sheet and the slices of bacon get super crispy. Crispy bacon is great for crumbling into the Brussels sprouts. I also cook it this way because I use the grease to fry up the Brussels sprouts once they are done with the quick boil. The Brussels sprouts and bacon grease, not too much, go into a frying pan along with a few crumbled strips of bacon. Then I ad some balsamic vinegar and fry it up until the sprouts are crispy. I sometimes overdo it so they get a little too dark. Allison makes much better Balsamic Brussels sprouts and bacon.
Make the Cherry Sauce/Glaze – Well, basically hot cherries
1 Can of cherries in heavy syrup
Here's why I should have used less Canola oil. I wanted to make the cherry sauce in the wok that we used for the pork medallions. That way I could de-glaze the wok and get some of the tasty bits of fried pork in the cherry sauce. I dumped out about half of the heavy syrup and heated up the cherries, I used sweet dark cherries in a can because I was unable to find fresh cherries. It worked out fine.
We ended up with two delicious meals from that one Smithfield® Golden Rotisserie Flavor Pork Tenderloin. I decided upon that particular flavor because the kids don't really do too much with spices. There is a nice flavor to the meat because it is already slow-marinated. This was a huge time saver. While I don't mind marinating meat to prepare it for dinner it is so much easier to take out some perfectly seasoned and expertly marinated 100% fresh pork and create a meal with it. It is nice knowing that I can take out one of these Smithfield® pork tenderloins and grill it, roast it or even fry it like I did. Cutting down on prep time is important, remember, I only have about a 20-30 minute window before Andrew comes looking to "help".
It was an easy dinner night. It was also a successful couple of dinners because the kids enjoyed the pork both nights. The Golden Rotisserie Flavor was mild enough for the kids and flavorful enough that I didn't need to add anything to it besides the flour for frying. Reheating the pork on night number two was an even faster dinner prep. The thing that took the longest was boiling up the mini corn on the cob. I'd say that 30 minutes of prep for two nights of dinner is doable for a busy family like ours.
There are many different flavors of Smithfield® marinated pork products. Here are a few of them that you can find at your local Walmart. They range between $8 and $11 so for a family of four getting two meals from the one cut works out to $1 a person per meal for the main ingredient. You can't beat that. But if you want to make that savings even better you can use a $0.75 off 1 Smithfield® marinated fresh pork products coupon (while supplies last).
Smithfield® Garlic & Herb Pork Loin Filet
Smithfield® Mesquite Pork Loin Filet
Smithfield® Golden Rotisserie Flavor Pork Tenderloin
Smithfield® Portobello Mushroom Flavor Pork Loin Filet
Smithfield® Garlic & Herb Pork Sirloin
Smithfield® Peppercorn & Garlic Pork Tenderloin
Smithfield® Peppercorn & Garlic Pork Sirloin
You can also find out more about the Smithfield® Marinated Fresh Pork Products, find recipe ideas and salivate over some amazing food pictures by following Smithfield® on their various Social Media channels.
I'll probably take a look through these channels to find inspiration for the Smithfield® Peppercorn & Garlic Pork Tenderloin that I also picked up on my whopping trip. With the success from these two meals I got from the last tenderloin I think that we'll make sure that we have a Smithfield® pork tenderloin on hand for those nights when we need to make a quick and tasty dinner.
Copyright (c) 2020 BenSpark Family Adventures