I have to say that the response to BenSpark's Refreshing Soda-Club Contest… it was more than I expected. I had hoped that more people would have entered the contest but the buzz that those seven people generated for this contest was overwhelming.
I looked back through my stats from My Blog Log to see where people were coming from this past week and it has been amazing as far as the sheer number of visitors.
If I just pop back to this past Saturday June 23rd through today I had over 1322 hits to the Page Vote for your favorite…
There were also over 479 hits to BenSpark's Refreshing Soda-Club Contest…
I saw many great incoming links too from some well done posts from each competitor promoting themselves throughout this contest. People made their own vote buttons, posted on forums and worked their butts of to compete in this competition. I thank everyone who participated, both the competitors as well as the people who voted for them.
As of 8:00pm EST, this is the official final total. So we have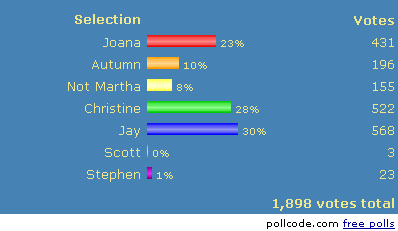 Jay of Everyday Is Something New – I gotta have a Soda-Club soda maker! has won the Soda-Club Home Soda Maker.
Christine of The Passionate Ailurophile – It's a happy fizzies party! has won the Soda-Club BYOS package
Joana of Nanashi-.Inc.net – Soda-Club Contest has won the Soda-Club Pint Glass.
Congratulations. I will be contacting the winners directly to work out shipment of prizes.
Now, tell your friends to come back on Sunday because a whole new and different contest will be starting. This one will involve a great photography accessory.
Copyright (c) 2020 BenSpark Family Adventures