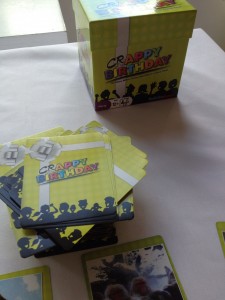 This past week when I was at Blog World Expo I was able to slip out on Wednesday to check out a bunch of fun toys at the Southard Communications Christmas in June Media Preview. Since last year's toy event in New York I've been lucky to be on a media list and so get some fun invites to go to New York for these sort of previews. Unfortunately, I don't live in New York so I can hardly ever go. So I was happy that I was going to be in the area at the same time as this event.
The preview was in a suite in a building in New York. When I went in I was met by a representative from Southard Communications. She took me to each of the tables and explained the toys, who makes them, what they did and so on. There were a few that I liked and some that didn't do much for me overall so I'll give you a rundown of what I saw and what I thought.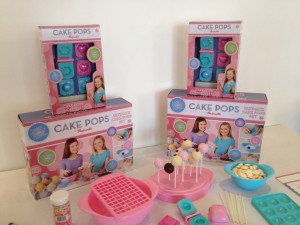 Cake Pops are the big thing in desserts right now and this set from Bakerella, the author of Cake Pops, features everything you need to get started making fun cake pops with some additional shape sets to make even more fun cake pops. The only thing not included is the cake and the candy coating. This looks like a fun set for kids to help make delicious and fun cake pops with their parents.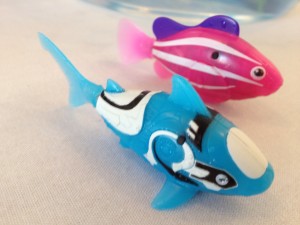 The Robo Fish from Zuru was a fun little toy that can be used in the tub or in its own Robo fish, fish tank. I personally like the tub for this over a bowl in my daughter's room. At least when the tubby is done you can pull the fish out and it stops swimming. Leave it in the bowl and it keeps swimming, I see a lot of potential for replacing batteries more often that way.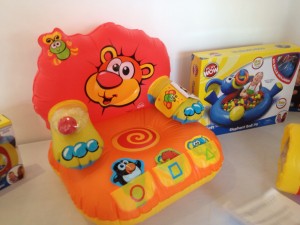 There were quite a few toys from Play Wow, some inflatable some not. Some for babies, some for toddlers. There were a few for bath time play and others for learning play. This activity chair had many features for a child three + to use. I had to ask about this one because it felt a little more baby focused than toddler focused with the graphics. Maybe it is just me but that looks a little to baby focused for a three year old. The ball pit in the back is inflatable and for 2 1/2 and up. That seems more exciting to me for a kid and it has a decent price point of $30.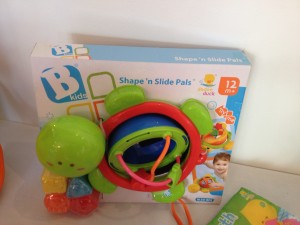 I did like this bathtub shape sorter. This is part of the B kids Deedee Duck line. This looks like something fun for a baby. For one thing at a year kids are sitting up and can do some play in the tubby. The turtle is adorable and shape sorting is great for fine motor skills and shape identification.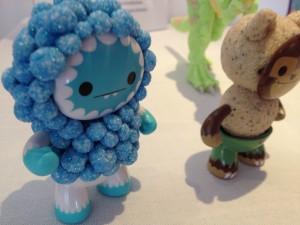 Sandzini is a vibrantly colored molding compound that can fit any shape. There are also Sandzini horse and T-Rex sets so that boys and girls can mold the compound around a plastic skeleton and create their own custom horse or T-Rex figures. The compound can be stored so that it can be used again or let it dry once you've made the model you want to keep.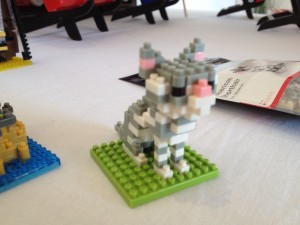 Also from Ohio Art there were some examples of Nanoblocks. These tiny building brick sets come in many different types including animals, buildings and guitars to name a few.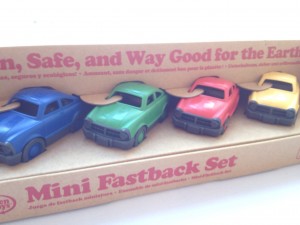 We have a set of Green Toys carpentry tools and Eva loves them. There were these cars that were at the showcase and I love them because they are made by Green toys and they look to be perfect size for Eva's Sand and water table. And they aren't going to go rusting on us because they are made from 100% recycled milk jug plastic.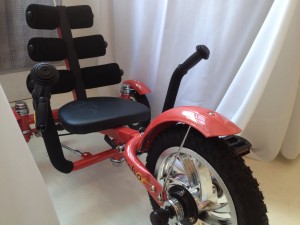 The Mobo Cruiser was a product that caught my eye because it looked like so much fun. There are adult versions of this stylish recumbent bike for adults but now there is the Mobo Mini and the Mobo Tot for preschoolers and young children. Just looks like a sweet Big Wheel. Made me feel like a kid again looking at this. I'd love to try one for me and one for Eva.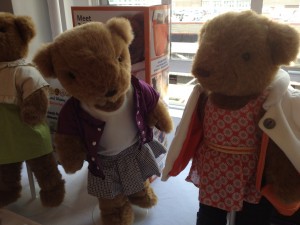 Zylie the Bear was cute. This was a well crafted teddy bear that goes one adventures around the world and meets other bears. There are a few additional bears planned and the focus looked to be on learning about other places and meeting new friends. The website has some fun activities for kids too.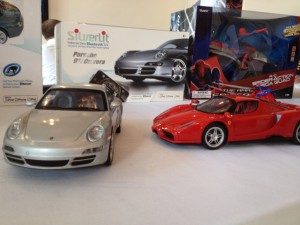 Back in November I gave away a Silverlit 3D Twister remote controlled car. At this showcase I got to see some other items from their line. These cars are remote controlled but use your iPhone, iPad or iPod Touch to drive them. The cars are super cool and the remote apps are very responsive. With an app controlling things there are more options that the car can do beyond a regular remote control like force feedback and better sound effects. Plus there is a Mercedes coming out that has gull wing doors that open. Very cool.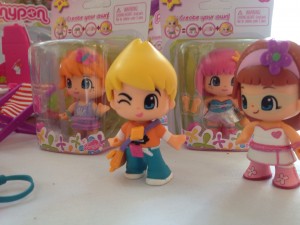 The Pinypon figures from Famosa were adorable and looked to have a lot of playability. With the figures kids can swap hair, outfits and accessories to create tons of new friends. The more dolls they have the more options that can create. The playsets also have multiple uses like a camper that has a roof that come off and becomes a boat. Many hours of imaginative fun can be had with these toys.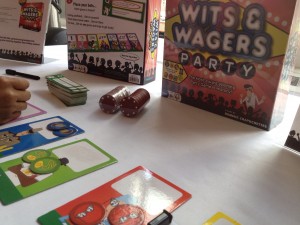 Wits and Wagers from North Star Games mixes betting and trivia. You get a strange and funny trivia statistic and then wager on your answer hoping that you have the right one and your opponents do not. Looks like a good family party game.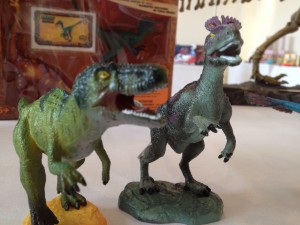 These dinosaur toys from Geoworld had both licensed Dino Dan themed toys and non licensed toys including a large 54 piece model of a T-Rex. Kids love dinosaurs and these realistic looking ones were really nice.
Overall the toys were good but I think that the Pinypon ones and the cake pop set would be tops for girls. Pinypon because of the expandable and nature of the toy and the cake pop set because cake pops are so much fun to eat and this set makes them look like they are fun to create. I can see Eva playing with both of these toys.
For boys I'd say the Geoworld toys would be fun and the Mobo cruiser. I would have loved tearing around the neighborhood on one of those bikes as a kid and I've loved dinosaurs for a very long time.
Disclosure: I received a gift bag of a few toys. I am under no obligation to write about any of them and opinions are 100% my own based upon my personal likes and dislikes.
Copyright (c) 2020 BenSpark Family Adventures