Photo-A-Day #3398
We received a large box of Guardians of the Galaxy toys from Hasbro to play with and review. Opinions of the toys are 100% our own. Since it is basically Guardians of the Galaxy week here on the blog I figured I'd show you toys each day. In the box there were all sorts of toys. Eva really enjoyed the two pack of 2.5″ figures and she loves Gamora. Andrew loves running all around with The Milano making the different sounds.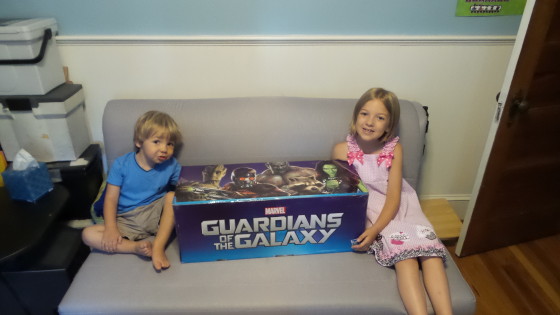 The Kids could not wait to open this box.
Like I said, Eva was a huge fan of Gamora. She was even more of a fan when I told her that I met the woman who played Gamora in the movie. I'm happy that she liked playing with this toy because identifying with strong female characters is important. It is good that she can see herself as more than a princess.
The Milano fits all of the 2.5″ figures. It has room for 3 figures at a time. The accessories that come with the figures fit on holes all over The Milano. You can really outfit The Milano with some heavy weapons the more figures you collect. The one thing that I would have liked to have seen was a different version of Star-Lord in The Milano. That figure is the same one as the one in the two pack that we got. There is another two pack that has Star-Lord with his mask on. I think we;ll be picking up more of these sets because they are pretty inexpensive to collect them all at $5.99 a package.
Copyright (c) 2020 BenSpark Family Adventures