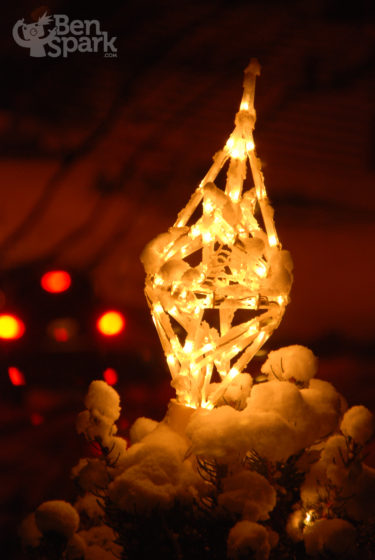 Photo-A-Day #2084
Tonight's post has taken me a long time to write because I've been mulling over whether or not to respond to some mouth breather on YouTube. Why this took up so much of my time I don't know. I really need to get it through my head that you can't argue with stupid. So instead I just deleted the comment and blocked the person. The comment was "ITS NOT XMAS MANN ITS CHRISTMAS". Can you tell me what is wrong about this statement.
First, it is a grammatical nightmare. That is the first indication that an intelligent debate isn't happening. The second is that it is an all caps and so that means that the loudest person is the most correctest (yeah I said that on purpose). And third is the actual sentiment. Having an argument over religious beliefs is always a losing battle.
I am not saying that someone who is offended by saying Xmas instead of Christmas is stupid (I'm not being sarcastic or ironic either). I'm saying that arguing at a person shouting their beliefs at me is stupid.
I spent a few hours researching why Xmas gets Christians so up in arms. I never mention it but I was a Theology major in college. I studied Greek. I studied much of Christian history. So, now I really, really dislike taking up debates over religious beliefs. In fact I wasn't even sure what to say about it here. I respect that people have different beliefs but if you shout them in my face I am not going to give much credence to your argument.
I think it is an overreaction based on the idea that somehow saying or writing Xmas is taking Christ out of Christmas, If you go back to Ancient Greek and the Greek alphabet X is Chi and Chi and Rho were the symbols that Constantine used to mean Christ. There is a sentiment that saying Xmas is the secular world's way of getting Christ out of Christmas. Xmas is not a new word, concept or idea. It dates back well before the 15th century to mean Christmas. I'm not going to get further into it but I'm on par with this post and what this person has to say on the origin of Xmas.
Xmas does not offend me because I know that X is a symbol for Christ and even if the intent behind it is used by people trying to take out the religious significance of Christmas I know the reason for the season. What do you think about this debate?
On a much less controversial note, Allison caught a great shot of Oliver tonight.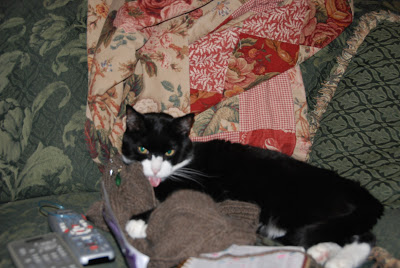 What is Drew Shooting with?

Model: NIKON D80
ISO: 400
Exposure: 1/6 sec
Aperture: 6.3
Focal Length: 135mm
Flash Used: No

This is my own personal DSLR camera that I bought half of. My mother-In-Law bought the other half as an investment of great photos of her grandchildren. With over 26,000 photos of Eva and counting, I'd say she got great ROI on the investment. The opinions about them are 100% mine.
How Does Drew Protect His Photos?

Model: GoFlex™ Ultra-portable Drive
Interface USB 2.0 or 3.0
Capacity: 320GB – 1.5TB
Automatic Backup Software:PC & Mac:
Weight (typical): 150g (.33 lb)
Software: Pre–loaded backup software with encryption

Disclosure: I received a number of Seagate devices including the Seagate FreeAgent GoFlex 1 TB USB 2.0 Ultra-Portable External Hard Drive, GoFlex Home, GoFlex TV and GoFlex Net. I'll be talking about these devices in the coming months. The opinions about the devices are 100% mine. The links are affiliate links to Amazon.com.
Copyright (c) 2020 BenSpark Family Adventures