September is a time for new things, it is time for new classrooms, new schools and whole new routines. It is also time to start your own new routines. Well, for me anyway I need to start working out, no really, I need to start. It has been far to long that I've not had a decent workout routine. Well, lucky for me I was sent a Journey Gym to start my workout regimen.
The Journey Gym is a complete total body workout in a portable suitcase, if you will. The Journey Gym allows you to take your gym workout with you wherever you want to go.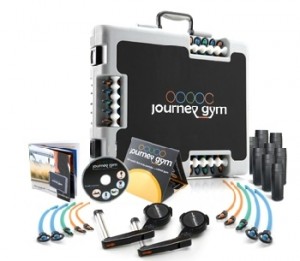 THE JOURNEY GYM is a complete, lightweight, compact and durable universal gym. It is efficient in giving users a total body workout and will allow anyone to use it as their primary source of resistance, cardiovascular, and circuit training. The Journey Gym comes with:
30 resistance bands (five on each side plus ten additional bands) for a customizable resistance system of 5 to 75 pounds per side.
One set of adjustable handles so resistance only begins when you are in the correct position.
Full set of legs which are used to raise the gym into a stair stepper for a full cardio workout.
A workout DVD specifically designed for the gym with a 5 minute set up video, a 10 minute circuit tone workout and a 20 minute circuit strength workout.
A free online community at www.journeygym.com where you are able to create exercise videos, track your activity and nutrition, and share your progress with friends and family.
What Do I Think About This Product?
I was sort of skeptical about this item until it arrived. Once I took it out of the box and opened it up, set it up for my first workout I was impressed with how well put together the Journey Gym is. The rubberized top prevents slipping as you are doing your cardio and comfortable when you lay down for the exercises like the chest press. I've done the twenty minute workout three times so far and after doing it two days in a row I certainly felt it in my muscles.
I like that the Journey Gym is so portable. You can take it anywhere that you feel comfortable working out. I personally am not that comfortable working out somewhere that people can see me but I'll certainly take it out to my backyard. I do enjoy working out outside, the fresh air and all the room I have to move around is great. Maybe when I know the workouts by heart I'll go and do them on the beach or at the park or something. I have a portable DVD player so I can do the 10 or 20 minute workout anywhere. At home I can put together any workout I'd like by choosing from over 70 exercises at the Journey Gym site. I'll be doing that soon too to change things up.
I am happy to be able to give away a Journey Gym (a $249 value) to a lucky reader. Yeah you could be out there in your own backyard working out.
Previous winners of a Journey Gym are not eligible for this contest.
Ways to Enter
(Leave 1 SEPARATE Comment for EACH Entry).
I will not respond to any comments so that I can run the Random.org numbers correctly. Any trackbacks are unapproved while I select the random winner and then re-approved after. Only legitimate entries are counted. You have until 5:00pm EST on October 2, 2011 to enter. Once 5:00pm EST rolls around (or as early the next morning as possible) I will close the comments. The winner will be notified via e-mail and will have 48 hours to reply with a US Mailing address so that we can send the winner their prize. Contest is open to US residents Only. Please do not use multiple names to enter. Make it fair for everyone and don't stack the deck.
Disclosure: I was given a Journey Gym of my own to work out with. The opinions of it are 100% mine.
Copyright (c) 2020 BenSpark Family Adventures