I participated in a campaign on behalf of Dad Central Consulting for AVEENO. I received product samples and a promotional item as a thank you for participating.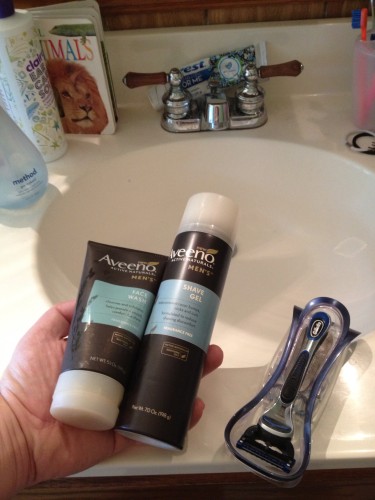 Shaving has been a part of my life since the sixth grade. At that time a razor with two blades was state of the art. So, I've been shaving for a very long time. In that time I've used electric razors, regular razors, shaving cream, shave gel, sensitive shave gel and more. A few years ago I went and tested over 13 electric razors but I tend to come back to a regular razor and shaving cream or gel. I have noticed that I do need a sensitive skin formula to prevent razor burn and bumps and cuts.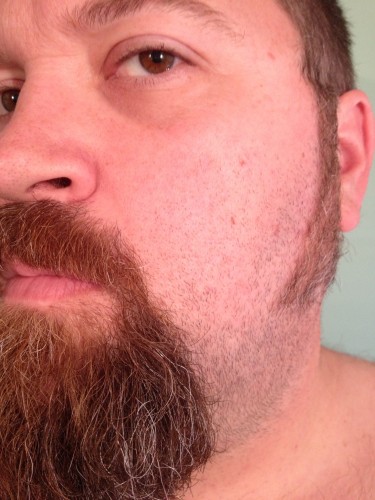 I used to work in a position where I was in front of customers all the time and I had to shave more. Now I never ever see a customer. I work weekend nights, my life and schedule is a bit thrown off so I don't shave that often. I don't change out my razor blades that often either, so when I do shave I am shaving through three to five day old stubble. I don't like to go back over spot either so I want to get the shave in the first pass.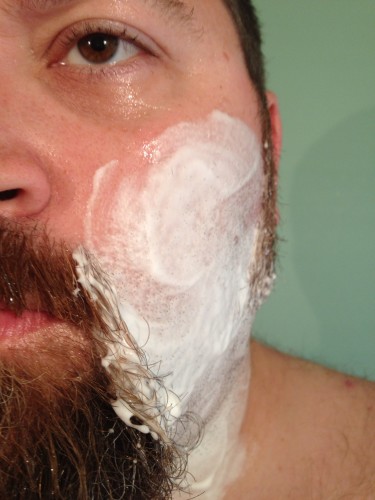 Normally when I shave I just shave and go. I never have much of a feeling good or bad after I shave. Also, I hardly ever use an after-shave product. With the AVEENO® Men's™ products I could feel a good tingle after my first couple of uses. The after-shave made the smooth feeling even smoother. I used the shave gel with a brand new blade right after using the face wash and then the after-shave. My face felt great. The true test would come during vacation.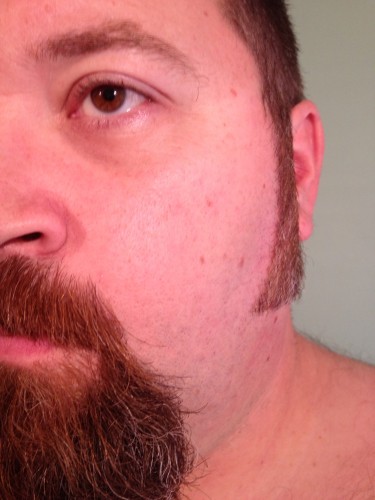 This past week I was on vacation in Florida at my in-laws. Their water is awful and we get so dried out when we take showers and wash up. The water is so different from the water we have at home. Shaving while at their place is often a nightmare, but I have to do it at least once. This vacation was different. I shaved every other day and even though the water was still bad I had a much better experience when using the face wash with the shave gel and after shave lotion. My face actually didn't feel dry like it normally does while vacationing there.
The AVEENO® MEN'S™ Collection is new. It was released in February and the first I heard about it was through this campaign. I've used other AVEENO® products in the past and have been pleased with them. These new men's products feature AVEENO's tried and true ingredient ACTIVE NATURALS® Oat. This ingredient works to cleanse, moisturize and soothe dry sensitive skin in the face wash. The same ingredient helps to prevent razor bumps, nicks and cuts in the shave gel. And, in the AVEENO ® Men's ™ After-Shave Lotion the ACTIVE NATURALS® Oat is used to soothe minor skin irritation post shave.
About the AVEENO ® Brand:
The AVEENO® Brand is one of the brands of Johnson & Johnson Consumer Products Company Division of Johnson & Johnson Consumer Companies, Inc. The AVEENO® Brand, a leader in ACTIVE NATURALS® technologies uses the best of nature to deliver scientifically proven results. Most trusted by dermatologists for its natural ingredients and recommended for more than 60 years, the Brand is committed to developing breakthrough product formulations that deliver clinically proven, effective beauty care products. The AVEENO® Line includes products for face, body, baby, hair and sun protection. For more information about the AVEENO® Brand and its product offerings, visit www.aveeno.com or 'Like' us at www.facebook.com/aveeno.
Copyright (c) 2020 BenSpark Family Adventures