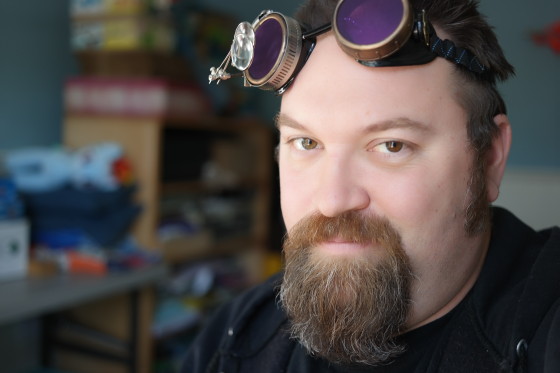 My Friend Andrew Akardon of Mommy's Busy, Go Ask Daddy had a giveaway for a pair of Steampunk Goggles and I really, really wanted to win them. I entered the contest but didn't win. However, Andrew being the excellent human that he is, introduced me to the folks at Steampunk Goggles. They offered me the same deal that Andrew had, try a pair for myself and offer a pair as part of a giveaway. I was only too happy to oblige.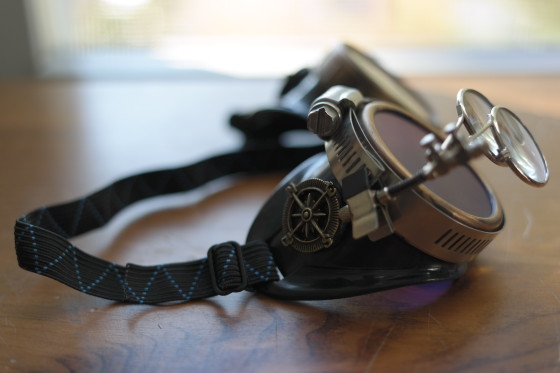 I looked through the goggles and decided upon the Airship Navigator Goggles with Purple Lenses. I picked that pair because of the purple lenses and the double eye loupe. I also liked the Bronze compass rose ornaments on the sides and how these all complimented the black and bronze colors of the goggles.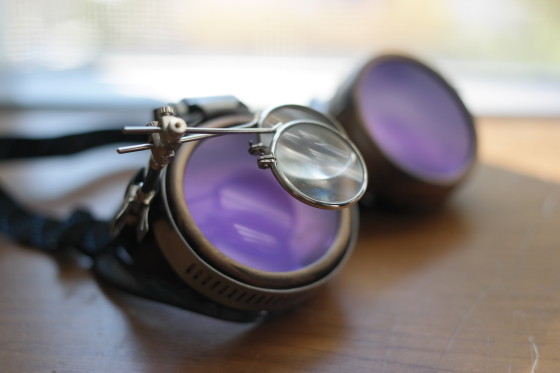 The goggles are very comfortable. With an adjustable strap and soft eye cups these were pleasant to wear. Although, they looked best on my forehead as evidenced above. I think that really appealed to me about these goggles was that they looked like someone from Firefly would have work them. Maybe Jayne Cobb or someone. I may have to wear these with my Jayne Cobb hat sometime soon.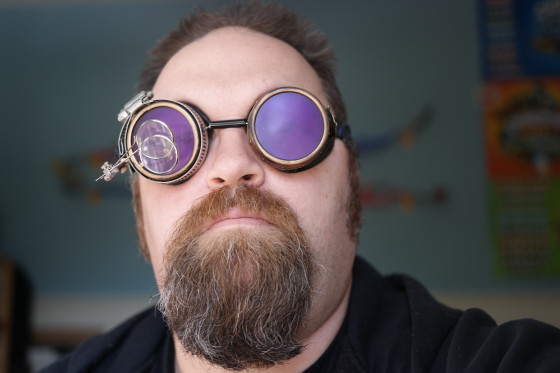 Later this month I'm actually going to get to meet Andrew for the very first time in person. We're getting together for lunch and also a chance to shoot some photos together while wearing our Steampunk Goggles. And I can't think of a better place to get together to do this than New York City, another place that makes me think Steampunk for some reason.
Would you like to win your very own pair of Steampunk Goggles? Here are the choices for the winner and below that is the entry form. Good Luck.
Be sure to check out Steampunk Goggles all over the web in places like
Twitter: @SteampunkGogls
Facebook: SteamPunkGoggle
Website: SteamPunkGoggles.com
Giveaway ends on February 10, 2014 at 11:59 p.m. The 1 winner will be chosen at random and announced on this site. Giveaway is open only to legal residents of the fifty (50) United States (including District of Columbia) and Canada, who are at least eighteen (18) years old at the time of entry. The 1 Winner will be notified by email and has 48 hours to respond or a new winner will be chosen.
Copyright (c) 2020 BenSpark Family Adventures