Photo-A-Day #2611
Today was a day that I had been waiting to come for months. Today was the day I got to see Mike Schmidt perform his one man show, Success is Not an Option. But before I get to that I had a day to myself as Allison, Eva and Andrew went to the Stone Zoo with my sister-in-law and my niece and nephew. So I wrote up my blog post about dinner with Mike, caught up on some e-mail and took a nap because despite the show I still had to go in to work for part of the night.
I wanted to start watching Battlestar Galactica because Comcast Streampix has the whole run of the show… except for the miniseries that kicked it off. I started up episode 1 and there was a "Previously on Battlestar Galactica…" montage and I was like What is this? I then went to IMDB and learned that there was a three hour miniseries that came out before the actual show. Well, I have to watch things from the beginning so I went looking for that. I found it on Amazon.com to buy and stream. I might do that unless it is on Netflix. If it is on there then when the new TV comes in (I finally pulled the trigger and bought the new TV, it will be delivered in June after Blog World Expo) I think we might sign up for Netflix and if the mini series on on it than there is no reason for me to buy it on Amazon. (It is on Netflix).
So I slept till 4 showered and headed out to meet up with some people at a pizza place before the show. I had found a place online and it looked like it had parking and good seats and everything. I mapped it out and posted to the Bring Mike Schmidt to Boston page on facebook. then I followed the directions and ended up not at all where the place was. So I picked the restaurant on the Telenav app and found the place but the parking lot held no space and I had to park a couple of blocks away on a 30 minute meter. It took me 10 to walk to the pizza place. But once I got there I met Adam. He had already eaten and there wasn't time for me to eat and get back to the car so we drove over to the theater. I parked in the one parking garage that I knew (back from when I came to Cambridge to test the PlayStation Vita) and it was within short walking distance to the YMCA. I found a small pizza joint and bought a couple slices and Adam and I talked. Found out that we were both into many of the same podcasts which was cool. He asked about my dinner with Mike the night before and I told him about the Avocado Incident. I'll get back to that later. After the pizza we walked to the YMCA and met a bunch of other fans, got our seats in the front row and waited for the show to begin.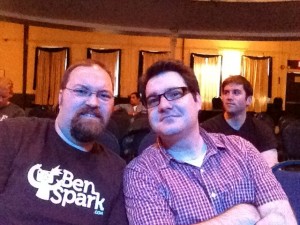 While we waited I used my XShot and iPhone 4 case.
It felt really good to be part of this group of fans who helped get Mike to come to Boston to do a show. There was this instant camaraderie among the fans who gathered. We said hello to each other, introduced ourselves and people recognized each other from Facebook. It was fun and great to be a part of something that we all get even if we can't seem to convince our friends to listen to the show too.
Mike came out and the crowd there set off in applause. We were excited to see this show and Mike came out, did over an hour about getting to Boston, how the TSA did nothing about suspicious white powder but framed art like this baffled them.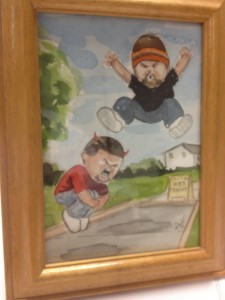 Little Schmidty and Little BenSpark
Then he continued to talk about getting to Boston and the things he went through once he got to Boston. We were on a time crunch because there was a noise curfew at the theater so Mike had to be done by a specific time. We're not sure when that was but each time he checked his watch we could tell he was over time. So, when he did get around to mentioning our dinner together last night he only had time to tell one part of the story, which was what I had expected because that was the thing that happened that would make a funny story and that was, the Avocado Incident. I'm not going to assume that this Thursday's show will have a mention of it but it might so I'm going to say, listen to Thursday's episode of The 40 Year Old Boy. When Mike told the story I was laughing so hard that I stopped breathing. It was so funny that I was gasping and my chest hurt and my eye hurt and I continued to laugh well beyond the end of that story.
Mike then got into the actual "show" of the One Man. I'm not going to give anything away about the content of the show but what I will say is that it was intense. The story that no one has seen (except those who have seen the One Man) is so crazy, so intense and so raw that I was sweating by the time it was over. And then when Mike wrapped everything up I was inspired. Truly inspired to just be better in all things. Mike's got big heart and that came across in the show. There is nothing like seeing him live, not even listening to him on the podcast. His podcast should be video too because the expression, the body language and the intensity is in the visual. Now going back to listening to the show is going to be tough because I've seen Mike live and nothing compares to that. These past two days were worth every penny that I gave to KickStarter to get Mike out for the show. I hope that more people get out to see him do the show and the small group of intensely loyal fans wins over their friends and gets Mike back to play venues where he doesn't have to set up his own chairs (he didn't set them up himself).
One fan, Sue, baked 76 cupcakes and brought them in for everyone. They were incredible. Sue's looking to start a cupcake business. Yes, definitely yes, she must start it. Her cupcakes are delicious. I was around at the end of the night and took a whole box with me to work to share with everyone there and they all loved them too. I keep getting compliments on them. So go for it Sue, you have a winner there.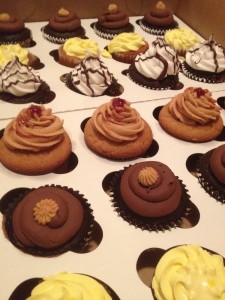 Some delicious cupcakes from Sue Cloutier
I was one of the last people to leave the theater. The show finished somewhere near 11:30 or so. Mike hung out and sold shirts and took pictures with everyone. Adam and I talked with Jamie as we waited for Adam to go last. He asked me to take a photo of him but he wasn't going to pose. I just had to take one at some point. I took a bunch but this was the best.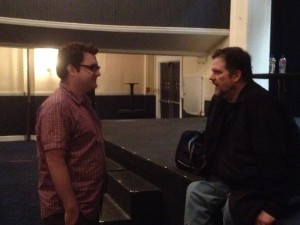 Adam and Mike
When everything was over and we shut off all the lights in the theater Mike gave me the set list from the show. That was another of my KickStarter rewards. He signed the back for me as well.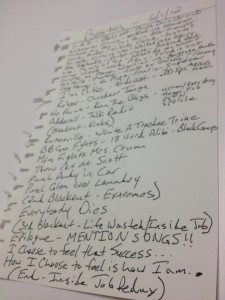 The Success is Not and Option Set List from June 1, 2012
These past two days have been awesome. I enjoyed meeting Mike, meeting other fans of Mike and finally seeing Mike Live. If he's coming to your city, go!
Copyright (c) 2020 BenSpark Family Adventures