Happy Swags… um I mean Thanksgiving! Today on the 25th of SwagsGiving I was so excited to record a video in a new location that I got up before I had even run the random.org numbers to get the winner for today. So, the video reflects that oversight. Now that I am back in the house I've used random.org to get the winner. The winner today is Keri M. (@KAM918). Keri can now share her Thanksgiving photos privately across the internet using her Seagate FreeAgent GoFlex Net (Aff Link).
About the prizes: The Seagate GoFlex Net is a great device that allows you to share your files across the internet right from your home network safely and securely using PoGo Plug. You do not need a GoFlex Ultra-Portable drive to use it either, although there are spots for two of them. You can attach any external usb hard drive to the GoFlex Net and share the files on that drive. You can also use a powered USB hub to daisy chain more USB hard drives to the GoFlex Net.
Winners chosen with Random.Org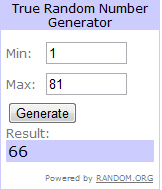 About SwagsGiving!
SwagsGiving is happening each day from November 1 to November 30th. Each day I put up a new SwagsGiving post explaining how to participate. The post will also have an announcement of the previous day's winner plus what the person won. Here's the twist. You won't know what you are winning until it is announced. I have prizes from Seagate, Kodak and Toy State as well as books, and various other prizes. So, here are the rules. Please read the rules carefully and follow them, if they are not followed then your comment will be removed at the time of selecting a winner.
Today is your twenty-sixth chance to enter to win a prize from my SwagsGiving event. Remember to come back each day to see if you won and to enter for the next day's SwagsGiving Prize.
There are 5 EIGHT Ways to Enter (Leave 1 SEPARATE Comment for EACH Entry). Each can be claimed daily.
1 Entry – Mandatory to Enter – To enter the contest leave a comment on each day's SwagsGiving post with your guess about what might be in my SwagsGiving Swag bag. Leave this as your FIRST comment.
(If this is not done your entry will not count)

NEW

1 Entry – Leave a comment and rating on my YouTube Video for Today's Post
(Comment here after you've done this.)

NEW

1 Entry – Leave a comment and rating on my Vimeo Video for Today's Post
(Comment here after you've done this.)

NEW

1 Entry – Post either my Vimeo or Youtube Video from today to your Facebook Wall, tag me in the post: type "@Andrew Bennett". Friend me first so I can see your tag.
(Comment here after you've done this.)
1 Entry – Follow BenSpark on Twitter
(Leave a Comment with your Twitter name)
1 Entry – Follow SwagsGiving on Twitter
(Leave a Comment with your Twitter name)
1 Entry – Subscribe to BenSpark's Personal Branding BootCamp
(Leave a comment letting me know you signed up)
1 Entry – Tweet about SwagsGiving… something like
@BenSpark is clearing out his Swag Bag. Prizes abound during #SwagsGiving – Enter here http://bit.ly/dkmHs7
(Leave a comment with a link to your tweet. Here is how to get that link to your tweet)
I will not respond to any comments so that I can run the Random.org numbers correctly. Any trackbacks are unapproved while I select the random winner and then re-approved after. Only legitimate entries are counted. You have until midnight EST to enter for that day's prize. Once midnight EST. rolls around (or as early the next morning as possible) I will close the comments. Each morning at 9:00am the new #SwagsGiving post will go up. The winner will be notified via e-mail and will have 48 hours to reply with a U.S. Mailing address so that we can send the winner their prize. Contest is open to U.S. Only. Prizes will be mailed out at the end of the month. You may win more than once. Please enter every day on the SwagsGiving post for that day. Please only enter once, do not use multiple names to enter. Make it fair for everyone and don't stack the deck.
Disclosure: I received this Seagate GoFlex Net at BlogWorld Expo from the Seagate representatives. I was allowed to give this away to whomever I would like. I also received one for myself and love it. These opinions are 100% mine.
Copyright (c) 2020 BenSpark Family Adventures